National Portal NSP Know Your Scheme Wise Scholarship Sanctioned List 2018-19 : scholarships.gov.in
You can ask questions or answer questions about this scholarship.
Please go to the bottom of this page.
Organisation : National Scholarship Portal NSP 2.0
Facility Name : Know Your Scheme Wise Scholarship Sanctioned List 2018-19
Applicable For : All Students
Applicable State/UTs : All India
Website : https://scholarships.gov.in/fresh/onlineSanctionedList
NSP Scheme Wise Scholarship Sanctioned List
Kindly follow the below mentioned steps to know your Scheme Wise Scholarship Sanctioned List 2018-19.
How to Check Sanctioned List?
Steps :
Step 1 : Go to the official website of National Scholarship Portal NSP through the URL https://scholarships.gov.in/home
Step 2 : Then click on the 2018-19 Login page and select "Scheme Wise Scholarship Sanctioned List" in the menu bar.

Step 3 : Next, Select Your Academic Year [2018-19]
Step 4 : Select Your Application Type [Fresh/Renewal]
Step 5 : Select Your Ministry [UGC]
Step 6 : Select the Scholarship Scheme [Ishan Uday Special Scholarship Scheme For NER]

Step 7 : Select Your State [Delhi]
Step 8 : Select Your District [New Delhi]
Step 9 : Please Enter Captcha as shown in the image.
Step 10 : Finally click on "Submit" button.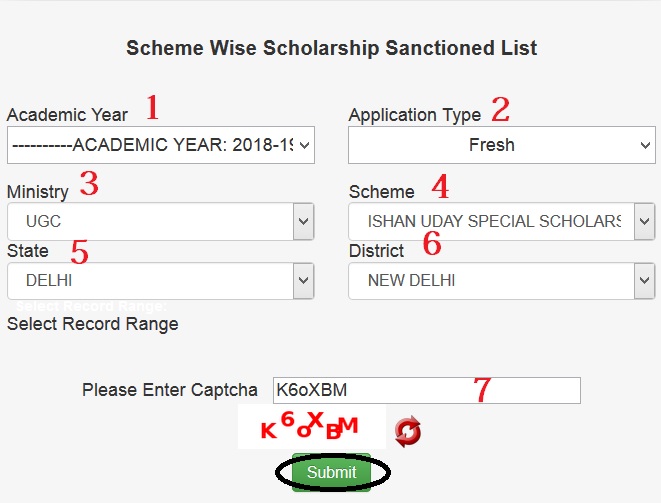 Frequently Asked Questions
1. What documents are to be uploaded on NSP 2.0 while applying for the scholarships?
Documents are required to be uploaded only for the Scholarship Amount more than Rs.50000 per annum
2. What kind of search facility is provided to students for Institute, District during registration process?
A comprehensive search facility including partial name search is available at the Institution name Level. A drop down list of districts is also available.
3. How to know about the various services available on the portal?
The complete User Manual, Contact Details of Scheme wise State Nodal Officers and other services are available under the link "SERVICES" on the Home Page of the Portal .
4. What is the remedy in case some scholarship scheme is not coming in drop down list?
As per the inputs provided by the student, if these do not fit into the Guidelines, then Scholarship cannot be provided.
5. Telephone helpline Number 0120-6619540 given on NSP2.0 portal is not functioning properly and lot of calls are being put on hold?
The Telephone Helpline is been strengthened. More nodes are been added and working hours are also being increased.
6. Which fields Institute/State can edit ?
The Fields which can be edited are – Gender, Religion, Category, Profession, Annual Income, Aadhar Number, Disability, Day Scholar/Hostlar, Mode of Study, IFSC Code, Account No., Admission Fees and Tution Fees. However, corrections made by the Institute/State, if any, would be conveyed instantly to the student through SMS/email.
7. Do I have to fill up the online application in one sitting ?
No. You can fill up the online application in as many sittings as you wish, until you are satisfied that you have entered all desirable fields correctly. The software provides facility to save your application at every stage.
8. What are the fields which are not editable at all?
Aadhaar & Enrollment Id are not editable at any stage. these should be filled very carefully
9. If I know the UDISE code of my Institute but Address and Location is not known or vice versa. how to resolve this problem?
The school location and UDISE code and vice versa can be known from the below link http://www.mdm-mis.nic.in/MDM/school_dise_code_scholarship.aspx