jnanabhumi.ap.gov.in Social Empowerment Fellowship 2019-20 : Andhra Pradesh
Rate this post:
[ Votes=

0

, Average =

0

]
Organisation : JnanaBhumi Andhra Pradesh Social Welfare Department
Fellowship Name : Social Empowerment Fellowship 2019-20
Applicable For : Youth
Applicable State : Andhra Pradesh
Application Last Date : 17-03-2019
Website : https://jnanabhumi.ap.gov.in/
JnanaBhumi AP Social Empowerment Fellowship
JnanaBhumi Andhra Pradesh Social Welfare Department invites applications for Social Empowerment Fellowship for the year 2019-20.
Related / Similar Post : JnanaBhumi Scholarship Application Status

Objective
Andhra Pradesh Social Empowerment Fellowship program is an opportunity for India's brightest and most promising youth, from the nation's best universities and workplaces, to work in tandem with the government and support the design of innovative and self-sustainable solutions in the field of school education.
Duration Of Engagement : 2 years with half-yearly performance reviews.
Primary Location : Vijayawada, Andhra Pradesh
Qualifications
Qualifications Required
** Candidate must possess a consistent track record of academic & workplace excellence and have showcased his/her potential for leadership.
** Performance in standardised examinations such as GRE/GATE/GMAT/CAT/NEET/ JEE/OTHER STATE, NATIONAL & INTERNATIONAL EXAMINATIONS will be taken into consideration during the short listing of candidates. The candidates are encouraged to report the same in their CV.
** Professional certification obtained in relevant verticals are desirable, but not essential.
** Excellent written and verbal communication skills.
** Experience in data collection and synthesis of multiple data sources.
** Excellent Project Management skills
** Experience in implementing & monitoring Government Schemes/Programs
** Detailed knowledge of Microsoft Office applications required.
Personality Specifications
** Possess skills of analysis, planning, detail-orientation and self-disciplined implementation.
** Synthesize large quanta of data for deriving policy and program insights
** Ability to multi-task and deliver results in challenging internal and external environment.
** Ability to learn and adopt quickly.
** Critical thinking and problem-solving skills.
** Effective inter-personal skills, pro-activeness and comfortable working in multi-cultural and multi locational environment.
** Skills in planning, organization for delivering efficiently & successfully in tight Last Dates.
** Knowledge of Telugu preferred but not mandatory.
** Stay in Vijayawada is mandatory
Education Criteria & Experience
** Masters with minimum 2 years of work experience.
** At least 60% marks in both Under Graduation and Post-Graduation.
** An indicative list of specialisations benchmarked to appropriate verticals include Education, Economics, Public Policy, Public Administration, Management, Social Work, Public Health, Computer Science/Computer Applications, Nutrition, and Psychology etc. from highly reputed national and international institutions.
** For some of the verticals the candidates must possess the qualifications as detailed below
| | |
| --- | --- |
| Vertical | Qualification |
| Health & Nutrition Programs | MBBS from highly reputed institute with minimum 2 years of relevant experience |
| Sports & Extra-curricular programs | Should have at least participated in State Level Sports meet with minimum 2 years of relevant experience in Sports, NCC, Scouts etc. along with Maters Degree in Physical Education. |
| Cultural & Co-curricular programs | Masters in Fine Arts/Music/Art/Crafts with minimum 2 years of relevant experience. |
| Green Initiatives | Bachelors of Horticulture or equivalent from reputed institute with minimum 2 years of relevant experience |
How to Apply?
Just follow the below steps to apply for the Andhra Pradesh Social Empowerment Fellowship 2019-20.
Steps :
Step 1 : Go to the official website of JnanaBhumi through provided above.

Step 2 : Then click on the "AP Social Empowerment Fellowship 2019-20 Registration" link.


Step 3 : It will redirect to the AP Social Welfare Department website. Next click on the "Online Application" link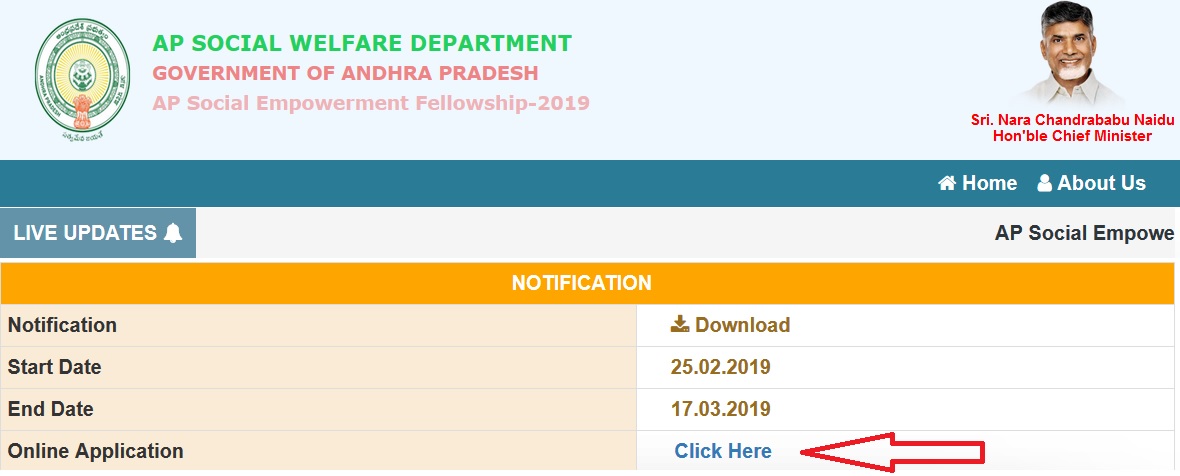 Step 4 : New User fill the required details to complete the registration.
Step 5 : Already registered user can directly login with your User Id and Password.
Step 6 : After that fill the remaining details to submit the application
Stipend
** Year 1 stipend (Per Month) – ranges from INR 45,000 to INR 1,50,000 based on the candidate's educational background and relevant work experience.
For example, a B. Tech graduate from IIT Madras with masters from reputed national university with 2 years of relevant experience will get INR 90,000 (indicative) stipend per month.
** Maximum of 20% annual increment on above Total for Year 2 of Fellowship, based on performance.
** NB – The stipend may be modulated according to the candidate's work experience and educational background.
Download Notification :
https://www.scholarships.net.in/uploads/pdf2019/35459-Advt.pdf
Selection Process
Stage 1 : Completion of online application and submission of CV at official website.
Stage 2 : Screening of submitted application by Department of Social Welfare.
Stage 3 : Following a review of the CV, the shortlisted candidate will be invited to the Panel interview
Stage 4 : Results announcement
Stage 5 : Verification of original documents and on-boarding.
Helpdesk
For any further queries, please feel free to reach out to empowerment.fellows [AT] gmail.com