Candor's Annual Scholarship Program 2019 : Candor International School
Organisation : Candor International School
Scholarship Name : Candor's Annual Scholarship Program 2019
Applicable For : Students From Grade 6 – 12
Applicable State/ UT : All Over India
Registration Last Date : April 6th, 2019
Website : https://candorschool.edu.in/admissions/candors-annual-scholarship-program/
You can now ask your question on this scholarship.
Ask here
(OR) Go to the bottom of this page for comments.
Candor's Annual Scholarship Program
Candor International School Announcing the launch of Candor International School's new scholarship program! Meritorious students from Grade 6 – 12 can now get up to 100% scholarship.
Related : Jindal Global Summer School JGSS Aspire India Scholars Programme 2019 : www.scholarships.net.in/35247.html

Candor's Scholarship Registration
Just follow the below steps to register for Candor's Annual Scholarship Program 2019.
Steps :
Step 1 : To register for the scholarship program, please write to scholarships [AT] candorschool.com with student's full name and grade for which scholarship is being applied for. Also mention parent's name and mobile number so that our team can stay in touch with you and share regular updates;
Step 2 : Once the student is registered, he or she will have to complete an on-campus scholarship assessment;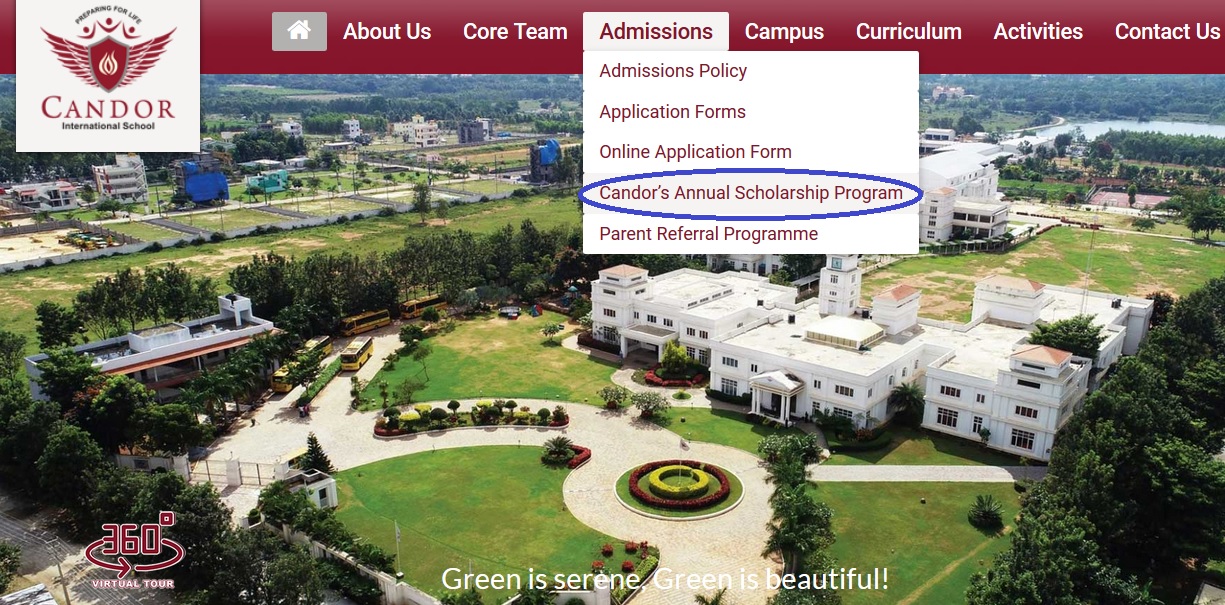 Step 3 : Scholarship assessments will be conducted every Saturday from Feb 16th till April 6th, 2019 (both dates inclusive). Students are welcome to choose a Saturday of their convenience to appear for the scholarship test;
Step 4 : All the scholarship awardees will be intimated individually in April;
Scholarship Policy
1. Scholarships are not applicable for existing Candor students;
2. Scholarships are given purely on merit and good conduct. Preference will be given to students who have also performed well in extra-curricular activities;
3. Scholarship is awarded only on the Tuition fees;
4. To continue the scholarship, a level of merit and good conduct has to be maintained;
5. Scholarship can be cancelled without notice if grades are not maintained and if there are serious disciplinary concerns;
6. The school will decide the number of scholarships that will be awarded in each grade and as per the performance in the scholarship assessment;
FAQs
1. Can students get into an Indian Education System after grade 10 and into an Indian University after grade 12?
Yes, they definitely can. Students who decide to study in India can get admissions into Indian Universities because both the IGCSE and the IB are recognized by the Association of Indian Universities.
Also, increasing number of students these days want to go overseas for their higher education. The IGCSE and IB makes this transition easier.
A career and guidance counselor will ensure that each child is adequately guided through the process of finding the right college or university upon the completion of their schooling at Candor.
2. How can I keep track of my child's growth at the school?
A student's progress is regularly monitored through Formative and Summative assessments and parents are regularly updated on their child's progress.
3. How can Candor help families with both parents working full time jobs?
Weekly residential facilities can ensure that academic work, and social and other activities, are taken care of during the weekdays and parents are able to spend quality time with their children over the weekend.
4. How different is the teaching Methodology at Candor?
The methodology used at Candor maintains a delicate balance between classroom learning, experiential learning, problem/project-based learning, and a discriminate use of technology in the classroom.
Children learn from their peers, as well as from the teachers who are the initiators and facilitators in the learning process. The school provides opportunities for and encourages individual potential and creativity to ensure a whole-brain curriculum.
Helpdesk
For any further queries regarding our scholarship program, please feel free to write to us at scholarships [AT] candorschool.com.