GAIIT Classes Aryabhatt Super 30 Scholarship Test Result 2019
Organisation : GAIIT Classes
Announcement : Aryabhatt Super 30 Scholarship Test Result 2019
Scholarship Name : Dainik Jagran Aryabhatt Super 30 Talent Search 2019 Admission cum Scholarship Test
Check Result : http://www.gaiit.com/Reports
You can now ask your question on this scholarship.
Ask here
(OR) Go to the bottom of this page for comments.
GAIIT Scholarship Test Result
Results of class 10th will be Published on (7 Feb 2019) at 5PM
Related : The GATE Coach Scholarship Test For 2020 Aspirants : www.scholarships.net.in/35131.html
Result Schedule
** Class 9th result will be published on 8th February 2019
** Class 7th & 8th result will be published on 10th February 2019
** Class 11th & 12th result will be published on 12th February 2019
How to Check Result?
Just follow the below steps to check your results,
Steps :
Step 1 : Go to the official website of GAIIT Classes through the URL http://www.gaiit.com/

Step 2 : Then click on the Result of Scholarship Test link under "Apply Online" in the menu bar.

Step 3 : Next enter your Name [Raj]
Step 4 : Enter your Mobile 1 [9898989898]
Step 5 : Enter your Mobile 2 [9999999999]
Step 6 : Finally click on "Get Your Result" button.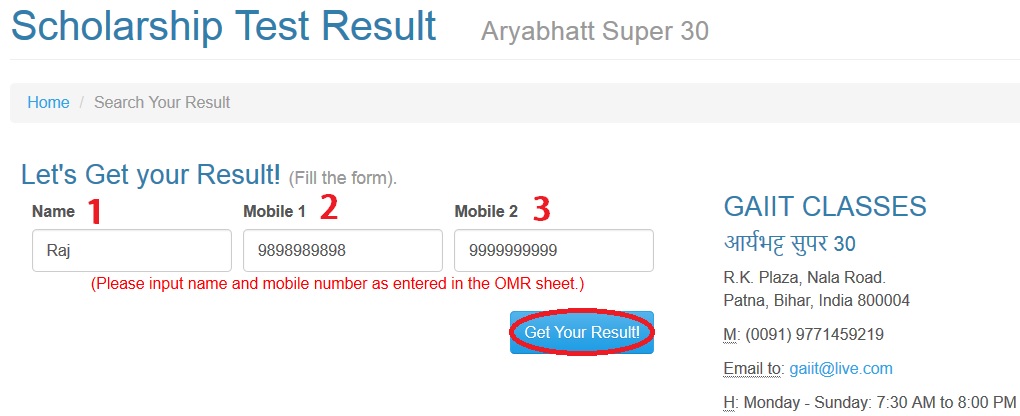 Note :
Please input name and mobile number as entered in the OMR sheet.
FAQs
1. Till today my ward has studied on his own and secured highest aggregate, why should she/he join GAIIT Classes?
At GAIIT Classes, We focused on building strong foundation of students, sharpen their skills and prepare them to face a competitive environment at National level effectively.
2. How teaching in GAIIT Classes is useful to our child?
Our main aim is to make the child's overall progress. We just don't teach them the school curriculum but we also prepare them for various national, international and government Olympiads like NSTSE, NSO, IMO, IEO, UIEO, NTSE, JSO, RMO, NMTC, etc., state/national level Engineering and Medical entrance exams also.
Thus, At GAIIT Classes, we prepare students with subject knowledge as well as the skill to apply it in competitive examinations.
3. How can I join the Aryabhatt Super 30?
One can join Aryabhatt Super 30 batch through the selection test conducted twice in a year in November/December and April/May every year.
The top 30 students are awarded with full freeship and chance to join our Legend Batch. Other students are also awarded marit based scholarsip in the basis of same test for other paid batches.
4. When & how can I enquire for Admission at GAIIT Classes?
You can enquire about GAIIT Classes courses and other information either by calling on our helpline numbers; 9771459219, or can also visit GAIIT Classes campus at our office timings between 7am-8pm at Nala Road, Patna.
5. How will I come to know that my ward is attending his classes regularly?
At GAIIT Classes, we have Attendance Monitoring system that monitors student's attendance and you will be informed via sms and phone call if your ward is not attending his classes regularly.
6. Is there any hostel facility for students?
We does not own any hostel however; there are many hostels available for boys/girls near our center. You can visit and select your hostel when you reach at the center. You can also get a list of nearby hostels to select from. Our office exucutive will assist you for the same.