SEB Gujarat NMMS Exam Result 2018 National Means Cum Merit Scholarship : sebexam.org
Organisation : Gujarat SEB State Examination Board
Annoucement : NMMS Exam Result 2018
Scholarship Name : NMMSE 2018 National Means Cum Merit Scholarship Exam
Applicable For : Class VIII Students
Applicable State : Gujarat
Exam Held On : 23/12/2018
Website : http://www.sebexam.org/SCHP/FrmResultCheck.aspx
You can now ask your question on this scholarship.
Ask here
(OR) Go to the bottom of this page for comments.
SEB Gujarat NMMS Exam Result
Result Notification of NMMS Exam-2018. Gujarat Council of Educational Research and Training Gandhinagar has announced the result of NMMS Exam held on 23rd December 2018.
Related : Digital Gujarat Post-Matric Scholarship Form 2018-19 : www.scholarships.net.in/29246.html
How to Check NMMS Result?
Just follow the below steps to check your Result For NMMS Exam 2018
Steps :
Step 1 : Go to the official website of Gujarat SEB through the URL http://www.sebexam.org/

Step 2 : Then click on the Result option to see results of the NMMS Scholarship Exam.

Step 3 : Next Select Your Exam – NMMSE/PSE/SSE
Step 4 : Enter Your Confirmation Number [11111]
Step 5 : Enter Your Date of Birth [02/May/2005]
Step 6 : Finally click on "Submit" button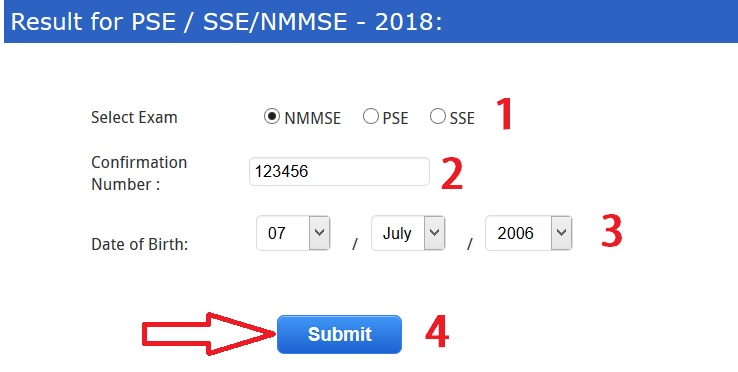 NMMS 2018 Result Notification :
https://www.scholarships.net.in/uploads/pdf2019/35269-Noti.pdf
NMMS Merit List
To download the Merit List of NMMS Exam-2018 visit the official website and click on the "Merit List of NMMS Exam-2018" link in the home page.
The list will be displayed in a PDF format. Th PDF files contains the following details,
** District
** Taluka
** Conf No
** Roll No
** First Name
** Middle Name
** Last Name
** Date of Birth
** Category
** Disability Status
** School Name
** School DISE Number
** Barcode
** P1 Marks
** P2 Marks
** Grand Total
NMMS Merit List 2018 :
https://www.scholarships.net.in/uploads/pdf2019/35269-ML.pdf
Some of the selected Students are listed below. Kindly refer the above PDF links uploaded for full candidates list.
| | | | | | | | |
| --- | --- | --- | --- | --- | --- | --- | --- |
| S No | Conf No | Roll No | First Name | School Name | P1 Marks | P2 Marks | Grand Total |
| 1 | 4349310 | 2002148 | SURENDRA | MUTHIYA GUJ 1 | 62 | 69 | 131 |
| 2 | 4516935 | 2003890 | SATENDRA | BAHERAMPURA-13 | 70 | 61 | 131 |
| 3 | 4478032 | 2003202 | DIPAK | PURSHOTTAM PRI SCHOOL 1 | 61 | 67 | 128 |
| 4 | 4475182 | 2005517 | MAHESHBHAI | GHATLODIYA – 2 PRIMARY SCHOOL | 65 | 62 | 127 |
| 5 | 4415013 | 2003771 | BINAL | BAHERAMPURA-1 | 62 | 64 | 126 |
| 6 | 4359460 | 2002032 | VISHAL | THAKKARBAPA GUJ SHALA – 1 | 58 | 67 | 125 |
| 7 | 4538336 | 2005645 | RAJUBHAI | RAMDEVNAGAR PRIMARY SCHOOL | 75 | 50 | 125 |
| 8 | 4465564 | 2004855 | AAYANKHAN | ISHANPUR PUBLIC SCHOOL | 71 | 54 | 125 |
| 9 | 4508145 | 2003061 | YOGESHKUMAR | AMRAIWADI HINDI – 7 | 77 | 47 | 124 |
| 10 | 4354585 | 2004322 | VIDHI | AMRAIWADI GUJ SCH -13 | 63 | 59 | 122 |
| 11 | 4397330 | 2004539 | NANDINI | SHAHVADI-2 | 68 | 54 | 122 |
| 12 | 4360984 | 2003013 | DIPALI | AMRAIWADI – 16 | 67 | 55 | 122 |
| 13 | 4414927 | 2001827 | KOMAL | HANSOL GUJ SH NO-1 | 58 | 63 | 121 |
| 14 | 4479033 | 2004395 | MAHMADFAISAL | HATHIJAN GUJARATI S.N.2 | 61 | 60 | 121 |
| 15 | 4511676 | 2000990 | AYSHA | SHAHIBAUG – 1 | 62 | 58 | 120 |
| 16 | 4435548 | 2005477 | KISHAN | CHANAKYA GUJARATI PRIMARY SCHOOL | 59 | 60 | 119 |
| 17 | 4354160 | 2002019 | SHIVANI | THAKKARBAPA GUJ SHALA – 1 | 72 | 47 | 119 |
| 18 | 4475693 | 2003955 | TASAVVUR | BAHERAMPURA-17 | 63 | 55 | 118 |
| 19 | 4507643 | 2004864 | ARPITA | ISHANPUR PUBLIC SCHOOL | 67 | 51 | 118 |
| 20 | 4316455 | 2001009 | MANHARSINH | SHAHIBAUG – 4 | 58 | 59 | 117 |
| 21 | 4361552 | 2001025 | MITAL | SHAHIBAUG – 6 | 69 | 48 | 117 |
| 22 | 4525961 | 2005693 | SAHIL | MAKARBA PRIMARY SCHOOL | 65 | 52 | 117 |
| 23 | 4463677 | 2005772 | DHAPUBEN | PIPALJ PRIMARY SCHOOL | 63 | 53 | 116 |
| 24 | 4377092 | 2001521 | NIRALI | SARASPUR – 3 | 61 | 55 | 116 |
| 25 | 4393147 | 2001123 | DAKSHABEN | JAHANGIRPURA GUJ – 1 | 64 | 52 | 116 |
| 26 | 4323360 | 2004279 | VIVEKKUMAR | BAGEPHIRDOSH-H.1 | 67 | 48 | 115 |
| 27 | 4464169 | 2005675 | HINA | MAKARBA PRIMARY SCHOOL | 62 | 53 | 115 |
| 28 | 4414929 | 2001704 | AMITSINH | SARASPUR HINDI – 4 | 62 | 53 | 115 |
| 29 | 4517297 | 2004178 | FIZAKAUSHAR | CHANDOLA GUJ SCH 1 | 66 | 49 | 115 |
| 30 | 4475144 | 2005498 | BHARTI | GHATLODIYA – 2 PRIMARY SCHOOL | 62 | 52 | 114 |
| 31 | 4508210 | 2004867 | CHADNI | ISHANPUR PUBLIC SCHOOL | 64 | 50 | 114 |
| 32 | 4463674 | 2005783 | PRIYANKABEN | PIPALJ PRIMARY SCHOOL | 63 | 50 | 113 |
| | | | | | | | |
| --- | --- | --- | --- | --- | --- | --- | --- |
| 33 | 4353432 | 2001974 | BHAVIKA | THAKKARBAPA GUJ SHALA – 1 | 55 | 58 | 113 |
| 34 | 4343260 | 2001169 | ANJANA | ASARWA HINDI 5 | 65 | 48 | 113 |
| 35 | 4475183 | 2005526 | SATISH | GHATLODIYA – 2 PRIMARY SCHOOL | 67 | 46 | 113 |
| 36 | 4403738 | 2002585 | MOHANIK | RAJPUR – 3 | 72 | 41 | 113 |
| 37 | 4499844 | 2004887 | NAZIYABANU | ISHANPUR PUBLIC SCHOOL | 57 | 56 | 113 |
| 38 | 4538796 | 2006052 | JENAB | SANKLITNAGAR PRIMARY SCHOOL -2 | 66 | 46 | 112 |
| 39 | 4375543 | 2004443 | KOMAL | VINZOL-2 | 52 | 60 | 112 |
| 40 | 4365587 | 2004498 | VISHAL | VINOBABHAVE-1 | 68 | 44 | 112 |
| 41 | 4365480 | 2004497 | STIVAN | VINOBABHAVE-1 | 67 | 44 | 111 |
| 42 | 4526057 | 2003244 | VINAYAK | PURSHOTTAM PRI SCHOOL 1 | 59 | 52 | 111 |
| 43 | 4543030 | 2004231 | VISHAL | BAGEPHIRDOSH-1 | 61 | 50 | 111 |
| 44 | 4336369 | 2002055 | MISBAHBANU | SAIJPUR PO. H.Q.GUJ SHALA 2 | 63 | 48 | 111 |
| 45 | 4515841 | 2005537 | GAYATRI | GYASPUR PRIMARY SCHOOL | 58 | 53 | 111 |
| 46 | 4342853 | 2004271 | RINKI | BAGEPHIRDOSH-H.1 | 69 | 42 | 111 |
| 47 | 4498646 | 2003368 | DARSHAN | AMBIKA GUJ SCH. NO – 1 | 63 | 47 | 110 |
| 48 | 4304287 | 2000832 | SHEEL | DUDHESHWAR – HINDI 1 | 65 | 45 | 110 |
| 49 | 4360186 | 2001033 | TASLIMABANU | SHAHIBAUG – 6 | 61 | 49 | 110 |
| 50 | 4314225 | 2002077 | DHRUVIL | SARDAR VALLABHBHAI PATEL SHALA SHANKUL | 74 | 36 | 110 |
| 51 | 4343836 | 2001166 | AASTHA | ASARWA HINDI 5 | 71 | 39 | 110 |
| 52 | 4324987 | 2004263 | KAJAL | BAGEPHIRDOSH-H.1 | 57 | 53 | 110 |
| 53 | 4501534 | 2002342 | RAKESH | BAPUNAGAR HINDI – 4 | 59 | 50 | 109 |
| 54 | 4446938 | 2004545 | RIYA | SHAHVADI-2 | 61 | 48 | 109 |
| 55 | 4416986 | 2002407 | RAHUL | SARASPUR HINDI – 1 | 52 | 57 | 109 |
| 56 | 4546360 | 2002709 | JAYKUMAR | SANT ALOYSIUS GUJ PRI. SCHOOL | 47 | 62 | 109 |
| 57 | 4392488 | 2001128 | KASHISH | JAHANGIRPURA GUJ – 1 | 54 | 55 | 109 |
| 58 | 4465407 | 2004863 | ARMAN | ISHANPUR PUBLIC SCHOOL | 63 | 46 | 109 |
| 59 | 4538890 | 2002710 | KETULKUMAR | SANT ALOYSIUS GUJ PRI. SCHOOL | 54 | 55 | 109 |
| 60 | 4395900 | 2003912 | MOHAYAJ | BAHERAMPURA-15 | 58 | 51 | 109 |