Somaiya Vidyavihar Haribhakti Scholarship For Girls 2019
Organization : Somaiya Vidyavihar
Scholarship Name : Haribhakti Scholarship For Girls 2019
Applicable For : Somaiya Girl Students Of Commerce
Application Last Date : 02.03.2019
Website : https://www.somaiya.edu/en/view-announcement/111
You can now ask your question on this scholarship.
Ask here
(OR) Go to the bottom of this page for comments.
Somaiya Vidyavihar Haribhakti Scholarship
Somaiya Vidyavihar invites applications for Haribhakti Scholarship For Girls for the year 2019.
Related : Maidh Trust Scholarship 2019 : www.scholarships.net.in/35182.html

Haribhakti Scholarship Eligibility
If you are a girl-student of commerce and aspiring to have a career in the field of accounting and auditing then you are eligible to apply for Haribhakti Scholarship 2019.
Haribhakti Scholarship Application Procedure
Students requested to fill the attached form along with the required documents and avail this opportunity. The last date for submission of application is 2nd March, 12.00 PM.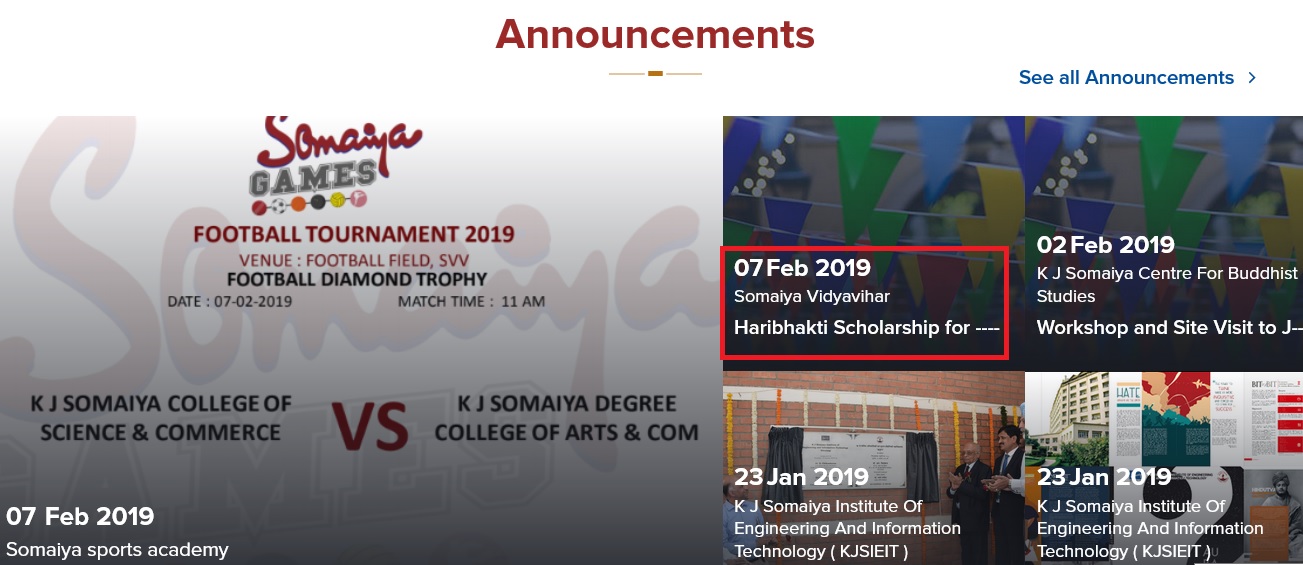 Scholarship Details
We announce the initiation of a new scholarship of upto Rs.2 lakh, for the Somaiya girl students of commerce – The Haribhakti Scholarship, by Shri Shailesh Haribhakti.
Himself a well-known and highly regarded chartered accountant, Shri Haribhakti wants to encourage the girls with academic ambition and drive to pursue a career as a chartered accountant, which otherwise would be abandoned owing to the economic condition of their families.
Other Scholarships :
** Need Based Scholarship
** Merit Based Scholarship
** Special Interest Scholarship
** Research Fellowships
** Subject Based Scholarship
FAQs
1. What type of service I will get after admission ?
** Somaiya mail id
** SVV net id (Unique id used for wifi access,to apply for railway concession etc.)
2. From where can I get the admit card?
After your admission fee payment, you can immediately visit our centralized ID Card Office for generating your ID Card. The office is located at below address. ID Card Office : Opp. K J Somaiya college of Science and Commerce.
3. How to reset password for svv net id ?
** Click on the forgot password link on home page of myaccount portal
** You need to visit myaccount.somaiya.edu link and follow below steps for resetting the password.
** Enter the ID Card no and personal mobile number, which will display the SVV Netid and Email ID.
** Click on reset button.
** This will send the password of SVV Net ID in email on somaiya.edu email id and as a SMS on personal mobile number.
4. Is it necessary to fill up Govt online form for the Junior college admission if i belong to Gujarati Minority college or i want only in Somaiya college as i have percentage above the last years minority cut off.
Students seeking admission in FYJC Class /Junior College XI standard has to fill the Govt online form fully.
Those students who have not filled in govt form but have filled only the online form of Somaiya College only, are not eligible for admission though their scores are very high above the cut off.
Helpdesk
For any further queries, please feel free to contact Babita Krishnan & Damini through email id babita.k [AT] somaiya.edu & damini [AT] somaiya.edu