Helix Institute HSAT Scholarship cum Admission Test For +1 Medical Students 2019 : helixinstitute.co.in
Organisation : M.L. Syal's Helix Institute
Scholarship Name : HSAT +1 Medical Scholarship cum Admission Test 2019
Applicable For : Studying in 10th
Exam Date : 31-03-2019
Exam Fee : Rs.600/-
Website : https://www.helixinstitute.co.in/scholarship
You can now ask your question on this scholarship.
Ask here
(OR) Go to the bottom of this page for comments.
Helix Institute +1 Medical HSAT
Applications are invited for +1 MEDICAL Scholarship cum Admission Test Dated 31-3-19 (studying in 10th).
Related :
Helix Institute HSAT +1 Non-Medical Scholarship cum Admission Test 2019 : www.scholarships.net.in/35195.html

Helix Institute HSAT Scholarship cum Admission Test For IX & X Standard 2019 : www.scholarships.net.in/35199.html
HSAT Eligibility
Students studying in 10th Moving to 11th in MEDICAL stream are eligible to apply.
HSAT Exam Details
Exam Name : +1 Medical Scholarship cum Admission Test
For Class : 10th
Stream : Medical
Date of Test : 31-03-2019
Start Timing of Test : 12:30 pm
Exam Fees : Rs.600
Candidate can enroll for Scholarship test at Our Office Or On the Spot upto 31-03-2019 till 12:00 pm.
HSAT Registration

Just follow the below steps to apply for the HSAT 2019.
Steps :
Step 1 : Go to the official website of Helix Institute provided above.
Step 2 : Read the instructions carefully and Click on the Apply Online button.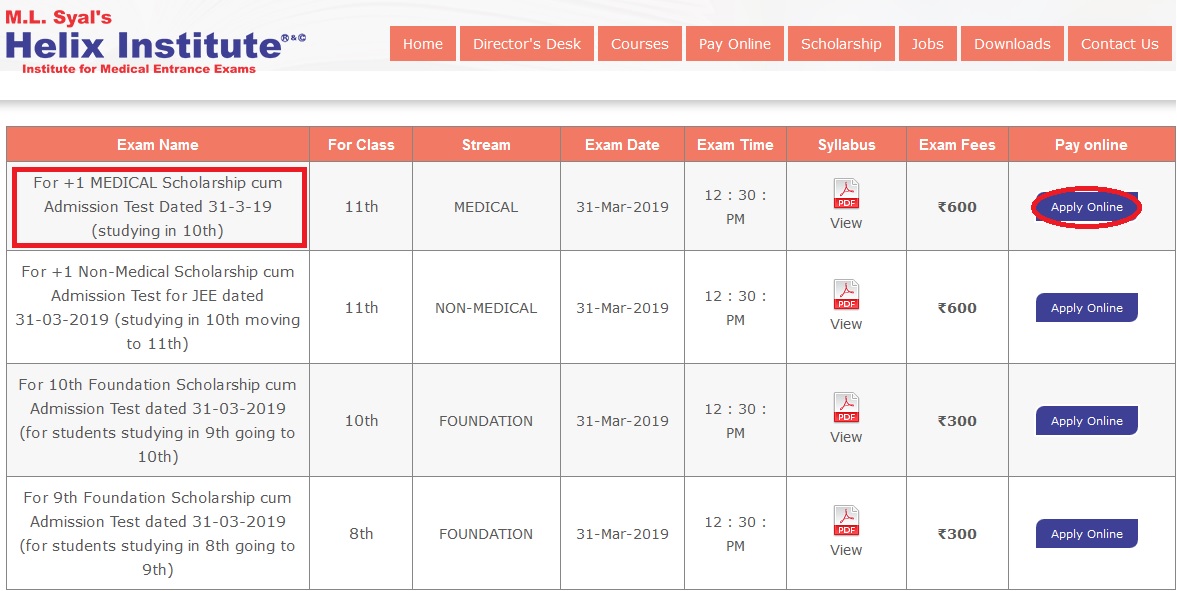 Step 3 : Next, enter the following details to complete the registration form
** Student Details
** Communication Details
** Educational Details
Step 4 : Accept the terms & conditions and finally click on the Submit button

Note :
Students who have already appeared two times for scholarship can not appear 3rd time
HSAT Exam Pattern
The pattern of the test will be objective type or MCQ type. Student will mark its attempt on the OMR sheet provided along with the question paper. On the basis of result of HSAT students are allowed to take admission in Helix courses and will be awarded scholarships on merit basis.
There will be 84 objective type questions as mentioned below-
a. 24 questions from Physics
b. 24 questions from Chemistry
c. 36 questions from Biology
Note : Each question carries 4 marks for correct answer and –1 mark for wrong answer.
HSAT Syllabus
Physics :
** Light (except reflection) – Refraction through rectangular glass-slab, Lenses, Prism, Dispersion & Spectrum, Atmospheric refraction, Scattering
** Electricity (including Heating effects of current)
** Magnetic effects of currents
Chemistry :
** Periodic classification of elements
** Carbon and its compounds (organic chemistry)
** Acids, bases and salts
** Metals and non-metals
Biology :
** Nutrition (in plants only)
** Transportation in plants
** Control and Coordination
** Heredity and Variations
** Human Reproduction
About HSAT :
HSAT not only provides an opportunity to get scholarships to young talent but also helps them to know their areas of weaknesses and strengths. HSAT is also an excellent opportunity for students who deserve better coaching due their excellent scores in schooling but unfortunately cannot afford to pay coaching fees.
Such students can appear in the test and get good scholarship by proving their potential. From past many years through this test, Helix keeps on identifying and nurturing the young and strong minds and helping them in achieving desired results in different competitive examinations for Medical as well as Non Medical.
Contact Us :
M.L. Syal's Helix Institute
S.C.O. 343-344-345, TOP FLOOR,
SECTOR 34-A, CHANDIGARH-160022
0172-2623155, 2663424, 2602623, 2612623
08556003939, 08559012012, 9988806090