IIT Roorkee SPARK Fellowship/Summer Internship Program 2019
Want to comment on this post?

Go to bottom of this page.
Organisation : IIT Roorkee
Fellowship Name : SPARK Fellowship/Summer Internship Program 2019
Applicable For : B.Arch./B.E./B.Tech./M.Sc Students
Last Date : 10th March 2019 (Date is Extended)
Website : http://spark.iitr.ac.in/
IIT Roorkee SPARK Fellowship
IIT Roorkee invites applications for institute-funded SPARK fellowships for summer internships with a weekly stipend of Rs.2500/week and project-funded summer internships.
Objectives
To attract and nurture talented undergraduate students of other institutes. Some of these students may then choose to apply for postgraduate or doctoral studies at IITR.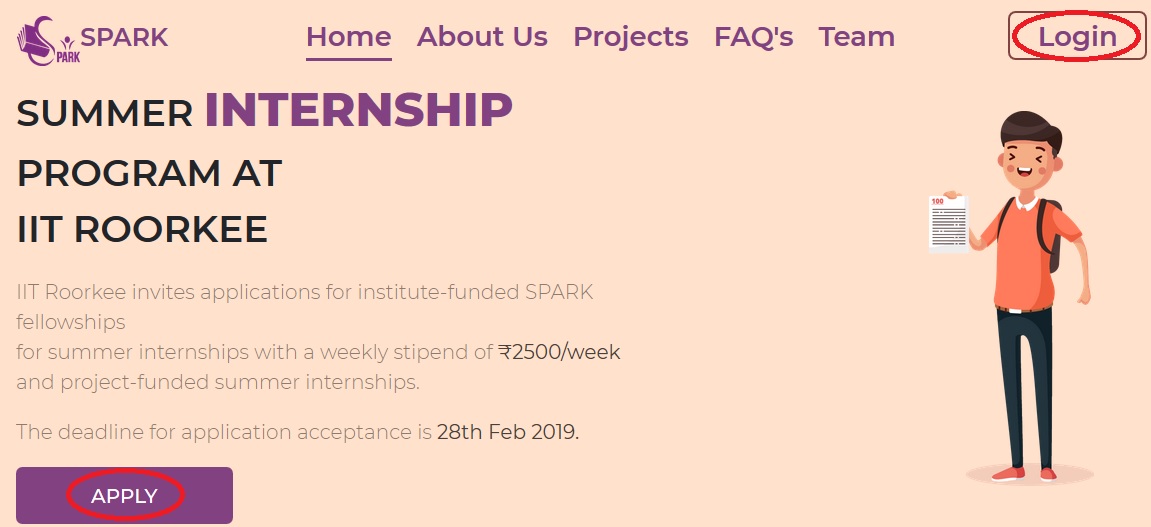 SPARK Fellowship Eligibility
Students who are currently enrolled and have completed at least two semesters of the undergraduate degree (B.Arch./B.E./B.Tech./M.Sc) in a relevant discipline from any institute in India.
Following minimum CGPA criterion will apply :
** CGPA > 7.5 for IITs/IISc.
** CGPA > 8.0 for NITs/ IISERs/ NISER/IIEST.
** CGPA > 8.5 for students of other institutes.
SPARK Fellowship Apply Online
Just follow the below steps to apply for the SPARK Fellowship 2019.
Steps :
Step 1 : Go to the official website of IIT Roorkee through the URl provided above.
Step 2 : Please login to submit your application and view status of your application.
Step 3 : If you have not registered yet signup by filling personal info.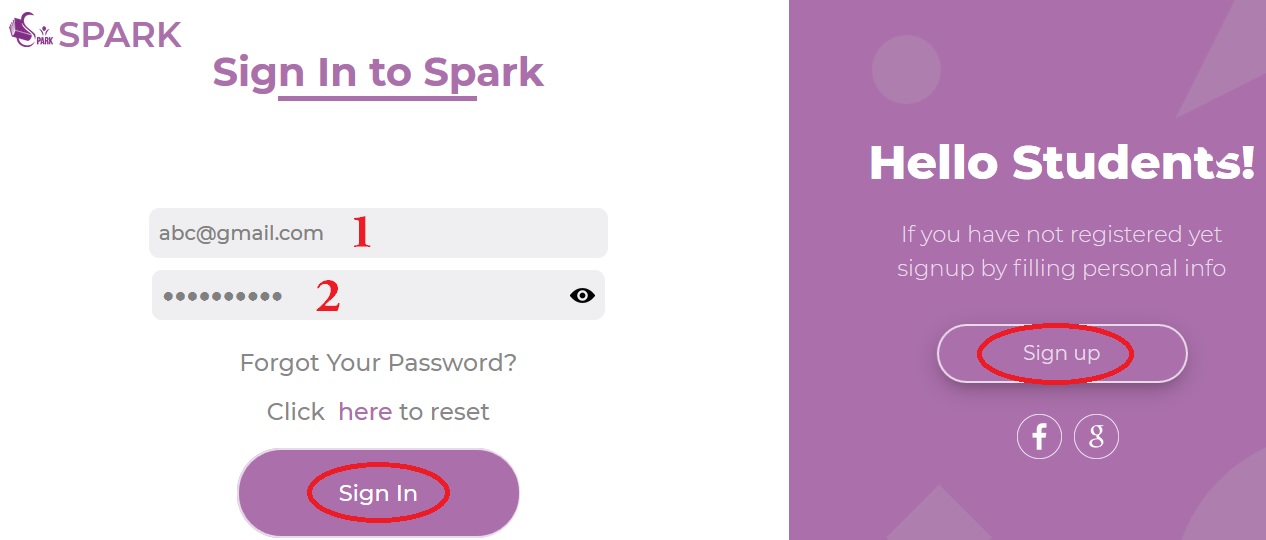 Step 4 : Applications need to be submitted through an online portal made for the purpose where the applicants will upload the transcripts, photograph, a 500-word research statement, and a brief 1-2 page resume.
Step 5 : Applicants need to mention names of five faculty members of their choice from the list of faculty members interested in having a summer intern.
Step 6 : At the successful completion of the internship, a certificate from the institute with the name of the intern and mentor, signed by Dean, SRIC, will be issued to all interns.
Frequently Asked Questions
1. Are MTechs eligible/Are BSc students eligible/Are final year BTech students eligible?
No. BTech/BE/integrated MSc students/MSc students who would have done two semesters before summer 2019 and have atleast a semester remaining after summer 2019 are ONLY eligible.
2. What is a research statement? Where to upload it?
You need to mention your motivation of doing research, any research background, and areas of interest. It need not mention the specific project you are applying since you may be applying for several projects. Attach it along with resume or transcript.
3. Will I get an acknowledgment? What does the status mean?
Currently, we do not have the acknowledgment feature. If files have been uploaded and at least one priority of faculty is set, your application is considered submitted. Decision on application will come on or after 15th March.
4. How are you going to select students?
Selection committee will look at all your credentials based on the information provided and make decision. We cannot entertain requests for more information.
5. What is a transcript?
Submit the marksheets until last semester (autumn 2018) of the current course you are enrolled in.
SPARK Fellowship Last Date
The Last Date for application acceptance is 10th March 2019.