TSIC Fellowship Program 2020 : Telangana State Innovation Cell
Organisation : Telangana State Innovation Cell
Fellowship Name : Government of Telangana Fellowship Program – 2020
Applicable For : Young Graduates/ Professionals
Applicable State : Telangana
Last Date : 10.05.2020 (Date is Extended)
Website : https://www.teamtsic.org/fellowship2020/
You can ask questions or answer questions about this scholarship.
Please go to the bottom of this page.
TSIC Telangana Fellowship Program
Applications Open for Government of Telangana Fellowship Program – 2020
Government of Telangana Fellowship program hosted by Telangana State Innovation Cell (TSIC) is a 1-year long (extendable after 1 year) program for young graduates/ professionals to promote innovation and entrepreneurship in the State. It's a great opportunity to work alongside Telangana Government.
Roles & Responsibilities
1. A Fellow will be an integral part of the Innovation Cell, reporting directly to the CIO on strategic engagements and can expect significant interaction with external stakeholders.
A Fellow's role would be to :
2. Support the Innovation Cell on specific projects by taking complete ownership from conceptualisation to execution.
3. Drive decision making through critical/thorough analysis.
4. Add value to the Innovation Cell by generating innovative ideas, and satisfying results.
Fellowship Registration
Just follow the below steps to apply for the Government of Telangana Fellowship Program – 2020.
Steps :
Step 1 : Go to the official website of TSIC through provided above.
Step 2 : Then click on the "Apply" link in the top of the home page.

Step 3 : After that, read the instructions carefully and click on the "Next" button.
Step 4 : Fill the application form with the required fields and click on "Next" button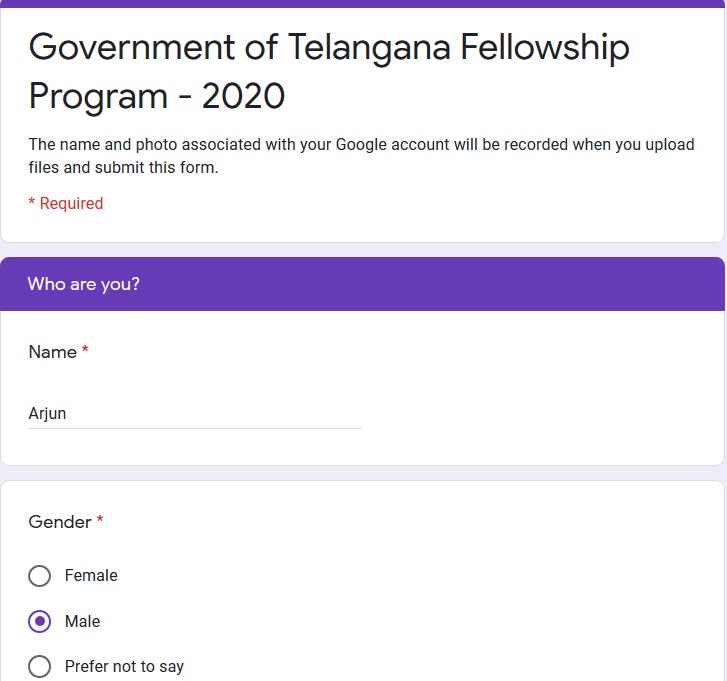 Step 5 : Next fill the remaining details to submit your application.
Profile/Skills Required
1. Passion to serve society.
2. Bachelor's degree in Arts/Commerce/Basic Sciences/Law/ Engineering.
3. 1-3 years of work experience in any sector.
4. Amicable managerial skills and experience leading projects/teams at least at the organization /college level.
5. Collaborative mindset and a knack to constantly learn; must be able to work and take decisions independently to drive projects.
6. Last but not the least, a doer
Timeline
1. Last date to apply – 11:59 pm, 10th May 2020.
2. Date of the announcement for selected candidates – May 1st week.
3. Date of Joining (Tentatively) — June
About the Program
During the course of the fellowship, the fellows will develop stakeholder and project management skills and gain first-hand experience working on large-scale issues with the Government.
The first 4 weeks of the program will be spent learning about the existing projects of the State Innovation Cell and identifying opportunities /conceptualizing new projects to be undertaken to accomplish the objectives of the State Innovation Cell. The next 11 months will be spent on detailing out and executing the projects.
Compensation :
1. This is a paid fellowship.
2. The role is a full-time position based out of Hyderabad, or any other town in Telangana.
FAQs
1. Is this a government job?
No, this is not a government job. It is a paid fellowship for an year.
2. Is there any age limit to apply for the fellowship?
Anybody who is 18 years old and above can apply for the fellowship. There is no upper age limit.
3. Is the fellowship restricted to Indian citizens?
No, the fellowship is not restricted to Indian citizens. Anybody above the age of 18 years and passionate to work for the society can apply.
4. Can I apply for a part-time role?
Yes, you can apply for a part-time role as a volunteer and help team TSIC execute programs.
Helpdesk
If you have any queries Write to us at cinno [AT] telangana.gov.in