The GATE Coach Scholarship Test For 2020 Aspirants : thegatecoach.com
Organisation : The GATE Coach
Scholarship Name : GATE 2020 Scholarship Test For GATE Coaching
Applicable For : GATE 2020 Aspirants
Exam Date : 17th March 2019
Website : https://bestgateiescoaching.com/gate-2020-scholarship-test-for-gate-coaching/
You can now ask your question on this scholarship.
Ask here
(OR) Go to the bottom of this page for comments.
Scholarship Test for GATE Coaching
Register Now for GATE 2020 Scholarship Test for Gate 2020 classroom program in India's Best GATE Coaching.
Related : Elite IAS Merit Cum Scholarship Test 2019-20 : www.scholarships.net.in/35104.html
Test Details
Exam Date : 17th March 2019
Time : 2.00 pm
Scholarship Worth : Rs.1.99 Cr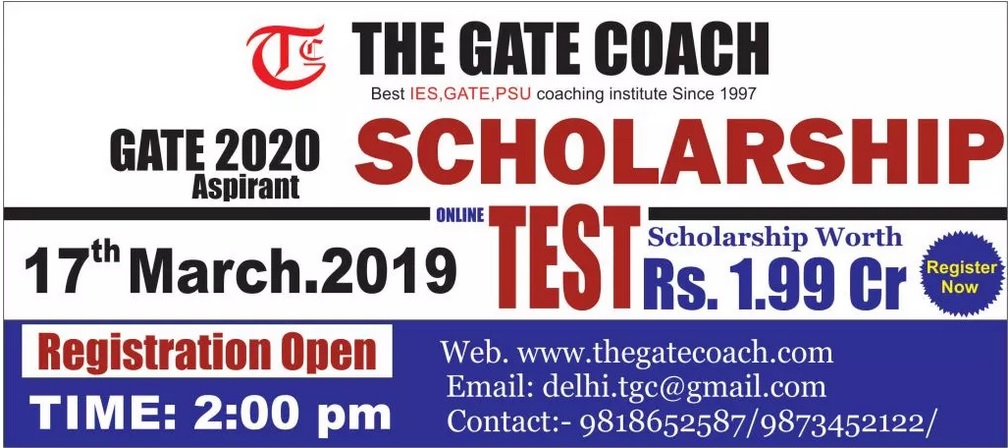 GATE Scholarship Registration
Just follow the below steps to register for the Scholarship Test For GATE 2020.
Steps :
Step 1 : Go to the official website of The GATE Coach through the URL provided above.
Step 2 : Fill the registration form with the following details
** Enter Your Name(required) [Karthick S]
** Select Your Engineering Stream(required) [Computer Science & Engineering]
** Enter Your Email(required) [abc@gmail.com]
** Enter Your Contact Number(required) [9898989898]
** Enter Your College Name(required) [Anna University]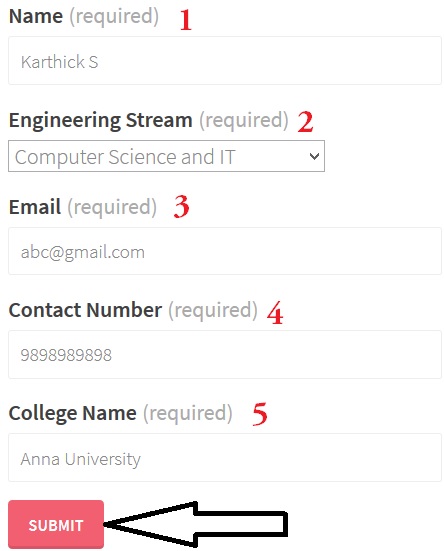 Step 3 : Finally submit your application form.
Frequently Asked Questions
1. Will the institute provide Videos, e-Lectures and Tabs?
No. However we are planning to introduce center based video classes for some of the subjects. Video solutions will be provided for test series.
2. Can you conduct the classes related to the universities semester syllabus so that it can be useful for academics?
We conduct the classes to cover the syllabus of GATE / ESE. The order in which the subjects covered can be anything, depending upon the convenience.
If you require any particular subject to be covered before your university exam, you can request our center head. If possible, it can be arranged accordingly.
3. Will this coaching be also useful for college academics?
Yes. The subjects taught in GATE & IES are useful for college or university exams also.
4. Will the tests be conducted regularly according to the topics completed in each subject?
The online test series contains different tests like chapter-wise, subject-wise, Grand test for each subject and full length mock tests. (The details of all the tests are uploaded in our website under test series icon)
As and when a particular chapter or group of chapters or subject is completed, the student can choose the appropriate test from the test series uploaded in our website and write the test.
5. Will student face language problem in class ?
No. Majority of our faculty use very simple English. Further majority of them can understand Hindi. TGC has team of subject experts. These faculties will be taking classes at all our centers.
About Us :
THE GATE COACH provide best coaching for GATE, coaching for PSU, best IES coaching, IAS coaching in Delhi, since 1997.
The Gate Coach provide GATE coaching for Mechanical Engineering, GATE coaching for Chemical Engineering, GATE coaching for Electronics Engineering, GATE coaching for Civil Engineering, IES coaching for Civil engineering, Coaching for GATE in Computer Science and IT, GATE coaching for Electrical engineering, Coaching for IES in Electrical Engineering.
Contact/Helpdesk
If you have any queries please contact,
Email : delhi.tgc [AT] gmail.com
Contact : 9818652587/9873452122