Pre-Matric/Post Matric, Merit-cum Means Scholarship 2015-16 Application Status Tracking
Rate this post:
[ Votes=

0

, Average =

0

]
Portal Name : National Scholarship Portal
Organisation : Ministry of Minority Affairs
Scholarship Service : Pre-Matric, Post Matric & Merit-cum Means based Scholarship Application Status 2015-16
Applicable State/UT : All India
Website : https://scholarships.gov.in/
NSP Application Status Tracking
You have to login under the option 'Student Login'. Once login, you will be able to view the option 'Check Your Status'. Under this option you can check your online status.
Related / Similar Post : NSP Higher Education State Nodal Officer
How to Login?
Go to the NSP website and click on the Login to Apply link and enter the following details

Step-1 : Enter the application ID [JK201516002288300]
Step-2 : Enter Password – Password will be your DOB
Step-3 : Enter the Captcha code.
Step 4 : Click on the "Login" button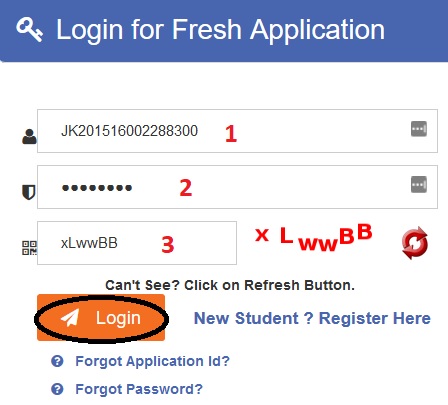 Contact :
Students can contact the Help Line Numbers – 040-23120300 All weekdays 9:00 AM – 5:30 PM
Frequently Asked Questions
1. Can I edit the information already saved and up to what time?
You can edit information filled by you until you submit the online application. To edit the application, go to the option "Student login"?enter the application id then click on submit 'login' button.
2. Which fields I can edit before final submission of application?
You can edit all details except "Personal Details". It may be noted that once you finally submit your application will be forwarded to the next level and after that you cannot edit further.
3. Is there any Application ID?
Yes. An Application ID will be provided to the candidate once his/her application is submitted online. It will be conveyed to candidates through SMS and e-mail. Students should remember their ID as it will be required while applying for renewal. Receipt of ID does not give itself a guarantee for award of scholarship.
4. What should I do if I forget my Application ID?
The process of re-collection of the Temporary/Permanent id is given as below:
"Student login -> Forgot Registration Details?"then enter the basic fields accordingly and click on the button "Get Registration details"".
Pre matric Scholarship Scheme :
The scholarship at pre-matric level will encourage parents from minority communities to send their school going children to school, lighten their financial burden on school education and sustain their efforts to support their children to complete school education.
Post-matric Scholarship Scheme :
The objective of the scheme is to award scholarships to meritorious students belonging to economically weaker sections of minority community so as to provide them better opportunities for higher education increase their rate of attainment in higher education and enhance their employability.
Merit-cum-Means Scholarship Scheme :
The objective of the Scheme is to provide financial assistance to the poor and meritorious students belonging to minority communities to enable them to pursue professional and technical courses.