SOF GCSS Winners 2018-19 Girl Child Scholarship Scheme : Science Olympiad Foundation
Organization : Science Olympiad Foundation
Announcement : SOF GCSS Winners 2018-19
Scholarship Name : SOF GCSS 2018-19 Girl Child Scholarship Scheme
Applicable For : Girl Students (Classes I-X)
Website : http://www.sofworld.org/sof-gcss-winners-2018-19
You can ask questions or answer questions about this scholarship.
Please go to the bottom of this page.
SOF GCSS Winners
300 Girl students, academically bright but from the economically weaker section, have been selected under the SOF GCSS Scheme for the year 2018-19.
Related / Similar Post : SOF Girl Child Scholarship Scheme 2020-21
Each selected girl will receive a scholarship of Rs 5000/ to assist her to pursue her education. Letters, along with cheques, will be sent to schools in which the selected girls study.
How to Check Result?
Just follow the below steps to check the winners list of Girl Child Scholarship Scheme 2018-19.
Steps :
Step 1 : Go to the official website of Science Olympiad Foundation through provided above.

Step 2 : Then click on the "Winners" tab in the menu bar and click on the "SOF GCSS Winners 2018-19" link


Step 3 : Next you can find the Winners by Name and School Name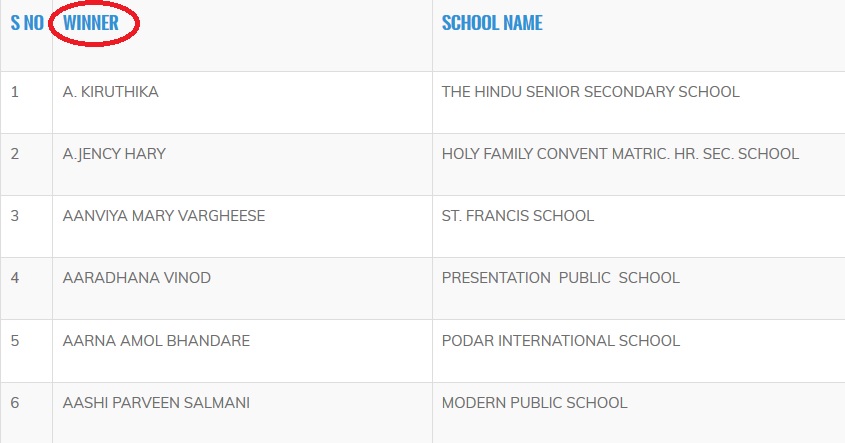 GCSS Qualifiers List
SOF GCSS qualifiers have been selected from the following Cities
| | | | |
| --- | --- | --- | --- |
| S No | Winner | School Name | City |
| 1 | A. Kiruthika | The Hindu Senior Secondary School | Chennai |
| 2 | A.Jency Hary | Holy Family Convent Matric. Hr. Sec. School | Chennai |
| 3 | Aanviya Mary Vargheese | St. Francis School | Deoghar |
| 4 | Aaradhana Vinod | Presentation  Public  School | Mysore |
| 5 | Aarna Amol Bhandare | Podar International School | Baramati |
| 6 | Aashi Parveen Salmani | Modern Public School | New Delhi |
| 7 | Aastha Panjabrao Shende | Agragami Convent School | Wardha |
| 8 | Aditi Minj | St. Anthony's Secondary School | Faridabad |
| 9 | Aditi Tiwari | Shri Cloth Market Vaishnav Bal Mandir Girls Hr. Sec. School | Indore |
| 10 | Akanksha.M.Bhat | Agasthya Vidyanikethan | Bengaluru |
| 11 | Akshaya B | Vani Vidyalaya Senior Secondary & Junior College | Chennai |
| 12 | Akshaya. V | Rose Mary Ideal Public School | Tirunelveli |
| 13 | Alefa Anand Sahare | Free Methodist English High School | Yavatmal |
| 14 | Amanzan Lamlang | Sacred Heart Higher Secondary School | Imphal East |
| 15 | Anamika Mishra | St. Vincent Pallotti School | Nagpur |
| 16 | Ananya Bajaj | R.A.N. Public School | Rudrapur |
| 17 | Ananya Bora | Sandipani Vidya Mandir | Nagaon |
| 18 | Angel Valmiki | Central Hindu School | Gorakhpur |
| 19 | Anjali Gupta | Cambridge Public School | East Champaran |
| 20 | Anjalina Ekka | Mater Dei School | New Delhi |
| 21 | Anjel Kar | St. Joseph's High School | Bhubaneswar |
| 22 | Ankita Choudhury | Modern Public School | Bhiwadi |
| 23 | Ann Maria Cherian | Carmel Convent Sr. Sec. School | Bhopal |
| 24 | Anne Mary Francis | Sacred Heart Senior Secondary School | Ludhiana |
| 25 | Anoushka Katyal | The Punjab Public School | Patiala |
| 26 | Ansari Nida Siraj Ahmad | J.A.T. Girl's Primary School | Malegaon |
| 27 | Anubha Das | Contai High School | Contai |
| 28 | Anushka | Ch. Chhabil Dass Public School (Jr. Wing) | Ghaziabad |
| 29 | Anushka Khandal | St. Teresa's School | Jaipur |
| 30 | Anushka Kumari Jha | O.P. Jindal School | Raigarh |
| 31 | Anushka Shah | Holy Cross Senior Secondary School | Raipur |
| 32 | Anvesha Raj | Jai Hind Public School | Gaya |
| 33 | Anvi Tirkey | St. Joseph's Co-Ed Sr. Sec. School | Bhopal |
| 34 | Aparna Saha | U.P. Public School | Suri |
| 35 | Aparupa Roy | Inessco Academy | Tripura |
| 36 | Archita Sahoo | Dr. Dev Mohanty Public School | Cuttack |
| 37 | Areeba Khan | Mount Carmel College | Lucknow |
| 38 | Arpita Ghosh | S.K.S. Public School | Raniganj |
| 39 | Arshita Thapa | Army Public School | Kangra |
| 40 | Arya Madan Kashid | Sanjeevan Public School (Day School Section) | Kolhapur |
| 41 | Arya Prakash Shinde | Dsk School | Pune |
| 42 | Arya S Anil | Mar Gregorious Memorial School | Thiruvananthapuram |
| 43 | Ayushi Pandey | I.T.L. Public School | New Delhi |
| 44 | Ayushi Rakesh Marve | Shree Maharishi Vidya Mandir | Chandrapur |
| 45 | B.Suma Geethika | Vishwa Shanthi High School | Karim Nagar |
| 46 | Baig Saniya Riyaz | Pravara Public School | Rahata |
| 47 | Barsha Palei | D.A.V. Public School (Jr. Wing) | Cuttack |
| 48 | Bathini Sharvani | Kakatiya High Schools | Karimnagar |
| 49 | Beebi Haleema.Tp | Govt. Girls Senior Secondary School | Lakshadweep |
| 50 | Beegum Safvana D.A | Govt. Ss School | Lakshadweep |
| 51 | Bhagyashree Ayodhya Gupta | Pawar Public School (Jr. Wing) | Mumbai |
| 52 | Bhoomi G.S | Srs Heritage School | Chitradurga |
| 53 | Bhoomika Shashikant Darda | Kline Memorial School Of Union Biblical Seminary | Pune |
| 54 | Bhosale Kajal Gorakh | Shankarrao Mohite Mahavidyalaya | Solapur |
| 55 | Bhumi | S.B.P. D.A.V. Centenary Public School | Fatehabad |
| 56 | Bhumi Gohil | Amity International School | Bharuch |
| 57 | Bhumika Santosh Gour | Bharti Krishna Vidya Vihar | Nagpur |
| 58 | Binita Paul | Shishu Bihar H.S. School | Agartala |
| 59 | Bulbul Verma | Assisi Convent School | Noida |
| 60 | C.Vanisree | Mangal Vidyalayam | Chittoor |
| 61 | Ch.Nithya Sri | Narendra E/M High School | Nizamabad |
| 62 | Chandini | Cal Public School | Hyderabad |
| 63 | Chauhan Prachi | Shree Swaminarayan Public School | Gandhinagar |
| 64 | Chavi Prajapati | St. Stephen's Senior Secondary School | Ajmer |
| 65 | Chaya | Madhava Kripa English Nursery & Higher Primary School | Manipal |
| 66 | Chaya Rajesh Bhai Vaghela | Tatachem Dav Public School | Jamnagar |
| 67 | Chetna Ramesh Sakore | The Chanda Devi Saraf School & Junior College | Nagpur |
| 68 | Chhavi Sehwag | Scholars Global School | Bahadurgarh |
| 69 | Chitrangada Saxena | Lions Public School | Gurugram |
| 70 | Clemy Esmy Lopes | Chubby Cheeks Spring Valley High School | Panaji |
| 71 | D. Sri Laxmi | Shivappa High School | Hyderabad |
| 72 | Darshana Manoj Kathed | A.E.S Ashokbhau Firodia English Medium School | Ahmednagar |
| 73 | Darsona Kalita | Vivekananda Kendra Vidyalaya | Jorhat |
| 74 | Deepika | Navy Children School | Kannur |
| 75 | Deepika Hembram | Demonstration Multipurpose School | Khurda |
| 76 | Dimpana.A | B.G.S. National Public School | Bengaluru |
| 77 | Dithya T.A | St Mary's International School | Chikamagalur |
| 78 | Divya Nuthalapati | Vikas The Concept School | Hyderabad |
| 79 | Diya Rautela | Inspiration Public School | Haldwani |
| 80 | Ekta | Rao Khem Chand Vidya Vihar Sr. Sec. School | Rewari |
| 81 | Fauzia Sultan | Oxford Public School | Ranchi |
| 82 | G. Monisha | Blue Stars Higher Secondary School | Puducherry |
| 83 | Gaddam Akanksha | Bhashyam English Medium High School | East Godavari |
| 84 | Gargi Ghosh | Sandipani School | Nagpur |
| 85 | Gargi Setia | Sacred Heart Convent School | Sriganganagar |
| 86 | Garima Mishra | City Montessori Inter College | Lucknow |
| 87 | Gayatri Naresh Maheshwari | Adani Public School | Kutch |
| 88 | Gungun Jain | Assisi Convent School | Etah |
| 89 | Gurleen Kaur | Berry's Global Discovery School | Jalandhar |
| 90 | Harpreet Kaur | M.M. International School | Ambala |
| 91 | Harshita Pal | Sunbeam Suncity (School & Hostel) | Varanasi |
| 92 | Harshita Sonkar | Delhi Public School | Jabalpur |
| 93 | Hasmitha Kim | Sanskriti School | Hyderabad |
| 94 | Humraaz Fatima Jamil Ahmed Khan | Gei's Orchids The International School | Mumbai |
| 95 | Inchara M | Presidency School | Bengaluru |
| 96 | Ipshika Kumari | Foundation Academy | Patna |
| 97 | Ishita | Mount Carmel Sr. Sec. School | Kangra |
| 98 | Ishita Sharma | Sir Padampat Singhania School | Kota |
| 99 | Ishtpreet Kaur | B.C.M Arya Model Sr. Sec. School | Ludhiana |
| 100 | J. Preetha | Mahalakshmi Vidya Mandir (Cbse) | Chennai |
| 101 | J.Jyothi | Bhavishya The Next – Gen School | Hanamkonda |
| 102 | J.Nandhitha | Sree Renuga Vidhyalayam Matric Hr Sec School | Theni |
| 103 | Jahnvi Verma | Maharaja Agarsain Public School | Ghaziabad |
| 104 | Janvi Sharma | Jammu Sanskriti School | Jammu |
| 105 | Jaspreet Kaur | Mother Teacher Preparatory School | Barnala |
| 106 | Jaya Bharadwaj | St. Karen's High School | Patna |
| 107 | Jennet Paul | Montfort Sr. Sec. School | Haridwar |
| 108 | Jeya Shalini. B | Bodhi International School | Sivagangai |
| 109 | Jui Yogeshkumar Solanki | Euro School | Kheda |
| 110 | K.Alisha | Krishna Public School | Raipur |
| 111 | K.Sreeya | Smt Easwaramma High School | Anantpur |
| 112 | Kalyani Sharad Kshirsagar | Atma Malik Secondary And Higher Secondary Gurukul | Ahmednagar |
| 113 | Kanchan Gangore | Delhi Public School | Bhopal |
| 114 | Kangleikhonbi Maibam | St. George High School | Imphal East |
| 115 | Kanishka Mahesh Mhatre | Lady Khatun Marium School | Navi Mumbai |
| 116 | Kapadia Krisha Jigar Bhai | Smt. L.P. Savani Vidhyabhavan (Eng. Med.) | Surat |
| 117 | Kateshiya Sakshi | Delhi Public School | Jamnagar |
| 118 | Katyayani | Bethany Convent School | Allahabad |
| 119 | Khatib Anam Muffassillodin | Sharda English School | Beed |
| 120 | Khushboo Chaurasia | Shri O.P. Jindal Vidya Niketan | Kutch |
| 121 | Khushi | Shaheed Rajpal D.A.V. Public School | New Delhi |
| 122 | Khushi Mago | Swami Sant Dass Public School | Jalandhar |
| 123 | Khushi Sunil Dabrase | New Orange City Convent | Amravati |
| 124 | Khushi Vaishnav | Central Academy Sr. Sec. School | Jodhpur |
| 125 | Komal Moondra | Indian Public School | Bhilwara |
| 126 | Konatala Vindya Sri | Kendriya Vidyalaya Air Force Station Begumpet | Hyderabad |
| 127 | Kotari Bhavya Sri | Sri Mahathi E.M High School | East Godavari |
| 128 | Kotibovina Venkata Naga Vaishnavi | Dr. K.K.R's Gowtham Concept School | East Godavari |
| 129 | Kritika Rajkumar Sahu | Podar International School | Pune |
| 130 | Laiqua Fateema | Emerald Heights School | Akola |
| 131 | Laxmi Chandra | Delhi Public School | Korba |
| 132 | Lethika. B | Litera Valley Zee School | Hosur |
| 133 | M.D.Sameera | Montessori High School | Mahbubnagar |
| 134 | M.G. Nasrath Parveen | Alpha English Higher Secondary School | Puducherry |
| 135 | M.Priyadharshini | Sri Ramana Vidyalaya Montessori Matriculation Higher Secondary School | Virudhunagar |
| 136 | Madhu Kumari | St. Joseph's Public School | Hajipur |
| 137 | Madhumitha K. | S.B.I.O.A. Model Matric. & Hr. Sec. School | Thiruvallur |
| 138 | Mahak Singh | B.S.P. Eng. Med. Middle School | Durg |
| 139 | Mahalakshmi.G | Bangalore International High  – (Icse) | Bengaluru |
| 140 | Mahi Shrivastava | Modern Delhi Public School | Faridabad |
| 141 | Manasvi Dixit | St. Teresa's Sr. Sec. School | Jaipur |
| 142 | Manasvi Vishnu Shastri | Jain International School | Nagpur |
| 143 | Mandal Preeti Manoj | St. Ursula School | Sindhudurg |
| 144 | Manisha Charpota | Don Bosco Academy | Jhabua |
| 145 | Manisha Devi | Sboa Public School | Guwahati |
| 146 | Manvi.M | Sri Chaitanya Techno School | Bengaluru |
| 147 | Mehak | L.I.D.G. Dav Centenary Sr. Sec. Public School | Ferozpur |
| 148 | Melissa Coutinho | St. Francis' Convent Inter College | Jhansi |
| 149 | Mercy Rani Baag | St. Luke's School | Sambalpur |
| 150 | Mohini | Bhavan Vidyalaya Junior School | Chandigarh |