SB Memorial Scholarship Program 2019 : buddy4study.com
Organisation : SB Memorial Scholarship Trust & Buddy4Study
Scholarship Name : SB Memorial Scholarship Program 2019
Applicable For : Class 9 to 12 students of Pashchim Vihar Delhi & IIT BHU girl students
Application Last Date : 31.03.2019
Website : https://www.buddy4study.com/scholarship/sb-memorial-scholarship
You can now ask your question on this scholarship.
Ask here
(OR) Go to the bottom of this page for comments.
SB Memorial Scholarship Program
SB Memorial Scholarship Trust, supported by his SB friends, batch mates & his students, launched this memorial scholarship to provide a meaningful way to honor Late Sanjay Bahuguna while carrying his legacy forward to future generations of students.
Related / Similar Scholarship : Sardar Vallabhai Patel Scholarship For Students Pursuing Graduation 2020
Under this program, outstanding school students of Paschim Vihar (Delhi) and girl student of IIT BHU will receive scholarships to pursue their education.
Who Can Apply?
An applicant must –
** Be a school student of class 9 to 12 located in Paschim Vihar Delhi with an annual family income less than INR 4 Lakh from all sources OR
** Be a girl, studying in 1st year of IIT BHU with family income less than INR 6 lakh from all source
Further, all applicants (from both the above category) must
** Have obtained at least 75% or more marks in last qualifying examination
How to Apply?
Online application link will be active from 1st February 2019. Just follow the below steps to apply for the SB Memorial Scholarship Program 2019.
Steps :
Step 1 : Go to the official website and Click on SB Memorial Scholarship Program 2019 'Apply Now' link.
Step 2 : Login/Register using Facebook, Google or Email account.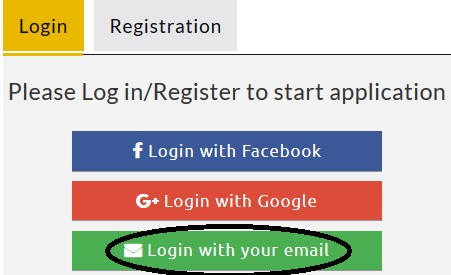 Step 3 : Once signed in, click on 'Start Application Form' to start filling the form.
Step 4 : Fill in all the details and upload all relevant documents.
Step 5 : Finally click on Submit.
Documents Required
** Mark sheet of last qualifying examination
** Family income certificate
** Any government ID proof
** Institute ID card / bonafide / current year's fee receipt
Selection Criteria
The selection process involves two stages –
** Scrutiny of all online applications & shortlisting based on merit and financial need
** Interview
Scholarship Amount
Scholarship details
** Scholarships of INR 6,000 will be given to Class 9 & 10 students
** Scholarships of INR 12,000 will be given to Class 11 & 12 students
** Scholarships of INR 24,000 will be given to IIT BHU student
** Scholarships will be provided in 2 equal instalments.
About Sanjay Bahuguna :
Sanjay Bahuguna was a Mechanical Engineer from IIT BHU (1987-91). Soon after joining his first job, at the age of 23, Sanjay had a paralytic attack and found himself bedridden. Sanjay started giving coaching classes from his home in Paschim Vihar (Delhi) to all local students.
Despite his ill health, a normal day in his life would consist of about 10 hours of teaching. On an avegrage, he used to teach 160 students spread over 8-10 batches, beginning at 1 pm and ending well after Midnight.
Two decades on, hundreds of his students, whom he taught and mentored, are successful and well-settled in their lives. His students describe him as a father, a trusted friend and a mentor.