Parth Ashram HPSP Class 7th Result 2018-19 : Hindustan Scholarship Program
Rate this post:
[ Votes=

0

, Average =

0

]
Organisation : Parth Ashram
Announcement : Result of HPSP Class 7th 2018-19
Scholarship Name : Hindustan Parth Ashram Scholarship Program HPSP 2018-19
Exam Held On : 16.12.2018
Website : https://parthashram.com/
Parth Ashram Class 7th HPSP Result
Result Of HPSP; Class-7(Held On 16-12-18)Alphabetically List
Related / Similar Post :
HPSP Class 9th Result 2018-19
How to Check Result?
Just follow the below steps to check your HPSP Class 7th Results.
Steps :
Step 1 : Go to the official website of Parth Ashram through provided above.
Step 2 : Then click on the "Result Of HPSP; Class-7(Held On 16-12-18)Alphabetically List" link under Latest Updates section.


Step 3 : The list will be displayed in a PDF format. You can download it and check your name in the list.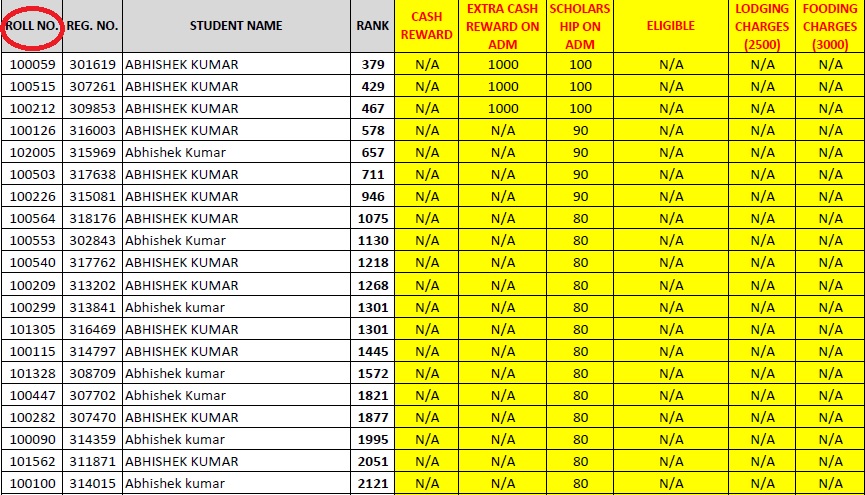 Step 4 : The PDF files contains the following details,
** Roll No.
** Reg. No.
** Student Name
** Rank
** Cash Reward
** Extra Cash Reward On Adm
** Scholarship On Adm
** Eligible
** Lodging Charges (2500)
** Fooding Charges (3000)
HPSP Class 7 Result 2018-19 :
https://www.scholarships.net.in/uploads/pdf2019/34757-Re7.pdf
HPSP Selected Students
Some of the selected Students List Of HPSP are listed below. Kindly refer the above PDF links uploaded for full candidates list.
| | | | | | | |
| --- | --- | --- | --- | --- | --- | --- |
| ROLL NO. | REG. NO. | STUDENT NAME | RANK | CASH REWARD | SCHOLARSHIP ON ADM | ELIGIBLE |
| 101922 | 700460 | AACHAL PRAKASH | 1668 | N/A | 80 | N/A |
| 101315 | 308125 | Aadarsh kumar | 1537 | N/A | 80 | N/A |
| 100805 | 704310 | AADISH | 965 | N/A | 90 | N/A |
| 100116 | 312911 | AADITYA KUMAR | 2084 | N/A | 80 | N/A |
| 101935 | 700327 | AADITYA RAJ | 711 | N/A | 90 | N/A |
| 100801 | 705565 | AAKRITI VERMA | 764 | N/A | 90 | N/A |
| 100696 | 703195 | AASHI RAJ | 965 | N/A | 90 | N/A |
| 100164 | 309393 | AASHIS KUMAR | 990 | N/A | 90 | N/A |
| 100432 | 313758 | Aavya Roy | 492 | N/A | 100 | N/A |
| 102215 | 312684 | AAYUSH DIWAKAR | 47 | N/A | 100 | PARTH RANKERS |
| 100274 | 312181 | AAYUSH RAJ | 537 | N/A | 90 | N/A |
| 100040 | 315962 | Aayushi | 8 | 1000 | 100 | PARTH RANKERS |
| 100223 | 303294 | ABDUL KADIR KHAN | 1130 | N/A | 80 | N/A |
| 100528 | 302406 | Abdurrahman | 1445 | N/A | 80 | N/A |
| 100235 | 310915 | Abdush sami | 2125 | N/A | 80 | N/A |
| 100157 | 313786 | Abhay kumar | 89 | N/A | 100 | PARTH RANKERS |
| 100305 | 319187 | ABHAY KUMAR | 114 | N/A | 100 | PARTH RANKERS |
| 100458 | 311339 | ABHAY KUMAR | 129 | N/A | 100 | PARTH RANKERS |
| 100147 | 314335 | Abhay kumar | 1995 | N/A | 80 | N/A |
| 100314 | 310020 | Abhay Narayan | 711 | N/A | 90 | N/A |
| 101329 | 312639 | ABHAYA ADITYA | 312 | N/A | 100 | N/A |
| 100128 | 309140 | abhayjeet kumar | 838 | N/A | 90 | N/A |
| 100495 | 312129 | ABHIGYAN ABHAY | 41 | N/A | 100 | PARTH RANKERS |
| 100498 | 314720 | Abhijeet Kumar | 990 | N/A | 90 | N/A |
| 100477 | 309070 | ABHIJEET KUMAR | 1075 | N/A | 80 | N/A |
| 100133 | 314301 | Abhijeet kumar | 1821 | N/A | 80 | N/A |
| 101951 | 700378 | ABHIJEET SAWANT | 85 | N/A | 100 | PARTH RANKERS |
| 100509 | 306940 | Abhinandan kumar | 1728 | N/A | 80 | N/A |
| 100166 | 308618 | Abhinash kumar | 1301 | N/A | 80 | N/A |
| 102165 | 312085 | ABHINASH RAJ | 642 | N/A | 90 | N/A |
| 102169 | 308032 | Abhinav Anand | 773 | N/A | 90 | N/A |
| 100698 | 702081 | ABHINAV KUMAR | 104 | N/A | 100 | PARTH RANKERS |
| 101589 | 312980 | Abhinav kumar | 492 | N/A | 100 | N/A |
| 100099 | 302349 | ABHINAV KUMAR | 2106 | N/A | 80 | N/A |
| 101321 | 319448 | ABHINAV MISHRA | 671 | N/A | 90 | N/A |
| 102120 | 301726 | ABHINAV MURTI | 808 | N/A | 90 | N/A |
| 100243 | 308456 | Abhinav Prashar | 129 | N/A | 100 | PARTH RANKERS |
| 100379 | 305170 | Abhinav Raj | 162 | N/A | 100 | PARTH RANKERS |
| 100026 | 314105 | Abhinav Raj | 711 | N/A | 90 | N/A |
| 101834 | 700506 | ABHINAV RAJ | 946 | N/A | 90 | N/A |
| 101307 | 307542 | Abhinav rana | 312 | N/A | 100 | N/A |
| 100123 | 301905 | ABHINAY PRAKASH | 965 | N/A | 90 | N/A |
| 100072 | 308455 | Abhinayak kumar | 1268 | N/A | 80 | N/A |
| 100446 | 317503 | ABHISHEK CHAURASIYA | 1728 | N/A | 80 | N/A |
| 100277 | 319298 | Abhishek gaurav | 990 | N/A | 90 | N/A |
| 102163 | 315755 | ABHISHEK KASHYAP | 416 | N/A | 100 | N/A |
| 101930 | 700447 | ABHISHEK KR. | 483 | N/A | 100 | N/A |
| 101946 | 702545 | ABHISHEK KR. | 1386 | N/A | 80 | N/A |
| 100047 | 304461 | ABHISHEK KUMAR | 3 | 2000 | 100 | PARTH RANKERS |
| 100106 | 312750 | ABHISHEK KUMAR | 273 | N/A | 100 | PARTH RANKERS |
| 100459 | 311054 | ABHISHEK KUMAR | 363 | N/A | 100 | N/A |
| | | | | | | |
| --- | --- | --- | --- | --- | --- | --- |
| 100059 | 301619 | ABHISHEK KUMAR | 379 | N/A | 100 | N/A |
| 100515 | 307261 | ABHISHEK KUMAR | 429 | N/A | 100 | N/A |
| 100212 | 309853 | ABHISHEK KUMAR | 467 | N/A | 100 | N/A |
| 100126 | 316003 | ABHISHEK KUMAR | 578 | N/A | 90 | N/A |
| 102005 | 315969 | Abhishek Kumar | 657 | N/A | 90 | N/A |
| 100503 | 317638 | ABHISHEK KUMAR | 711 | N/A | 90 | N/A |
| 100226 | 315081 | ABHISHEK KUMAR | 946 | N/A | 90 | N/A |
| 100564 | 318176 | ABHISHEK KUMAR | 1075 | N/A | 80 | N/A |
| 100553 | 302843 | Abhishek Kumar | 1130 | N/A | 80 | N/A |
| 100540 | 317762 | ABHISHEK KUMAR | 1218 | N/A | 80 | N/A |
| 100209 | 313202 | ABHISHEK KUMAR | 1268 | N/A | 80 | N/A |
| 100299 | 313841 | Abhishek kumar | 1301 | N/A | 80 | N/A |
| 101305 | 316469 | ABHISHEK KUMAR | 1301 | N/A | 80 | N/A |
| 100115 | 314797 | ABHISHEK KUMAR | 1445 | N/A | 80 | N/A |
| 101328 | 308709 | Abhishek kumar | 1572 | N/A | 80 | N/A |
| 100447 | 307702 | Abhishek Kumar | 1821 | N/A | 80 | N/A |
| 100282 | 307470 | ABHISHEK KUMAR | 1877 | N/A | 80 | N/A |
| 100090 | 314359 | Abhishek kumar | 1995 | N/A | 80 | N/A |
| 101562 | 311871 | ABHISHEK KUMAR | 2051 | N/A | 80 | N/A |
| 100100 | 314015 | Abhishek kumar | 2121 | N/A | 80 | N/A |
| 100510 | 302435 | ABHISHEK KUMAR JHA | 1301 | N/A | 80 | N/A |
| 100387 | 307594 | ABHISHEK KUMAR SHARMA | 1995 | N/A | 80 | N/A |
| 100387 | 307594 | ABHISHEK KUMAR SHARMA | 2103 | N/A | 80 | N/A |
| 100053 | 308500 | Abhishek Kumar sinha | 348 | N/A | 100 | N/A |