gokdom.kar.nic.in National Overseas Scholarship Batch 3 Sanction List 2018-19 : Karnataka Directorate of Minorities
You can ask questions or answer questions about this scholarship.
Please go to the bottom of this page.
Organisation : Karnataka Directorate of Minorities
Announcement : NOS Batch 3 Sanction List 2018-19 National Overseas Scholarship
Scholarship Name : National Overseas Scholarship For Minorities 2018-19
Applicable For : Minority Community Students
Applicable State : Karnataka
Website : https://gokdom.kar.nic.in/index_en.asp
GOKDOM NOS Sanction List
Sanction and release of grants under National Overseas Scholarship to the minority students for the year 2018-19 (Batch-3)
Update : GOKDOM NOS 2019-20 Batch I Sanction List : www.scholarships.net.in/39310.html
Thus you are hereby informed to submit the following attested to transfer the Scholarship amount to the students bank account. within 3days The documents are to be submitted early to the Director, Directorate of Minorities,20h Floor, V.V.Tower, Bangalore – 560001.

Documents Required
Documents to be furnished :
** A certificate/letter to the effect that you have joined the Institution/ College/University you have opted for higher studies abroad.
** A Xerox copy of the Visa issued by the country you have purposed for higher studies.
** Candidate has to produce a certificate for receipt or non-receipt of any scholarship /Allowances from the College of university/Government from the place of his study abroad.
** A Xerox copy of the boarding pass for having travelled to that Country.
** An Affidavit in a Non-Judicial stamp paper of Rs. 200/- (in the enclosed performa, duly notarized) to the effect that the amount of Scholarship granted to him will be utilized for the higher education abroad only.
In case he discontinue his studies without intimating to this office, the amount will have to be refunded to the Minority Department with interest if any. (in the enclosed format)
** A surety bond In Non-Judicial stamp paper of Rs. 2001 (in the enclosed performa) duly notarized from your two nearest relatives or Persons known to you other than family members to the effect that they will stand surety to the Scholarship amount granted to you for Higher Studies.
** Xerox Copy of Students Bank Pass Book.(please inform if there is any Change of Bank)
** Submit ID Card Xerox Copy Issued by overseas Institution/College/University
Selected Candidates
Some of the selected candidates names are listed below. Kindly refer the below PDF links uploaded for full candidates list.
NOS Batch 3 Sanction List 2018-19 :
https://www.scholarships.net.in/uploads/pdf2019/34229-S3.pdf
In the circumstances explained above, Government is pleased to accord approval and directs the Director of Minorities, Bangalore, to draw and disburse the Scholarship amount to the following 51 fresh Third list candidates of Minorities (Community Wise) for the year 201,8-79 who are selected by the selection committee as listed below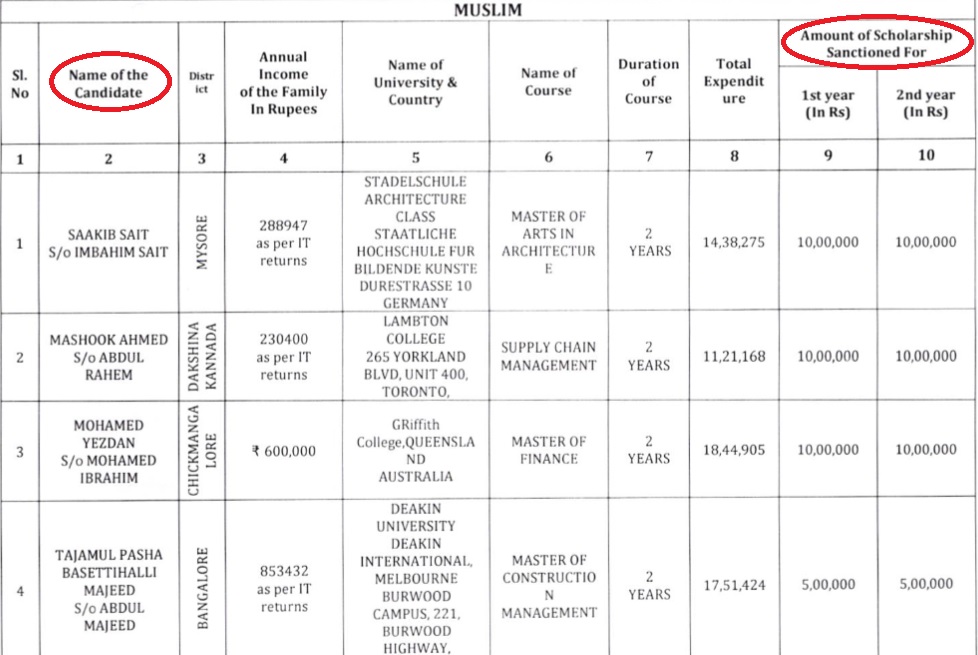 ** Saakib Sait S/O Imbahlm Sait
** Masiiook Ahmed S/O Abdul Rahem
** Mohamed Yezdan S/O MoHamed Ibrahim
** Tajamul Pasha Basettihalli Majeed S/O Abdul Majeed
** Mohammed Iqbal S/O Siraj Ahmed Khalid
** Shah Faisal Mulk S/O MoHammed Saud Khan
** Sheikh Rizwan Ahmed S/O Rahaman B.F
** Aathir Mohammad Suhaib M S/O M Nisar Ahmed
** Musaabahmed Tonse S/O Mubin Ahmed Tonse
** Ayesha Baig D/O Ahamed Baig