HEC Scholarship Test 2019 : Haryana Engineering College
You can ask questions or answer questions about this scholarship.
Please go to the bottom of this page.
Organization : Haryana Engineering College
Scholarship Name : HEC Scholarship Test 2019
Applicable For : B.Tech, BBA and MBA Courses Students
Application Last Date : 25th April 2019
Exam Date : 27th April 2019
Website : http://hec.edu.in/
HEC Scholarship Test
Scholarship Test for B.Tech, BBA and MBA courses will held on 27th Apr 2019 in Haryana Engineering College, Jagadhri, Yamunanagar.
Related : SIBM Bengaluru Full Time MBA Scholarship 2019 : www.scholarships.net.in/34137.html
Instructions
1. Date of Entrance Test is 27th April 2019(10.00 a.m. to 11.30 a.m.)
2. Registration for Entrance is open till 25th April 2019.
3. Candidates shall report at the examination centre by 9.00 a.m.
4. Examination will consist of 45 objective type questions based on JEE Main pattern in the examination.

5. There will be no negative marking.
6. Candidates shall bring Black/Blue point pen for filling up OMR sheet.
7. Programmable calculators and mobile phones are not allowed in examination center.
8. Candidates must bring Admit Card with them at the time of Examination. No candidate will be allowed to enter in the examination centre without his/her Admit Card.
Salient Features
1. Based upon the marks scored in scholarship test & 10+2 marks, candidate will get upto 100% scholarship in tuition fee.
2. Candidates who only qualify the test will get scholarship of Rs. 10,000 (both for boys and girls). In addition to this, girls students shall get additional waiver of Rs. 5,000/- in tuition fee under 'Beti Bachao-Beti Padhao' campaign of Hon'ble, Prime Minister of India.
3. The scholarship is valid for students admitted in 1st year of B.Tech for academic year 2016-17. For scholarship rules in 2nd to 4th year of B.Tech., please refer to college website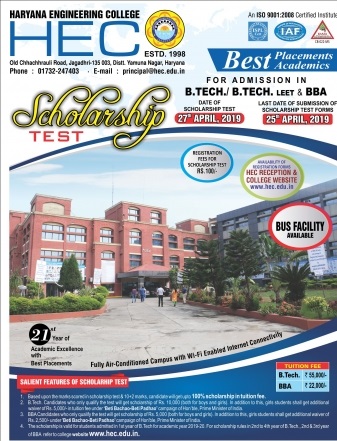 Document Required
For Admission In B. Tech. 1st Year :
** Provisional Seat Allotment Slip (Haryana State Counsling Socity)
** JEE Main Rank Result
** 10th Certificate
** 10+2 Marks Sheet
** 10+2 Passing Certificate (except Haryana School Education Board & CBSE Board)
** Original Migration/Transfer Certificate (except Haryana School Education Board)
** Caste Certificate in case of SC/BC/OBC
** Character Certificate from the school last attended
** Medical Certificate
** Gap year Certificate (in case of gap in 10+2 exams)
** Latest coloured Photographs FIVE
For B. Tech. 2nd Year : (Lateral Entry)
** Provisional Seat Allotment Slip (Haryana State Counsling Socity)
** 10th Certificate (Date of Birth Certificate)
** All semester DMC's of Diploma
** Original Migration Certificate
** Provisional Diploma Certificate & Character Certificate
** Caste Certificate in case of SC/BC/OBC
** Medical Certificate
** Latest coloured Photographs FIVE
For M.Tech :
** Provisional Seat Allotment Slip (Kurukshetra University)
** 10th Certificate (Date of Birth Certificate)
** All Semester DMC's of B.Tech./B.E.
** Provisional Degree Certificate & Character Certificate
** Original Mirgration Certificate (except Kurukshetra University)
** Caste Certificate in case of SC/BC/OBC
** Latest coloured Photographs FIVE
Fee Structure
B.Tech
Total Annual Fees – Rs. 82880
General Scholarship Scheme

Academics Marks 

Scholarship Amount

10th & 12th,  Marks 80% And Above
 Rs 30000 Per Year For All The 04 Years Of Studies.
10th & 12th,  Marks 70% And Above
Rs 25000 Per Year For All The 04 Years Of Studies
10th & 12th,  Marks 60% And Above
Rs 20000 Per Year For All The 04 Years Of Studies
M.Tech
Total Annual Fees – Rs. 82880

Academics Marks 

Scholarship Amount

10th & 12th Marks 80% & Above And B.Tech Marks 75% & Above
Rs 30000 Per Year For All The 02 Years Of Studies
10th & 12th Marks 70% & Above And B.Tech Marks 70% & Above
Rs 25000 Per Year For All The 02 Years Of Studies
10th & 12th Marks 60% & Above And B.Tech Marks 70% & Above
Rs 20000 Per Year For All The 02 Years Of Studies