International Climate Protection Fellowship 2019 : Alexander von Humboldt Foundation
Organization : Alexander von Humboldt Foundation
Fellowship Name : International Climate Protection Fellowship 2019
Applicable For : Indian Students
Application Deadline : 01.03.2019
Website : https://www.humboldt-foundation.de/web/icf.html
You can now ask your question on this scholarship.
Ask here
(OR) Go to the bottom of this page for comments.
Humboldt International Climate Protection Fellowship
Humboldt Foundation invites applications for International Climate Protection Fellowship for the year 2019.
Related : Fujitsu 40th Scholarship Program 2019 : www.scholarships.net.in/34308.html
20 Fellowships are available for Indian Students for the International Climate Protection Fellowship for young climate experts from developing countries.
Eligibility
Submit an application, if you
** are a future leader from a non-European transition or developing country
** are active in any of the following areas scientific, engineering-based, legal, economic, health-related or social aspects of climate change
** are interested in spending a year working with a host of your choice in Germany on a research-based project you have developed yourself in the field of climate protection and climate-related resource conservation
How to Apply?
Just follow the below steps to apply for the International Climate Protection Fellowship 2019.
Steps :
Step 1 : Go to the official website of Alexander von Humboldt Foundation through the URL provided above.

Step 2 : Then read the instructions carefully and click on the "Register Now & Apply Online" link in the right side of the page.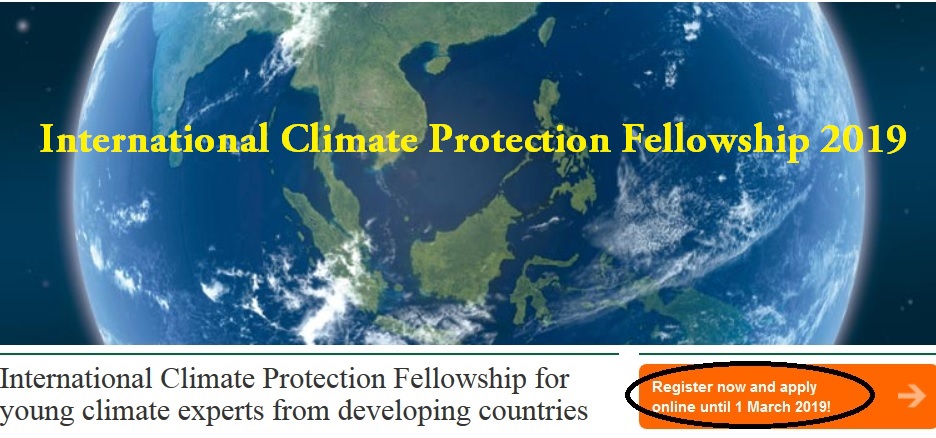 Step 3 : You need a user account with the Humboldt Foundation in order to proceed. If you are a new user click on the "Create an account" link.

Step 4 : You already have a user account with the Humboldt Foundation click on the Login link and login with your User Name & Password.


Step 5 : Fill the required details and click on "Submit" button to complete the registration.
Step 6 : After successful registration you will get a user name & password.

Step 7 : Next login with your user name and fill the remaining details to complete the application.
Step 8 : Immediately after submitting the documents, the applicant will receive a confirmation. It is the applicant's responsibility to ensure that all the necessary documents have been submitted.
Fellowship Timetable
The fellowship enables you to spend a year in Germany to implement a research-based proposal at a German host institution.
The following timetable is mandatory for all fellows
| | |
| --- | --- |
| January – February 2020 | Intensive German course in Germany (optional) |
| March 2020 | Introductory seminar |
| April 2020 – February 2021 | Work on individual proposals at a host institution in Germany |
| Juni 2020 | Annual Meeting of the Alexander von Humboldt Foundation, reception by the Federal President of Germany |
| Autumn 2020 | Two-week training course |
| January/February 2021 | Closing seminar in Berlin, reception at the German Federal Ministry for the Environment |
Fellowship Benefits
** a monthly fellowship of between €2,150 and €2,650, depending on your qualifications
** individual mentoring during your stay in Germany
** additional financial support for items such as family members accompanying you, travel expenses or a German language course
** a three-week introductory phase, during which you will have the opportunity to make contact with other climate protection fellows and visit companies, research institutions and cultural events in Germany
** extensive alumni sponsorship, particularly to help you sustain contact with collaborative partners in Germany during your entire professional career
Last Date
The closing date for applications is 1 March 2019.