Sarla Devi Scholarship For Students in Crisis 2019 : buddy4study.com
Organisation : Dharampal Satyapal Charitable Trust, Buddy4Study
Scholarship Name : Sarla Devi Scholarship For Students in Crisis 2019
Applicable For : Students in crisis
Applicable State/UTs : All Over India
Application Last Date : 31.03.2019
Website : https://www.buddy4study.com/application/SDS6/instruction
You can now ask your question on this scholarship.
Ask here
(OR) Go to the bottom of this page for comments.
Buddy4Study Sarla Devi Scholarship
Sarla Devi Scholarship for Students in Crisis 2019 is an initiative by the Dharampal Satyapal Charitable Trust to support the education of students who are struggling due to a crisis.
Related : Buddy4Study Sarla Devi Scholarship 2019 : www.scholarships.net.in/34219.html
Objective
The aim of the scholarship is to provide financial support to students who belong to financially weaker families and are currently unable to pursue education due to any sort of personal crisis.
The scholarship is being offered by Dharampal Satyapal Charitable Trust. This trust is promoted by the DS Group, a rapidly growing, multidiversified conglomerate which has its presence in diverse industry sectors.
Eligibility
The students should fulfill the following criteria to be eligible for this scholarship
1. The annual family income of the student should not exceed INR 4.5 lakhs
2. The students can be from any stream including Science, Arts or Commerce.
3. The crisis will be determined based on the following vulnerability index parameters
** Single parent ward (only mother)
** Orphan
** Physically challenged
** Cancer patient/deceased parent ward
** Chronic illness (both candidate and immediate family)
How to Apply?
Just follow the below steps to apply for the Sarla Devi Scholarship For Students in Crisis 2019.
Steps :
Step 1 : Visit the official website provided above.
Step 2 : Sign-in to your Buddy4Study account or Buddy4Study account to access the form.
If you already have an account, click on :
** Login with Facebook
** Login with Google Plus
** Login with Email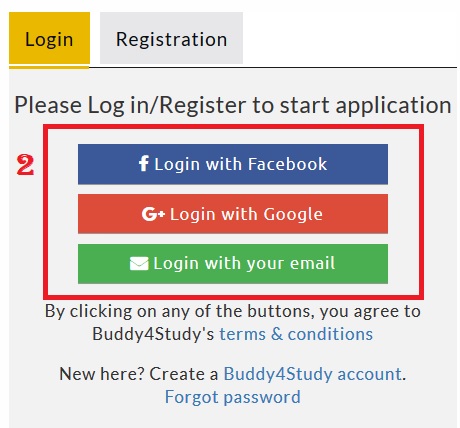 Step 3 : Then, Login with your User id and Password as per your selection.

Step 4 : Once signed in, click on 'START APPLICATION' to start filling the form.

Step 5 : Fill in all the details and upload the documents required.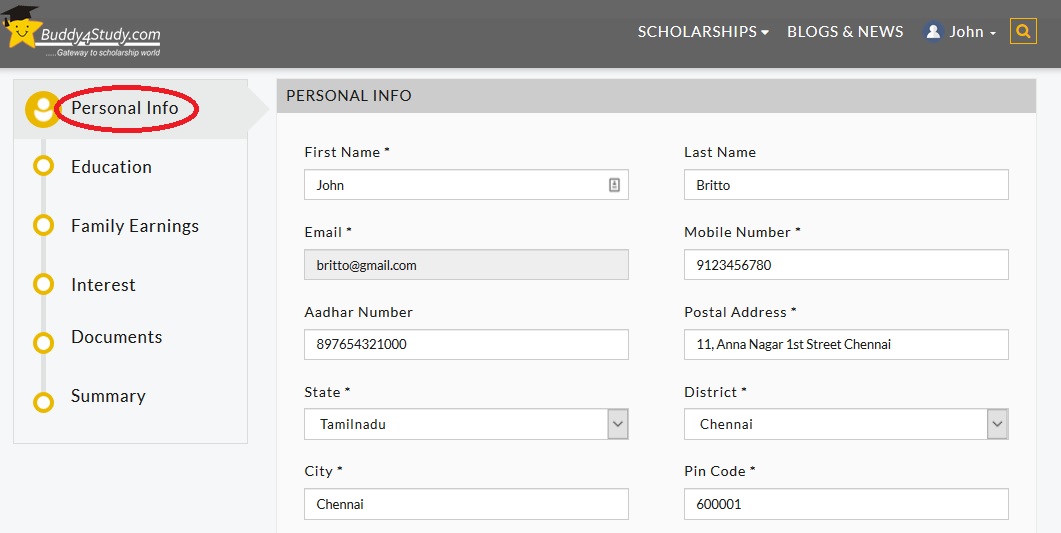 Step 6 : Click on 'Submit'. The form will take about 30-60 minutes to complete.

New User
If you are a new user Click the Registration link in the Login page and enter the following details for Registration,
Step 1 : Select your Role [Student]
Step 2 : Select your Class [Class 11]
Step 3 : Enter your First Name [John]
Step 4 : Enter your Last Name [Britto]

Step 5 : Enter your Mobile Number [9123456780]
Step 6 : Enter your Email Id [abc@gmail.com]
Step 7 : Enter your Password
Step 8 : Confirm your Password
Step 9 : Click on the Register button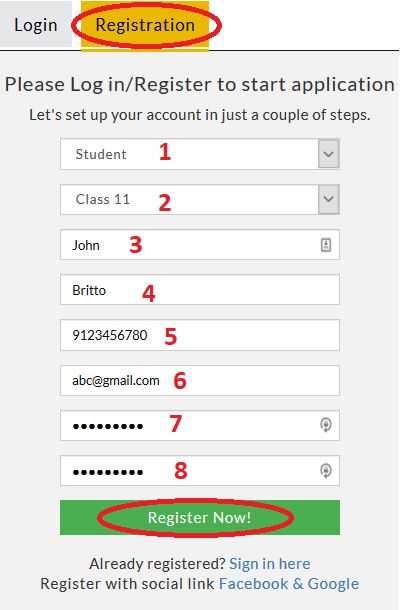 Note : Please start early to ensure the application completes before the Last Date.
Required Documents
** Latest passport size photograph
** Previous mark sheets
** Income certificate
** Admission letter
** Identity proof/Aadhar
Scholarship Amount
A total of 100 scholars will be awarded a scholarship worth INR 10,000 each.
Last Date
Last date to submit the applications for Sarla Devi Scholarship For Students in Crisis is 31st March 2019
Helpline
If you have any queries regarding the scholarship please call Phone no 8929016464 or email to sarladevischolarship [AT] buddy4study.com