Turkiye Burslari Scholarship 2019
Organisation : Turkiye Scholarships
Scholarship Name : Turkiye Burslari Scholarship 2019
Applicable For : International Students
Applicable Country : All Countries
Application Deadline : 20.02.2019
Website : https://turkiyeburslari.gov.tr/en/duyuru/turkiye-scholarships-2019-applications
You can now ask your question on this scholarship.
Ask here
(OR) Go to the bottom of this page for comments.
Turkiye Burslari Scholarship
Turkey offers scholarships to international students from all over the world to study in the most prestigious universities in Turkey.
Related : Oxbridge India OCSI Scholarship 2019-20 : www.scholarships.net.in/34190.html
Türkiye Scholarships is a government-funded, competitive scholarship program, awarded to outstanding students to pursue full-time or short-term program at the top universities in Turkey.
Turkiye Scholarship Criteria
Minimum Academic Criteria :
** Minimum academic achievement for Bachelor's degree applicants: 70%
** Minimum academic achievement for Master's and Doctorate degree applicants: 75%
** Minimum academic achievement for Health Science (Medicine, Dentistry and Pharmacy) applicants: 90%
Age Criteria :
** To be under the age of 21 for Undergraduate programs
** To be under the age of 30 for Master's programs
** To be under the age of 35 for Doctorate programs
Eligible Groups :
** Citizens of all countries
** Graduates or applicants who are able to graduate at the end of the current academic year (before September 2019)
** Researchers and academicians
Non-Eligible Groups :
** Turkish citizens and those who have lost Turkish citizenship
** Students already registered in Turkish universities at the level of study they are applying for.
Turkiye Scholarship Application
Applications can only be made individually through official website by the candidates. There are no institutions or persons authorized to apply for Türkiye Scholarships.
Steps :
Step 1 : Go to the official website of Turkiye Scholarships provided above.
Step 2 : Next read the instructions carefully and click on "Apply Now" link in that page.

Step 3 : You need to register before initiating an application. Already registered user can directly login with your Email/ YU/ TCKN/ Scholarship Number and Password
Step 4 : Signing up is free of charge and will take approximately 2 minutes. Signing up only once will be sufficient.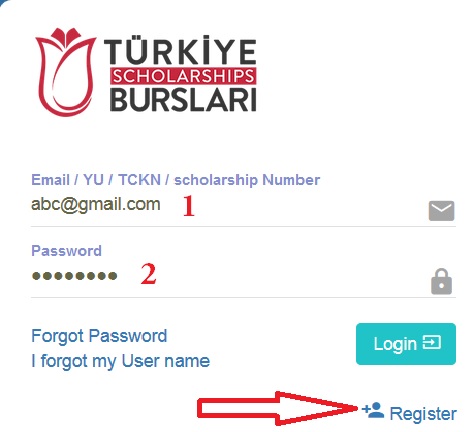 Step 5 : Click on the "Register" link and fill the required details to complete the registration.
Required Documents
All candidates must submit the following documents during online application
** A valid National Identification Document OR a valid Passport
** A recent Photo of the candidate (Please note that the photo you upload into the Application system must be a proper portrait of yourself, candidate photos which are not identifiable will undermine the evaluation of your application)
** National exam scores (required for candidates who do not possess any international qualification or certification)
** Diploma or temporary certificate of Graduation
** Academic transcripts (online screenshots and uncertified transcripts will undermine the evaluation of your application)
** International exam scores (GRE, GMAT, DELF, YDS, YÖS …etc. if required by the chosen university & program)
** Language test scores (if required by the chosen university & program)
** A research proposal and an example of your written work (for PhD applicants only)
Instructions
** Candidates are strongly advised to carefully read the instructions and warnings in the application system.
** Applicants are required to submit and upload the necessary documents to the application system.
** Applications delivered by post, courier, or by hand will not be accepted.
** Applications are free of charge. Please do not entertain any third party institutions or persons who offer to make an application on behalf of you in exchange for a fee.
** Türkiye Scholarships include both scholarship and university placement at the same time. Applicants will be placed in a university and program among their 12 preferences which they choose in the application system
Turkiye Scholarship Last Date
Turkiye Scholarships applications for 2019 will be received in one period, and applications will be open between 15th January- 20th February 2019 for international students from all countries.