Prabhat Khabar Scholarship Program PKSP Result 2018-19 : rootseducare.in
Organisation : Prabhat Khabar & Roots Educare
Announcemnet : Prabhat Khabar Scholarship Result PKSP 2018-19
Scholarship Name : Prabhat Khabar Scholarship Program PKSP 2018-19
Applicable For : For students of Class X, XI & XII, Aspiring for JEE / NEET
Check Result : http://45.114.246.20/~rootseducare/
You can now ask your question on this scholarship.
Ask here
(OR) Go to the bottom of this page for comments.
Prabhat Khabar Scholarship Result
Prabhat Khabar Roots Educare Scholarship Results are declared. Kindly follow the below steps to check your results.
Result : Medha Trust Sampurna Siksha Scholarship Exam 2019 : www.scholarships.net.in/34005.html
How to Check PKSP Result?
Steps :
Step 1 : Go to the official website of Roots Educare through the URL https://rootseducare.in/Default.aspx
Step 2 : Next click on the "Prabhat Khabar Scholarship Exam 2018-19 Result" link in the home page.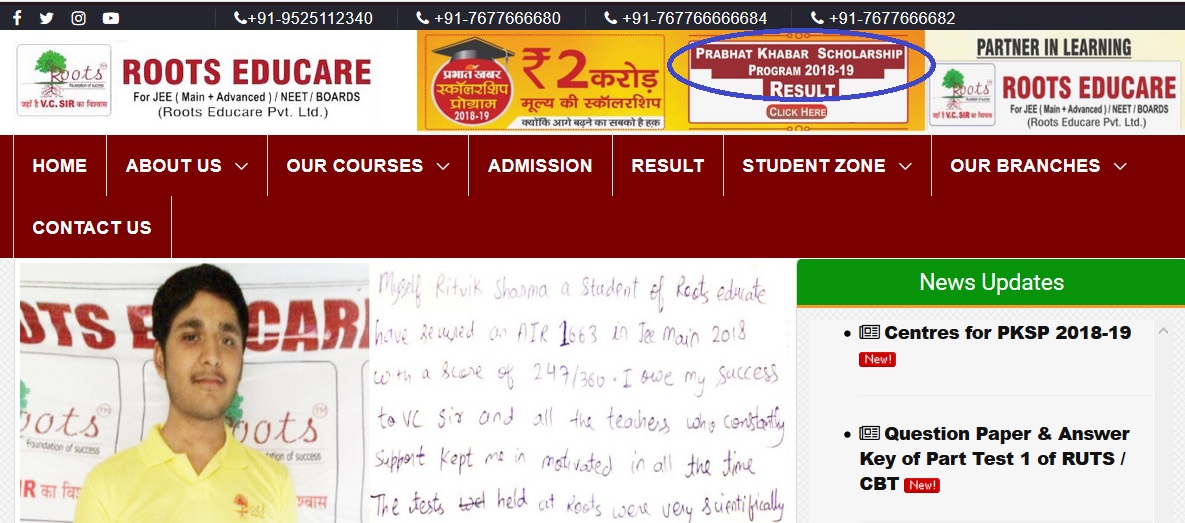 Step 3 : Then Enter your Reg.No./Form No [11111]
Step 4 : Enter Your/Parent Mobile No. (Used in OMR Sheet) [9898989898]
Step 5 : Finally click on "Get Result" button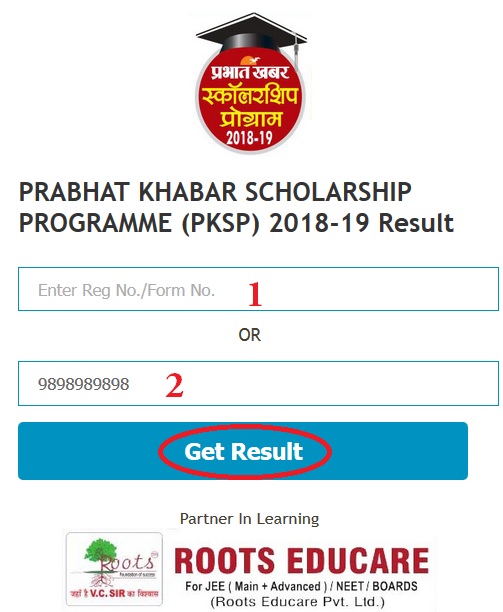 Scholarship Details
** In the developing world like India, engineering and medical studies in various forms of formal education have always been the first choice of middle-class families.
** Top 100 students of class 10th, in which 50 engineering and 50 medical preparers will be selected.
** Students will be offered for two years free of charge by Roots EduCare.
** Hostel facilities can also be given to financially vulnerable students.
** On the other hand, the top 50 students of 11th and 12th students will be selected for the preparation of 25 engineering and 25 medical entrance examinations.
About Prabhat Khabar :
Prabhat Khabar is a Hindi language newspaper published daily in Jharkhand, Bihar and West Bengal. The newspaper is circulated in several states in India, including Bihar, Jharkhand, West Bengal and some parts of Orissa.
It was founded in August 1984 in Ranchi, the capital of Jharkhand. The newspaper is notable for reporting social issues and revealing scams, such as the Fodder Scam. The newspaper began reporting the Fodder Scam in 1992.
Roots Educare :
The Roots Educare team has over the years been instrumental in setting up courseware and designing course curriculum for the leading coaching Institutes of the country.
With such profound and wide experience, the team members have come on the same platform and have designed the programs at Roots to bring out the best in the students with regards to their intellectual growth as well as in terms of quality of selections.
The team has had tremendous success over the years in terms of results in the JEE / NEET and have produced unmatched results over the years inclusive of considerable students in the All India Top-1000.
The course curriculum at Roots has been created, revamped and reorganized with the collective inputs of all the team members. The course pedagogy is specifically tailored around the needs of the student and the rapidly changing requirements of the JEE / NEET.
Contact Us :
Roots Educare
Roots Tower P-9, Kendriya Vidyalaya
Road. Kankarbagh,Patna-20.
Helpline
For special information, contact 7677666682/84, 9525112340