Yunus & Youth Global Fellowship Program For Social Entrepreneurs 2019 : yunusandyouth.com
Organisation : Yunus & Youth
Fellowship Name : Global Fellowship Program For Social Entrepreneurs 2019
Applicable For : Social Entrepreneurs
Applicable State/UTs : All India
Application Deadline : February 18th, 2019
Website : https://yunusandyouth.com/submit-your-application/
You can now ask your question on this scholarship.
Ask here
(OR) Go to the bottom of this page for comments.
Yunus & Youth Global Fellowship Program
Applications for the Global Fellowship Program for Social Entrepreneurs 2019 are now open!
Related : Vision India Foundation VIF Fellowship 2019 : www.scholarships.net.in/34087.html
Eligibility
If you have started working on your social business and are dedicated to making it succeed, then you fulfill the main criteria.
** You must be under 35 years old, comfortable speaking and communicating in English and have access to stable Internet connection.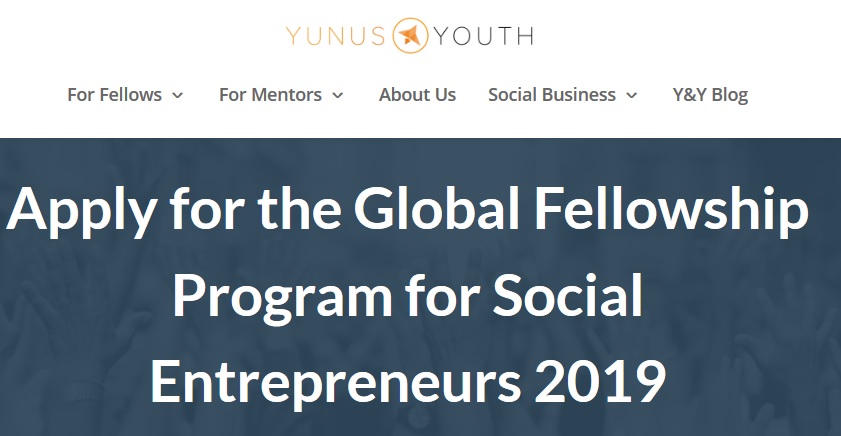 ** You must also be able to commit to at least 5 hours per week on exercises that will help you improve your business.
How to Apply?
Just follow the below steps to apply for the Global Fellowship Program For Social Entrepreneurs 2019 .
Steps :
Step 1 : Go to the official website of Yunus & Youth through provided above.
Step 2 : Next click on the "Submit Your Application" button


Step 3 : Fill the fellowship application with the required fields and Attach the necessary documents
Step 4 : Finally Submit your application.
How It Works?
Step 1 : We select bright individuals with innovative business ideas that tackle the world's most pressing problems.
Step 2 : Once Fellows are selected, we connect them to experienced business experts that will support them on regular one-on-one mentoring sessions providing the support they need to start up, grow, become investment ready and create sustainable social impact.
Step 3 : We immerse Fellows in a social business training ground where they receive all the resources they need to develop a strong business plan
Step 4 : The Fellowship Program ends with a Virtual Pitch Competition.
FAQs
1. Can applicants be from any country?
Yes, individuals from any country can apply for the program. There are no restrictions on country of origin or country of operations.
2. Do I pay to be a Fellow?
No, there is no financial cost for the social entrepreneur.
3. When does the program start?
The next class starts in March 2019 with an online orientation to get to know the other Fellows. You'll learn what to expect during the program and how to make the most out of it.
4. How long is the program?
The program lasts for six months.
5. How is the program structured? Is it entirely online?
Yes, the program is online and delivered through an online platform that you will join if you are selected as a Yunus & Youth Fellow.
6. Can my partner take part in the program as well?
Yes, we enjoy getting to know the different people involved in your social business. Your partner can attend the webinars and have a direct contact with us as well. The only thing we ask is for a main contact to address our communication.
Helpdesk
For other clarifications, you can reach out to contact [AT] yunusandyouth.com.