Amar Ujala Foundation Atul Maheshwari Scholarship Exam Result 2018
Organisation : Amar Ujala Foundation
Announcement : Atul Maheshwari Scholarship Exam Result 2018
Scholarship Name : Atul Maheshwari Scholarship Examination 2018
Applicable For : Students from 9th, 10th, 11th and 12th Std
Website : https://foundation.amarujala.com/news/atul-maheshwari-scholarship-2018-result-announced-on-8-jan-2019-1690.html
You can now ask your question on this scholarship.
Ask here
(OR) Go to the bottom of this page for comments.
AUF Atul Maheshwari Scholarship Exam Result
The results of the Atul Maheshwari Scholarship Examination- 2018, conducted by Amar Ujala Foundation, have been announced on Tuesday, January 8, 2019.
Related : BGIF Global Impact Foundation Bhajan Lal Scholarship 2019 : www.scholarships.net.in/33989.html
This scholarship is being given to 36 talented but economically weaker students of regional education boards of six states. For the 18 students studying in ninth and tenth, 30-30 thousand rupees and 18 students of 11-12 years will be given a one-time scholarship of 50-50 thousand.
Atul Maheshwari Scholarship Selected Students
Class 9 & 10
** Anuj Sahria (Roll Number 4710614, Mathura)
** Sagar Kumar (Roll Number 3910288, Hathras)
** Latent light (roll number 9910649, Allahabad)
** Ankesh Kumar (Roll Number 2110026, Shahjahanpur)
** Neha Kumari (Roll Number 1710098, Panchkula)
** Anurag Thapa (Roll Number 3610019, Pauri Garhwal)
** Natasha Kaushik (Roll Number 4310232, Bhiwani)
** Azad Ali (Roll Number 4010704, Maharajganj)
** Himmat Sharma (Roll Number 2610004, Jammu)
** Rahul Kushva (Roll Number 4610323, Pantnagar)
** Gaurav Jangra (Roll Number 5510232, Hisar)
** Gopal Bains (Roll Number 5410060, Una)
** Sveta Singh (Roll Number 2910158, Ballia)
** Himanshu Tiwari (Roll Number 5010595, Hamirpur)
** Anurag Kumar (Roll Number 9410090, Etawah)
** Anmol Singh (Roll Number 2310295, Unnao)
** Ayush Rana (Roll Number 9710156, Muzaffarnagar)
** Amitesh Kumar (Roll Number 3210533, Sambhal)
Class 11 & 12
** Alok Yadav (Roll Number 4810316, Firozabad)
** Ravi Chaudhary (Roll Number 3910770, Aligarh)
** Hitesh Tiwari (roll number 9922982, Jaunpur)
** Intense Dixit (Roll Number 2210672, Lakhimpurakiri)
** Deepanshu Sharma (Roll Number 1710278, Panchkula)
** Sachin Kandari (Roll Number 3510370, Chamoli)
** Bharat Kumar (Roll Number 4310736, Ghaziabad)
** Deepak Kumar (Roll Number 4021944, Kushinagar)
** Shruti Dutt (Roll Number 2610046, Jammu)
** Sourav Bisht (Roll Number 4610861, Nainital)
** Jiten (Roll Number 1210223, Hisar)
** Karan (Roll Number 1810052, Shimla)
** Sachin Yadav (Roll Number 2824450 Varanasi)
** Amar Jyoti (Roll Number 5011496, Mahoba)
** Ankit Pal (Roll Number 9310301, Jalun)
** Arun Kumar (Roll Number 2320943, Barabanki)
** Shivaika (Roll Number 9710976, Muzaffarnagar)
** Arun (roll number 3210888, Sambhal)
Results Analysis
Out of ninety percent of those who get scholarship, there are rural backgrounds. These talented people have been selected from around 1.2 million applicants by writing the written exams in November through the publishing centers of six states of Amar Ujala and after the interviews followed by verification and the documents given by the applicants.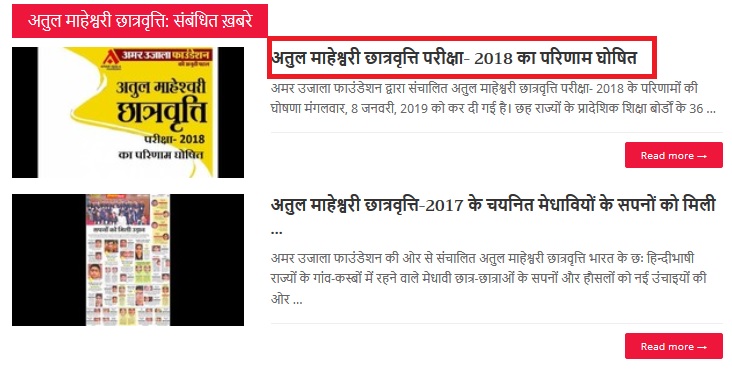 Among the scholarships, 24 are from UP, four from Uttarakhand, two each from Jammu and Kashmir and Himachal Pradesh, two to two students from Chandigarh and Haryana.
Scholarship Amount
After a rigorous selection process (written examination and multiple rounds of interviews), a total of 36 students are selected for this scholarship program, 18 of which were from class 9th and 10th who got Rs.30,000/- each, 18 were from class 11th and 12th and got Rs.50,000/- each and 2 blind students one from class 10th and one from 12th category who got Rs.30,000/- and Rs.50,000/- respectively.
Scholarship Will Be Canceled :
Precautions have been taken while creating test results. Even after several rounds of verification, the information given by some students was going wrong after the last time.
The 36 students who have been selected for scholarship, if the information given on their behalf is found incorrect during future verification, scholarship will be canceled.