UGC Scholar's Corner Registration Guidelines : scholarship.canarabank.in
Organisation : University Grants Commission UGC
Announcement : UGC Scholar's Corner Registration Guidelines
Scholarship : UGC Scholarship 2018-19
Website : https://scholarship.canarabank.in/scholar/Login.aspx
You can now ask your question on this scholarship.
Ask here
(OR) Go to the bottom of this page for comments.
UGC Scholar's Corner Guidelines
The revised page of scholar's corner has been released for the UGC Scholarship being disbursed through CANARA BANK UGC Portal
Related : UGC Scholarship Tracking Portal : www.scholarships.net.in/12133.html
The same will be available for the following scholarship schemes.
1. Dr. S Radhakrishnan Postdoctoral Fellowship in Humanities & Social Science
2. National Fellowship for students of Other Backward Classes (OBC)
3. Kothari Fellowship
4. NET-JRF Fellowship

5. Indira Gandhi Scholarship Scheme for Single Girl Child
6. Maulana Azad National Fellowship-Minority
7. Rajiv Gandhi National Fellowship for SC
8. Ishan Uday-Special Scholarship Scheme for North Eastern Region
9. Swami Vivekananda Single Girl Child Scholarship for Research in Social Sciences
10. Emeritus Fellowship
11. Post Doctoral Fellowship to Women Candidates
12. PG Scholarship for University Rank holders
13. Post Doctoral Fellowship for SC & ST
14. PG Scholarship for Professional courses for SC/ST
15. BSR Fellowships in Sciences
16. UGC-BSR Faculty Fellowship Scheme
17. PG Scholarship for M.E./M.Tech./M.Pharma to GATE/GPAT qualified candidates
Guidelines :
https://www.scholarships.net.in/uploads/pdf2019/34072-GL.pdf
Scholar's Corner Registration
The steps to be followed for registering the scholar in the Scholar's corner are mentioned below.
Steps :
Step 1 : The Scholar may visit the link provided above.
Step 2 : Click Registration Button, enter your details correctly.
Scheme : e.g.: RGNF SC/ST, NET JRF etc
Student ID : The Student ID as registered with the University under the UGC Portal. There is an option to Find Student ID also. Those who don't know exact Student ID, may use the FIND STUDENT ID option to find the correct ID
DOB : DD/MM/YYYY
Email : The mail ID that has been registered with University in the UGC Portal.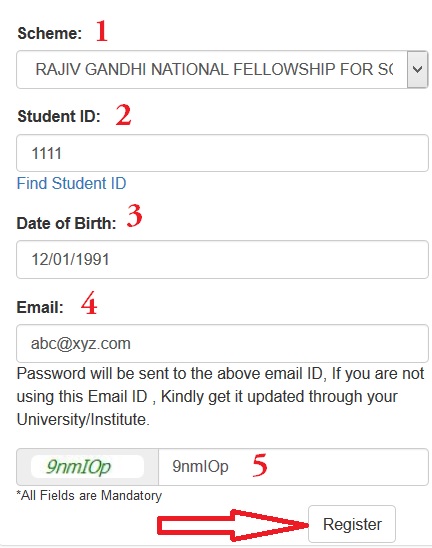 Step 3 : After entering the data, click Register Button and save the data. The message will come as REGISTRATION SUCCESSFUL
Step 4 : The password will be sent to the registered mail id. Check the registered Email ID for the password.
Step 5 : GO TO the Login page, enter the email address and the password that has been received in the mail and LOGIN.
Step 6 : The password Change option will appear.
Step 7 : Enter the new password. Criteria for new password are as under.
a. Should have minimum 8 characters
b. Should have minimum 1 Upper case Character
c. Should have minimum 1 Lower case Character
d. Should have minimum 1 Number
For e.g.: Rahulaj1
Step 8 : After setting the new password, LOGIN again with the email ID and New Password to view the scholars profile.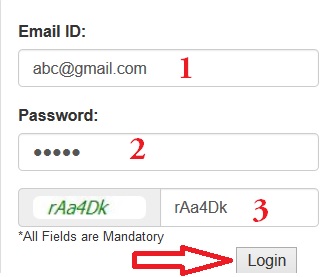 Scholar's Corner Facilities
On Logging In, you will be directed to the Home Page where the following details will be displayed.
** Name of the Scholar
** Student ID
** Account/IFSC (Only last 4 digits of account no: will be shown along with IFSC)
** Beneficiary Code along with status (accepted/rejected)
** Paid Details
The total payment schedule for the scholar is available under tab PAYMENT SCHEDULE. The status of each payment is also mentioned here.