University of Macerata Invest Your Talent In Italy IYT Scholarship For Indian Students 2019
Organisation : University of Macerata
Scholarship Name : Invest Your Talent In Italy IYT scholarship 2019
Applicable Countries : Students from Azerbaijan, Brazil, Colombia, Egypt, Ethiopia, Ghana, India, Indonesia, Iran, Kazakhstan, Mexico, People's Republic of China, Tunisia, Turkey and Vietnam
Application Deadline : January 31, 2019
Website : http://gpr.unimc.it/Costs%20and%20Aids/scolarships/invest-your-talent-in-italy
You can now ask your question on this scholarship.
Ask here
(OR) Go to the bottom of this page for comments.
University of Macerata Invest Your Talent Scholarship
The University of Macerata is partner of the Invest your talent in Italy programme which offers the opportunity to students to attend selected Master's courses in English in prestigious Italian universities
Related : Amgen Foundation Scholars Program 2019 : www.scholarships.net.in/33665.html
The programme combines university lectures with practical on-the-job training with an Italian company.

IYT Scholarship Eligibility
Eligibility requirements to apply are
** To be Citizen of one of the 15 Countries listed in the Call (Azerbaijan, Brazil, Colombia, Egypt, Ethiopia, Ghana, India, Indonesia, Iran, Kazakhstan, Mexico, People's Republic of China, Turkey and Vietnam);
** To be no more than 26 years old on the deadline of the Call, except for the only renewals (you cannot apply if you were born before January 31, 1993);
** To hold a Bachelor's Degree to enroll in the chosen Master's degree Program
** To have at least a B2-level of English. An English language certificate within the Common European Framework of Reference for Languages (highly recommended IELTS, TOEIC & TOEFL) is required.
** Proof of proficiency
IYT Scholarship Application
In order to apply for a IYT scholarship, students have to :
** submit their pre-admission application for one of the selected Master' course offered in english as GLOBAL POLITICS and INTERNATIONAL RELATIONS / GPR, run by the Department of Political Science, Communication and International Relations;
** Then candidates must complete and submit the on-line application form by January 31, 2019 until 12:00 (Midday, Italian time).
Apply Online
Just follow the below steps to apply for IYT scholarship 2019.
Steps :
Step 1 : Go to the official website of University of Macerata through provided above,
Step 2 : Next read the instructions carefully before you are applying and click on the "Apply Now" link at the end of the page.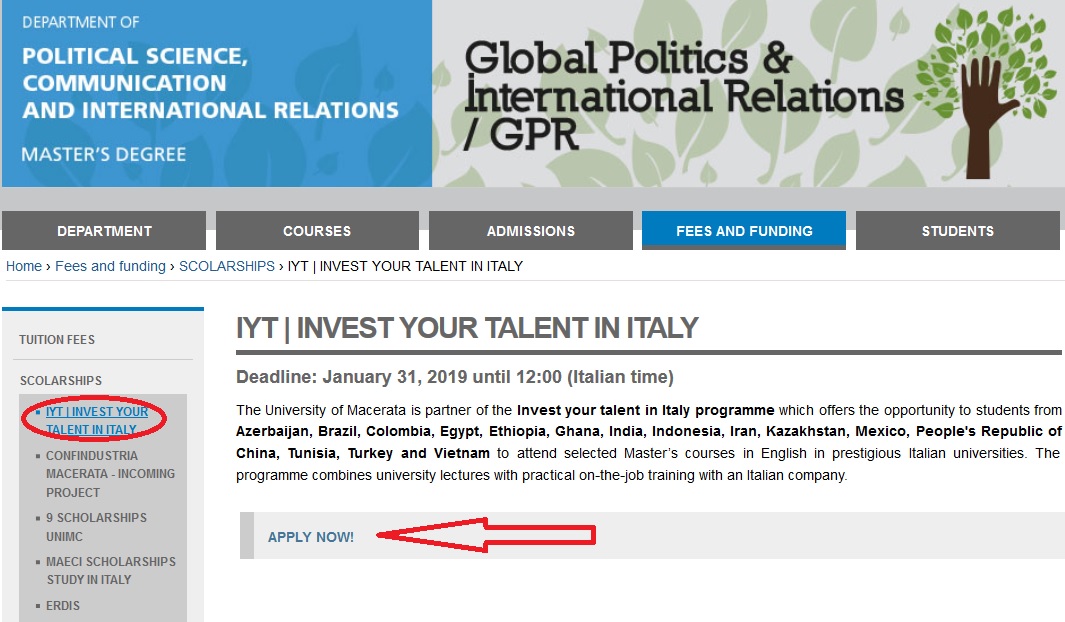 Step 3 : Before applying, please check that
** You have already applied to one of the Invest Your Talent in Italy courses
** Your Country is part of the current edition of Invest Your Talent in Italy.
** Applications are open (starting from November 20, 2018 till January 31, 2019)
Step 4 : Fill the form and upload the following documents
1) Final transcripts of all previous exams as well as the final grade (Bachelor's Degree).
2) English Language Certificate (B2-level within the Common European Framework of Reference for Languages).
3) Italian Language Certificate – proof of proficiency in Italian is not mandatory, but it will be taken into consideration in the selection process.
4) Application essay video in English language – MAX 1 minute/10 Mbyte – for good quality, we suggest 1,5 Mbps bitrate – talk about yourself, why you want to be part of the Programme and your motivation to study and connect with Italy.
5) Updated CV – Resume
6) Passport / Valid National Identity Document
FAQs
1. I am currently studying at an Italian university. Am I eligible for the IYT Program?
No. Students who are in Italy and are already in regular attendance at an Italian University are not eligible to apply for the IYT Program.
2. When completing my application I have omitted something / I would like to change/edit something on my application. What do I have to do?
You can make changes at any time before you submit your application, but be advised that once an application has been submitted it is not possible to edit it.
3. I have been awarded a scholarship, what should I do now?
For all information regarding the enrollment procedure and the visa application you have to refer to the Italian Embassy in your Country. The staff of the Embassy will support you during the whole procedure.
Please note that you can refer to Uni-Italia on site Centers for assistance and support with the pre enrollment procedure if you are a citizen from one of these Countries
** India,
** Indonesia,
** Iran,
** People's Republic of Republic of China,
** Vietnam
Furthermore, should you find any difficulty the Italian Embassy cannot deal with, you can refer to the IYT Committee.
4. Can I apply for more than one course?
No. You can apply only for ONE course. The second choice is only possible for those courses which accept a limited number of students. In this case the second choice is displayed automatically when completing the application.