Vidyapeeth Academy Scholarship Cum Admission Test V-SAT 2019 : vidyapeethacademy.com
Organisation : Vidyapeeth Academy
Scholarship Name : V-SAT 2019 Vidyapeeth Scholarship Cum Admission Test
Applicable For : Class 8th, 9th, 10th & 11th Students
Exam Dates : 17th Feb & 3rd Mar 2019
Website : http://vidyapeethacademy.com/vmat-online-form.php
You can now ask your question on this scholarship.
Ask here
(OR) Go to the bottom of this page for comments.
Vidyapeeth Scholarship Cum Admission Test
Vidyapeeth Academy conducts Vidyapeeth Scholarship Cum Admission Test V-SAT 2019.
Related : FIITJEE Admission cum Scholarship Test 2019 : www.scholarships.net.in/33932.html
V-SAT Eligibility
Students of class 8th, 9th, 10th & 11th are eligible to apply for V-SAT 2019.

V-SAT Apply Online
Just follow the below steps to apply for V-SAT 2019.
Steps :
Step 1 : Go to the official website of Vidyapeeth Academy through the URL provided above.
Step 2 : Then fill the application form with the following details
** Enter the Student Name [Arjun]
** Enter your Father's Name [Kumar]
** Select Your Current Class [Class 10]
** Enter your Mobile Number [9898989898]
** Enter your Email Address [abc@gmail.com]
** Enter your Date of Birth [11-June-2004]
** Select Your Test Center [Boring Road]
** Select Your Test Date [13th Jan 2019]
** Select Stream you want to prepare for [Engineering]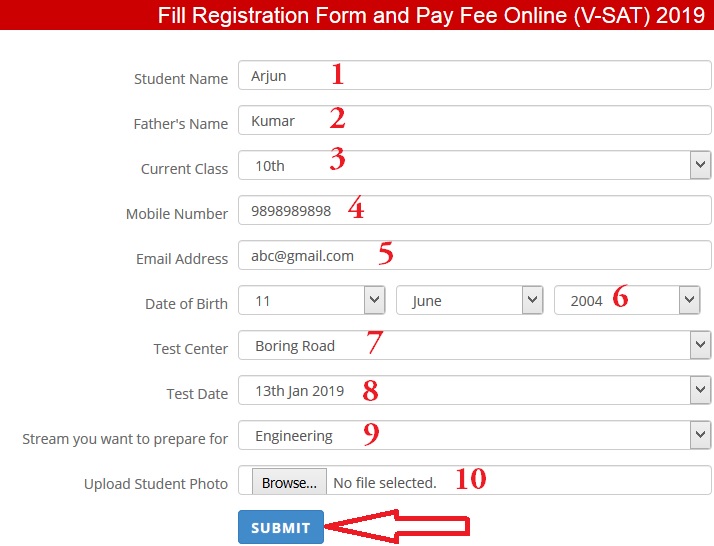 Step 3 : Upload Student Photo and finally click on "Submit" button
Instructions
1. Attempt ALL the questions. Answer have to be darkened on the OMR sheet.
2. This question paper contains 25 questions.
3. The question paper consists of THREE Parts, e.g. Mathematics (1 to 10), Science (11 to 20) & Mental Ability (21 to 25)
4. Blank spaces are provided at the bottom of each page for rough work. No additional sheets will be provided for rough work.
5. Blank paper, clipboard, log tabes, slide rules, calculators, cellular phones, pagers and electronic gadgets in any form are NOT allowed.
6. Do not Tamper / multilate the OMR sheet or this booklet.
7. Do not break the seals of the question-paper booklet before instructed to do so by the invigilator.
8. SUBMIT the OMR sheet to the invigilator after completing the test & take away the test paper with you.
Filling of OMR Sheet :
** In all the parts, each question will have 4 choices out of which only one choice is correct
** Use only Black/Blue ball point pen for filling the OMR sheet.
** On the OMR sheet, darken the appropriate bubble for each character of your name, Registration No., Phone No. etc.
Marking Scheme
For each right answer you will be awarded 4 marks if you darken the bubble corresponding to the correct answer and zero marks if no bubble is darkened. In case of bubbling of incorrect answer, minus one (-1) mark will be awarded.
Scholarship Details
1. On the basic of performance in Scholarship cum Admission Test -Upto 100%
2. Scholarship on the basic of Board Exams
Class
Board
Score
Scholarship
Xth
CBSE
10 CGPA
50%
CBSE
9 CGPA
30%
CBSE
8 CGPA
10%
State Board
90%
50%
State Board
80%
30%
State Board
70%
10%
XIIth
CBSE
90%
50%
CBSE
80%
30%
CBSE
75%
20%
State Board/ ICSE
90%
50%
State Board/ ICSE
Between 90% and JEE Advanced cutoff
30%
Note :
1. Defence Personnel Children-40%
2. NTSE- Stage – II Scholar – 100%
3. Sibling 40% on each students Fee
4. RMO-Qualified – 50%
5. NTSE – Stage – I Scholar-50%
6. INMO-Qualified – 100%
Note :
* Scholarship will be awarded on tuition fee only
Other Scholarship :
Admission is strictly through Scholarship Test conducted by Vidyapeeth Academy
VMAT
Up to Zero Fee
VSAT
Up to 100% on Tution Fee
RMO
Up to Zero Fee
PRMO
Up to 100% on Tution Fee
NTSE Stage II
Up to 100% on Tution Fee