Raj IAS Academy Prakaram Scholarship Test 2019 : rajiasacademy.com
Organisation : Raj Malhotra's IAS Academy Study Group
Scholarship Name : Prakaram- 2019 Scholarship Test For IAS Exam Prepataion
Applicable For : IAS Exam Preparation Students
Applicable State/UTs : All India
Last Date : 10.01.2019
Exam Date : 19.01.2019
Website : https://rajiasacademy.com/scholarshiptest/
You can now ask your question on this scholarship.
Ask here
(OR) Go to the bottom of this page for comments.
Raj IAS Academy Prakaram Scholarship Test
IAS 2019 – Get maximum discounts by participating in PRAKARAM- 2019 "The IAS scholarship test"
Related : Shiksha Avam Samman Sabka Adhikar Special Scholarship Exam 2019 : www.scholarships.net.in/33719.html

Scholarship Benefits
** Rank 1 – 100% OFF
** Rank 2-3 – 75% OFF
** Rank 3-7 – 50%
** Rank 8-20 – 25%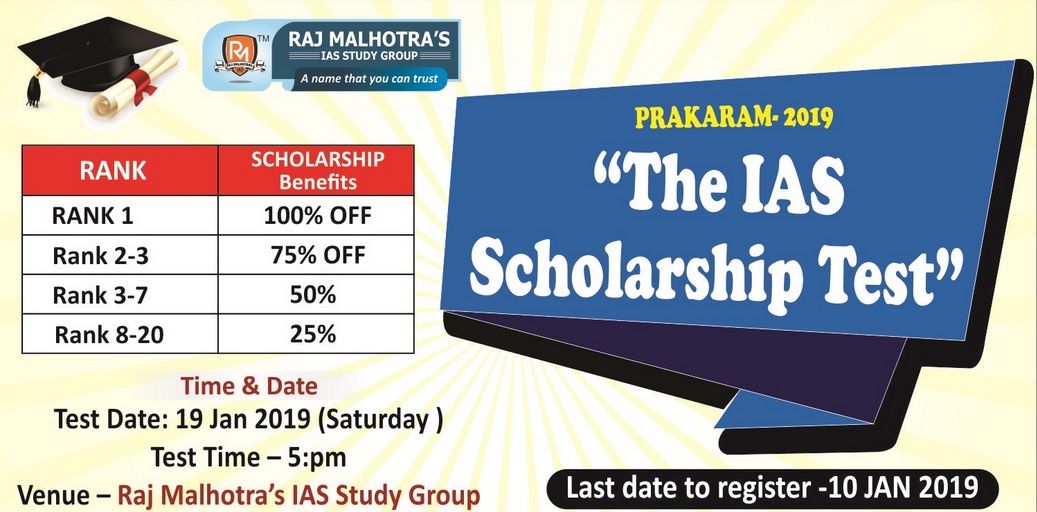 Important Highlights
** Test syllabus – 6TH TO 12TH NCERTs of GS subjects.
** Test duration – 2 hourS
** No. of questions – 100
** Questions type – GS MCQ
** Age limit – 18 -35 years
Prakaram Registration Process
With Android Mobile
Steps :
Step 1 : Go to the following link [https://goo.gl/Y2aEGL]
Step 2 : Send message to 7087206042 "Scholarship Test" with the following details,
** Your NAME – Arun
** City Name. – Chennai
** Age – 20
With Normal Mobile
Send a SMS to 7087206042 "Scholarship Test" with the following details
** Your NAME – Arun
** City Name. – Chennai
** Age – 20
If you are eligible under our criteria, You will be getting a confirmation reply for same.
Prakaram Date, Time & Venue
Test Date – 19 Jan 2019 (Saturday )
Test Time – 5:00 pm
Venue – Raj Malhotra's IAS Study Group
1st Floor ,Dainik Bhaskar Building,
Sector 25D Chandigarh
Terms and Conditions
1. The language of the test would be English only and we could not cater the other language candidates.
2. It is a free test for all civil services aspirant candidates of India ageing between (18 – 35 years)
3. The seats will be filled first come first serve only.
4. The candidates has to score minimum 50% marks of the test to qualify the lowest slab of scholarship.

5. The winning scholarship fee of course (offline and online classes) has to be claimed strictly within given dates by institute.
6. The scholarship claims can be applied for following courses – IAS prelims exam, IAS MAINS courses or IAS pre cum mains combo only.
7. The scholarship would be valid for 2019-20 batches only.
8. Students who are appearing in these scholarship test would not be able to obtain any other running offer/Discounts in institute.
9. The existing enrolled students of RAJ Malhotra's Institutes cannot participate in these scholarship tests.
10. The selected students have to enrol (pay in within a week's time from the date of declaration of result. Failing to do so, the seat will be allocated to the next student as per the merit list.
11. The selected candidates will have to deposit the entire balance fee to avail the benefit.
12. Syllabus of the exam would be from General Study's subjects such as – Geography, Polity, General Science, Economy, History and current affairs.
13. There will be 100 MCQ for the test with 120 min time only.
14. Raj Malhotra's IAS reserves the right to change, modify, or terminate This test anytime, at its discretion
15. Decision of the Institute with regard to the test, including correct answer, allocation of marks and calculation of percentage etc., shall be final and binding upon the candidates and as such the same shall not be subject to challenge in any manner.
16. This test is completely an independent program for the benefit of students in and around Chandigarh. This program cannot be linked to any private or Government sponsored schemes or programs.
Helpline
For any query regarding the exam please call – 7087000437