IITians ACE of PACE Talent Hunt Scholarship cum Entrance Exam 2019-20 : iitianspace.com
Organisation : IITians Pace
Scholarship Name : IITians ACE of PACE Talent Hunt Scholarship cum Entrance Exam 2019-20
Applicable For : 6th, 7th, 8th, 9th & 10th Class Students
Exam Date : 20.01.2019 & 27.01.2019
Website : https://iitianspace.com/AOP
You can now ask your question on this scholarship.
Ask here
(OR) Go to the bottom of this page for comments.
IITians PACE Scholarship cum Entrance Exam
Application are invited for IITians ACE of PACE Scholarship cum Entrance Test for year 2019-20.
Related : RAO IIT RISE Intelligence Search Examination Scholarship & Admission Test 2018-19 : www.scholarships.net.in/33378.html
Exam Date & Centre
** 20th Jan 2019 – Delhi
** 27th Jan 2019 – Kolkata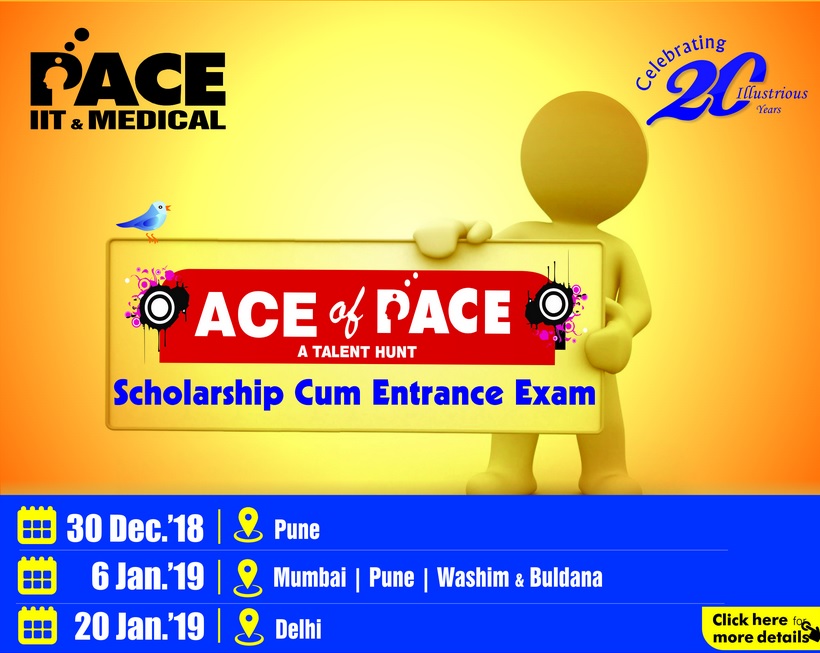 How To Register?

Go to the official website of  IIT-ian's PACE Education provided above and Fill the Ace of Pace Registration Form with the following details

Step 1 : Select Your Title [Mr/ Ms]
Step 2 : Enter Your First name* [Raj]
Step 3 : Enter Your Last name*[Kapoor]
Step 4 : Enter Your Mobile* [9876543210]
Step 5 : Enter Your Alternate Mobile [9999999999]
Step 6 : Enter Your Email* [abc@gmail.com]
Step 7 : Enter Your School Name or College* [SS School]
Step 8 : Select Your Class* [X]
Step 9 : Enter Your Percentage [98]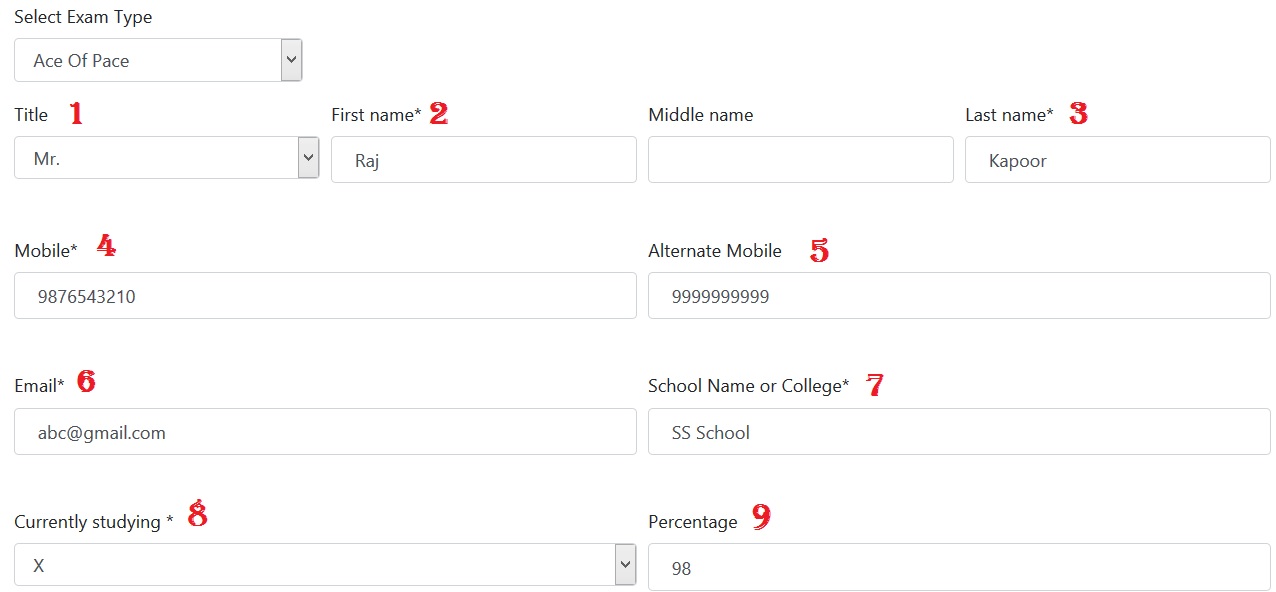 Step 10 : Select How did you get to know about PACE ? [Online/Website Adv]
Step 11 : Select Your Stream* [Foundation Builder]
Step 12 : Select Your City* [Mumbai]
Step 13 : Select Your Exam Centre [Thane]
Step 14 : Select Your Exam date * [06-January-2019]
Step 15 : Registration Fees [500]
Step 16 & 17 : Select Register here or Pay online and Click Submit button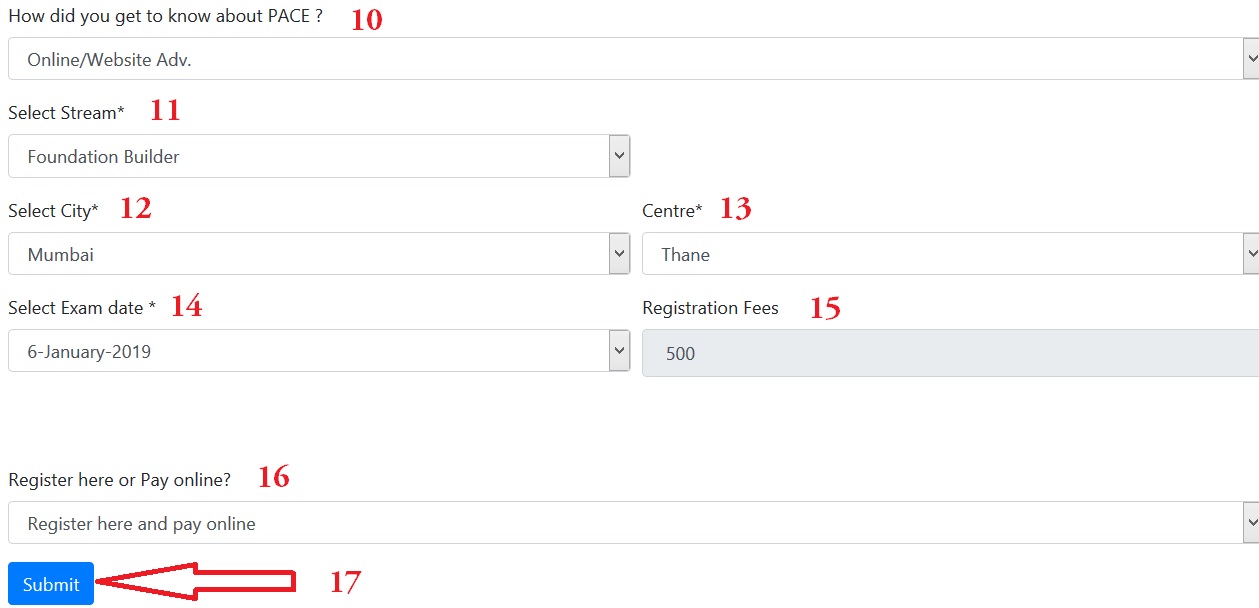 Step 18 : Select Your Payment Option [Credit Card/ Debit Card/ Net Banking] and Click Pay Now button

Step 19 : Click 'Ok' on the Confirmation Dialog Box. It will redirect to the Payment section

Step 20 : Enter Your Name On Card, Card Number, Card Expiry, Card CVV and Click Make Payment button
Step 21 : OTP will be sent to your Registered Mobile number. Enter the OTP number and Click Confirm button to complete your Transaction
Syllabus & Exam Pattern
Class 11th Engg. : Mumbai & other Regions
Full Syllabus – Math, 9th Std. + 1st Semester of Xth Std.
** Time – 2Hrs
** Questions – 50
** Marks – 3×50
Class 11th Engg. : Delhi-NCR Only
Syllabus of class 10th – Mathematics + Physics + Chemistry + Mental Ability
** Time – 2Hrs
** Questions – 60
** Marks – 3×60
Class 11th Medical : All Regions
Syllabus of class 10th – Physics + Chemistry + Biology
** Time – 2Hrs
** Questions – 100
** Marks – 4×100
Class 12th Engg. : All Regions
Full Syllabus of class 11th – Physics, Chemistry & Mathematics
** Time – 2Hrs
** Questions – 60
** Marks – 3×60
Class 12th Medical : All Regions
Full Syllabus of class 11th – Physics, Chemistry & Biology
** Time – 2Hrs
** Questions – 120
** Marks – 4×120
Class 7th FBC : All Regions
Full Syllabus of class 6th – Math & Science (CBSE/ ICSE/ SSC)
** Time – 2Hrs
** Questions – 50
** Marks – 3×50
Class 8th FBC : All Regions
Full Syllabus of class 7th – Math & Science (CBSE/ ICSE/ SSC)
** Time – 2Hrs
** Questions – 50
** Marks – 3×50
Class 9th FBC : All Regions
Full Syllabus of class 8th – Math & Science (CBSE/ ICSE/ SSC)
** Time – 2Hrs
** Questions – 50
** Marks – 3×50
Class 10th FBC : All Regions
Full Syllabus of class 9th – Math & Science (CBSE/ ICSE/ SSC)
** Time – 2Hrs
** Questions – 50
** Marks – 3×50
3 Yrs. Comprehensive Mumbai Regions :
Full Syllabus of 9th Std. + 1st Semester of 10th Std. (All Boards)
** Time – 2Hrs
** Questions – 50
** Marks – 3×50