dtemaharashtra.gov.in Rajarshi Chhatrapati Shahu Maharaj Shikshan Shulk Shishyavrutti Yojana 2018-19 : DTE Maharashtra
Organization : Maharashtra Directorate of Technical Education
Scholarship Name : Rajarshi Chhatrapati Shahu Maharaj Shikshan Shulk Shishyavrutti Yojana 2018-19
Applicable For : EBC Students
Applicable State : Maharashtra
Application Deadline : 28.02.2019 (Date is Extended)
Website : http://www.dtemaharashtra.gov.in/rcsm.html
You can now ask your question on this scholarship.
Ask here
(OR) Go to the bottom of this page for comments.
DTE Maharashtra RCSM
Applications are invited for Rajarshi Chhatrapati Shahu Maharaj Shikshitra Chary Scholarship Scheme for Academic Year 2018 -19
Related : MahaDBT Portal Registration 2019-20 : www.scholarships.net.in/31106.html
Objective
The objective of the Scheme is to provide financial assistance to the Economic Backward Class who are admitted to Diploma / Degree / Postgraduate Professional courses through Centralized Admission Process (CAP).
RCSM Eligibility
a) Applicant should have Nationality of India.
b) Candidate should be Domicile of Maharashtra State.
c) Applicant should be "Bonafide Student of Institute" and admitted for Professional and Technical course (Diploma / Graduation / Post Graduation Degree) as mentioned in GR
d) Deemed University and Private university is not applicable
e) Candidate should be admitted through Centralized Admission Process (CAP).
f) Applicant should not avail any other scholarship/stipend.
g) For current Academic Year, Only 2 child from family are allowed for benefit of scheme.
h) The Total Annual Income of Family / Guardian should not be more than 8 Lakhs.
i) Minimum 50 % attendance in previous semester (Exception for fresh admitted in College).
j) During course duration, candidate should not have a gap of 2 or more than 2 years.
RCSM Online Application
Just follow the below steps to apply for the Rajarshi Chhatrapati Shahu Maharaj Shikshitra Fee Scholarship Scheme 2018-19.
Apply Online : https://mahadbtmahait.gov.in/
Steps :
Step 1 : Go to the official website of Maharashtra Directorate of Technical Education through the URL provided above.
Step 2 : Then read the instructions carefully and click on the "Online Application Button"

Step 3 : It will redirect to the Aaple Sarkar DBT Portal
Step 4 : New user will register on this portal and then get scheme related benefits after login in through the registered username and password.
Step 5 : The new user to Register into the portal, click on "New Registration" link. Fill the required details to get the user name and password.

User Login
To login into Aaple Sarkar DBT portal, Applicant has to perform following steps
Steps :
Step 1 : Select User Type from following options
** e.g. Applicant Login: Student or Farmer or any resident
** e.g. Institute/Dept/DDO : School or College / Departmental approval authorities.
Step 2 : Login using created/registered Username and Password.
Step 3 : Enter the valid Captcha and Click on Login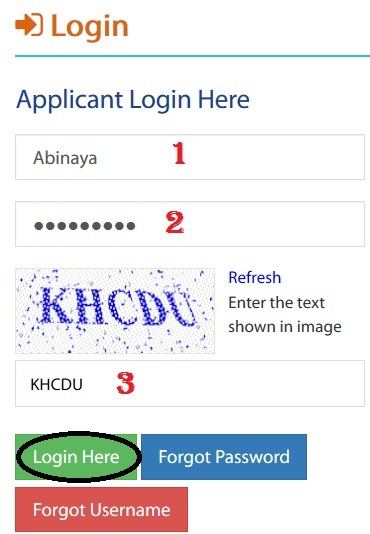 Forgot User Name/Password?
If User Forgot User Name / password then Click on Forgot User Name / Password section on the Home DBT page. Then the User has to select Authentication type Mobile number or Email id.
Step 1 : Enter registered mobile number or email and correct captcha code and click on submit button to get the OTP
Step 2 : The User will receive an OTP on registered mobile or email on after successful verification of entered details.

Step 3 : Enter the system generated OTP which has been send to registered mobile number or email. System validates the OTP, which has been send to registered mobile number or email.
Step 4 : Enter the New Password & Confirm Password and click on change Password.
Documents Required
a) Mark sheet of 10th (S.S.C) & Onwards.
b) Domicile Certificate of Maharashtra State.
c) Family Annual Income certificate
d) Undertaking "In current year, not more than 2 beneficiary from family".
e) CAP Related document.
f) Proof of Biometric attendance (Interface UIDAI).
RCSM Application Deadline
The last date of submitting application is most likely 28th February 2019. Please submit your online Application as early as possible.