Shoolini Engineering Scholarship Test SEST 2020 : shooliniuniversity.com
Organisation : Shoolini University
Scholarship Name : SEST 2020 Shoolini Engineering Scholarship Test
Applicable For : 12th and Passed Students
Application Last Date : 04.04.2020
Exam Date : 5th April – 25th April 2020
Website : https://shooliniuniversity.com/sest/
You can ask questions or answer questions about this scholarship.
Please go to the bottom of this page.
Shoolini University SEST
SEST 2020 is conducted by Shoolini University, Solan (HP).SEST is a national level test and is held once in a year. SEST 2020 is an online test for admission to B.Tech programme under management quota.
Related / Similar Scholarship : Shoolini University's PhD Scholarship 2020
SEST Eligibility Criteria
You are eligible to apply for SEST- 2020 only if you are currently a bonafide student of class 12th (science stream only) and 12th passed out. In other words, you can apply for SEST only if you are appearing in or passed out your class 12th
SEST Online Registration
To apply for SEST Test 2020, Follow the steps mentioned below.
Steps:
Step 1 : Visit the official website of 'Shoolini University' through URL http://shooliniuniversity.com/.
Step 2 : Then go to the 'SEST' link available at the Home Page.
Step 3 : Click on the 'Apply Now' (https://shooliniuniversity.com/newform/) link.
Step 4 : Fill the online application form with your personal details
Name : Write your Full Name as it appears in your school/college certificates.
Father Name : Write Full name of your father.
Mother Name : Write Full name of your mother.

Mobile Number : You should write your correct permanent and functional Alternate and Mobile numbers as well as any other alternative telephone number to enable us to instantly inform you about any important matter regarding the test. Please do not change your numbers till your final result is declared.

Email ID : Please make sure you mention your correct E-mail Id as we need it to send you all our notices or alerts first by e-mail and then by phone call and/or SMS.

Date of Birth : Fill up your Date of birth (DOB) as per your High School Certificate.
Gender : Select the appropriate gender from the drop-down list. (Male/Female)

Address : Give your full and correct address for correspondence along with correct Pin Code of the area/town.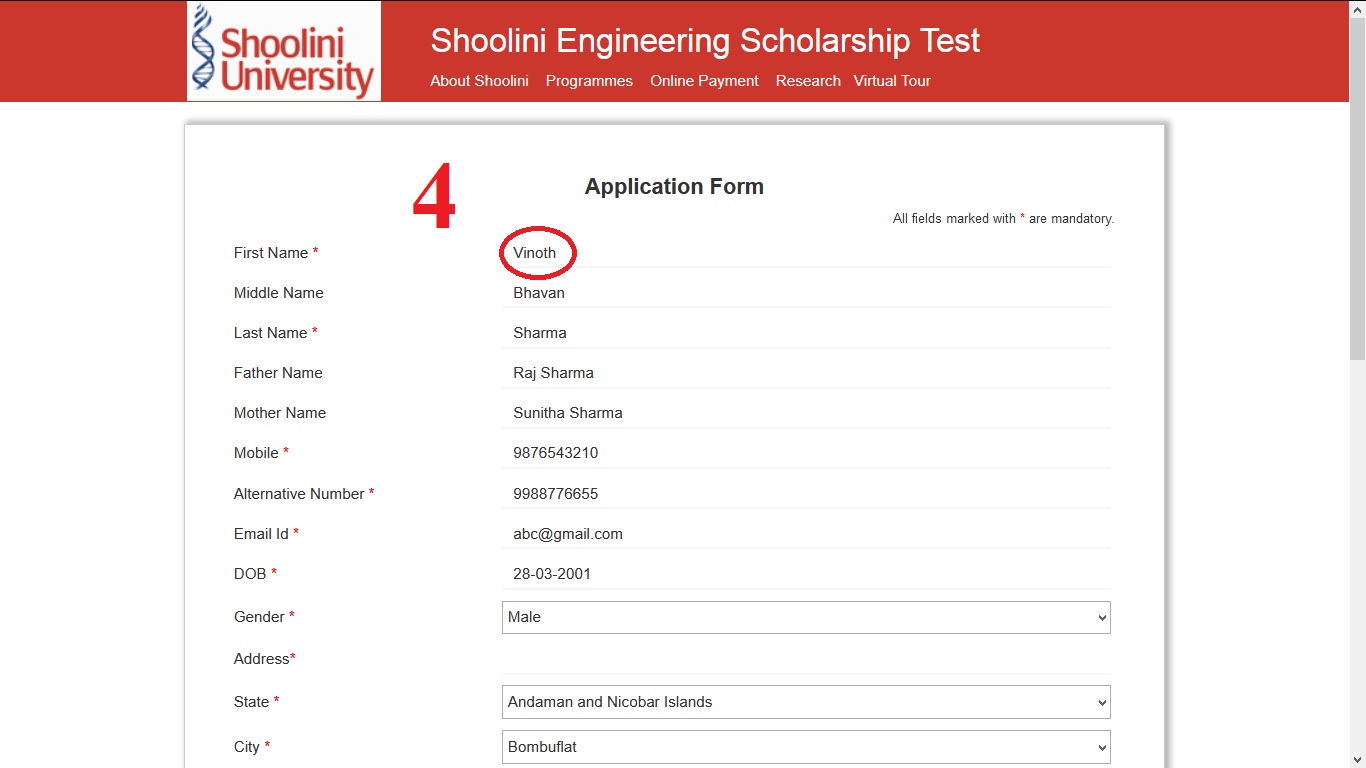 Course Applied For : Select the course from the drop down list.
Category : Select the category from the drop-down list. (SC/ST/OBC/General)

Domicile : Mention your domicile in the space provided.
Year (10th passed) : Mention the year you passed SSC.
SSC Marks : Mention the marks you obtained in SSC (10th).

Upload Picture : You must upload your latest and clear photograph as proof of your identity in the application form. The photo must either be in (JPG, JPEG,PNG, PDF) format & it should be of a passport-size and its memory size should not be more than 100 KB.

Upload Document : Choose and upload the Identity Proof Document (Adhaar/ PAN/ DL/ Passport/ Voter Id /10th DOB Proof/ Other)
Mode of Exam : Select the mode of exam. (Online/Offline)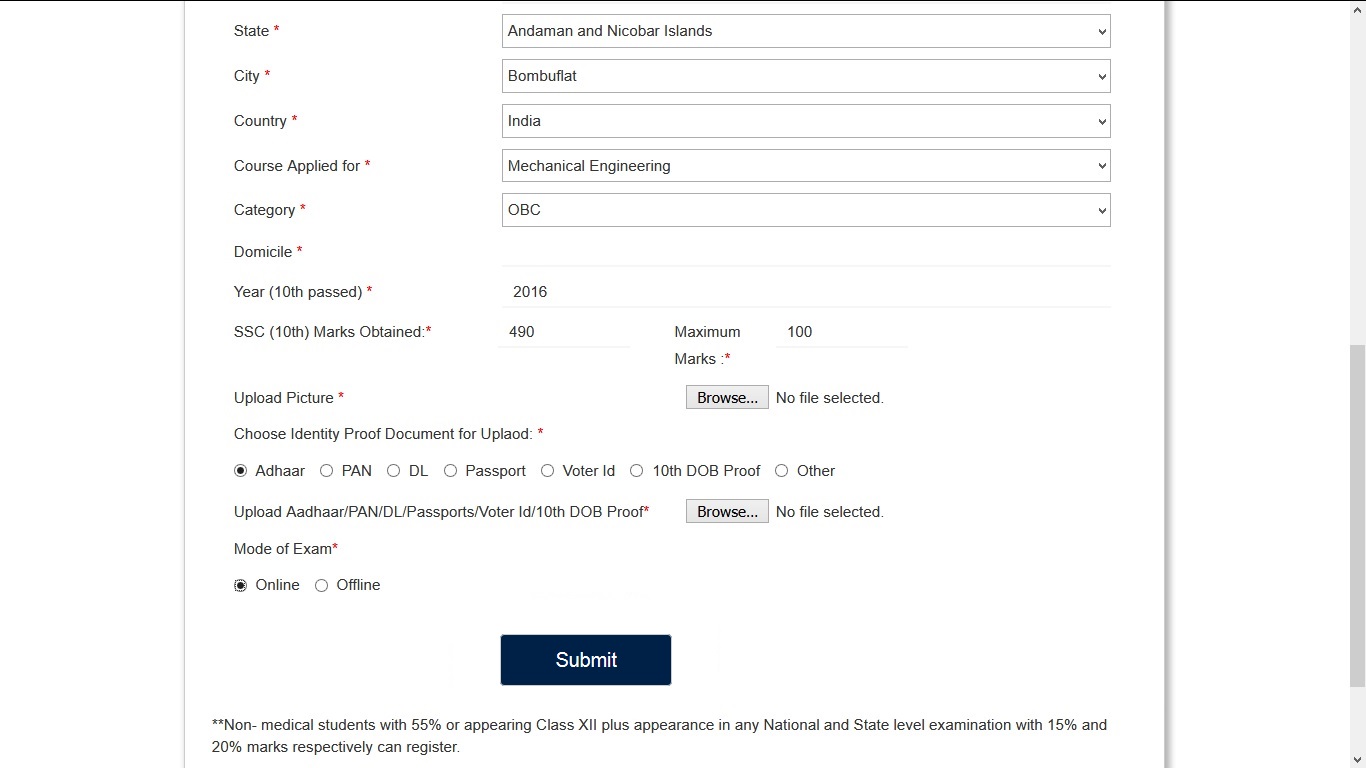 Step 5 : After completing the application form, Click on the 'Submit' button to complete your registration.
Scholarship Amount
Scholarship Amount is 50 Lacs. Total 51 Scholarships ranging from 30,000/- to 5,00,000/-
| | | |
| --- | --- | --- |
| Amount | No. of Scholarships | Total |
| 5,00,000 | 2 | 10,00,000 |
| 2,50,000 | 5 | 12,50,000 |
| 1,25,000 | 10 | 12,50,000 |
| 60,000 | 16 | 9,60,000 |
| 30,000 | 18 | 5,40,000 |
| Total | 51 | 50,00,000 |
Registration Fee
There is no registration fee to apply for the same this year.
SEST Test Centers
Test Centers are available only in the below mentioned locations
** Mandi
** Kangra
** Hamirpur
** Bilaspur
** Shimla
** Chandigarh
** Delhi
SEST Admit Card
Admit Cards will be sent only by e-mail. You will also be able to download your Admit Card from our website .
Winners Announcement
Winners will be informed individually as soon as the final list is ready. The result will be put up RESULT column of our website www.shooliniuniversity.com
SEST Last Date
Last date of registration for SEST 2020 is 4th April 2020
Contact/Helpdesk
For more information about SEST:
Phone – 01792-308000 / 09625233304 OR E-mail: shooliniuniversity [AT] shooliniuniversity.com
For Technical queries : (9:30 AM to 6 PM – Monday to Friday)
Phone: 09625233304 OR E-mail: shikharsharma [AT] shooliniuniversity.com