Dr. Reddy's Foundation 2020 Sashakt Scholarship : sashaktscholarship.org
Organisation : Dr. Reddy's Foundation
Scholarship Name : Sashakt Scholarship 2020
Applicable For : Young Women Across India
Application Last Date : 15th August 2020
Website : http://www.sashaktscholarship.org/
You can ask questions or answer questions about this scholarship.
Please go to the bottom of this page.
Dr. Reddy's Foundation Sashakt Scholarship
Dr. Reddy's Foundation invites application for Sashakt Scholarship for the year 2020. Sashakt Scholarship is a one-of-its-kind initiative to encourage young women across India to prepare for and pursue a career in science.
Who Can Apply?
** Bright, young girls with a record of academic excellence, confident of getting admission in India's best science colleges, can apply as soon as they complete their Class XII examinations.
** Only students who opt to study pure/natural science courses for their graduation are eligible for this scholarship.
Note:
The scholarship will be given only to students who have confirmed admissions to any of the colleges listed.
Application Process
1) Register
2) Fill application and submit documents (1st March 2020 on wards)
3) Select institution/s
4) Submit admission offer from any one institution (by 15 Aug 2020)
5) Wait for selection confirmation email
How To Apply?
To apply for Sashakt Scholarship 2020, follow the steps provided below.
Sign Up/ Registration
Candidates have to register to apply for Sashakt Scholarship 2020.
Steps:
Step-1: Go to the 'Sashakt Scholarship' official website through URL 'http://www.sashaktscholarship.org/'
Step-2 : Then go to the 'Sign Up/Login' link available at the top of the Home Page.

Step-3 : The Sign Up Page will appear. Then enter your First, Middle and Last Name in the column provided.
Step-4 : Mention your valid Email Id.
Step-5 : Create a Password. The password should have at least 8 alpha-numeric characters and at least one capital letter.
Step-6 : Re-enter the Password in the 'Confirm Password' column for confirmation.
Step-7 : Then Type the numbers as per given in the Sign up page.
Step-8 : Click on the 'Register' link to complete the registration.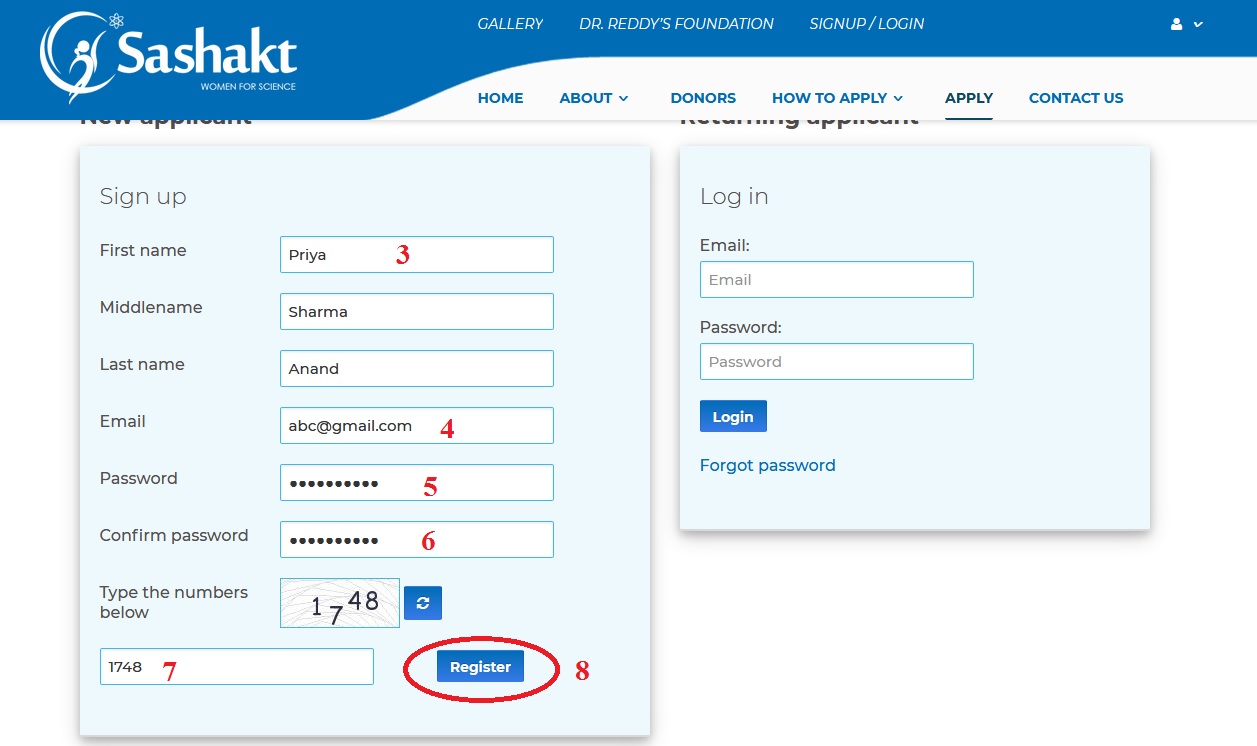 Login
Please use your Email ID and Password which is created by you at the time of registration for Login.
Steps:
Step-1 : Go to the Login Page through the URL provided above.
Step-2 : Enter your Email ID and Password in the space provided.
Step-3 : Click on the 'Login' button.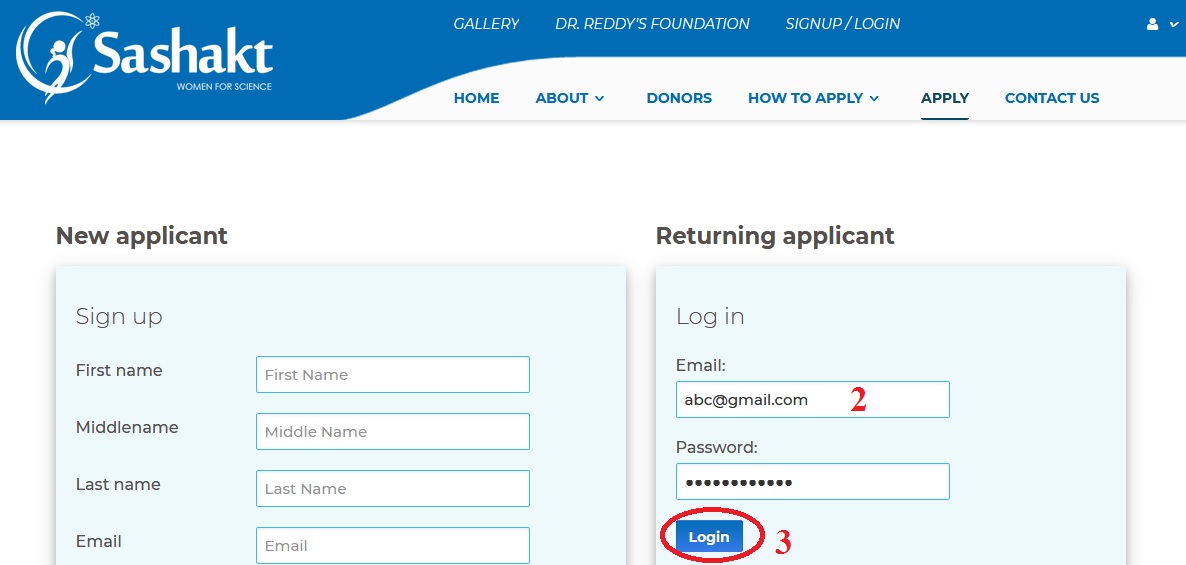 Forgot Password
You can use the 'Forgot Password' under 'Login' in case you have lost/forgotten your Password.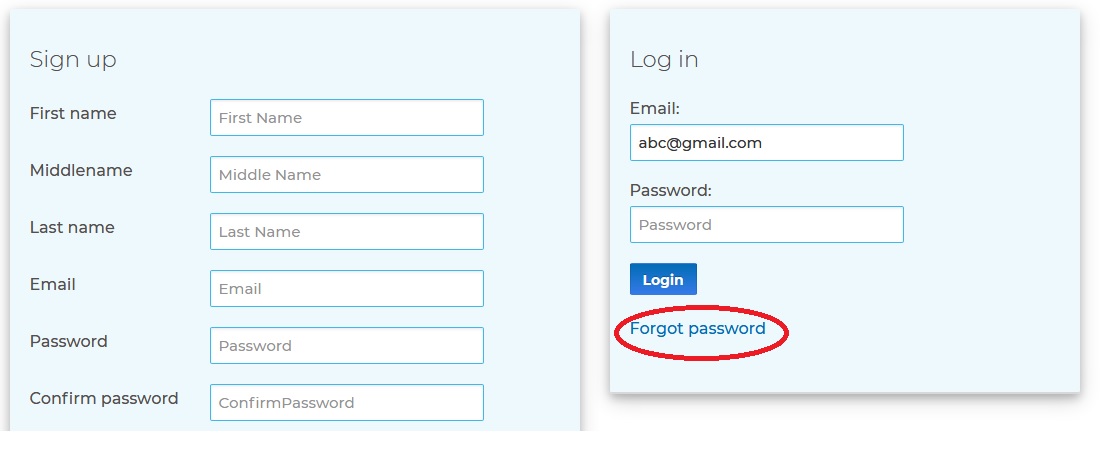 Documents Required
| | |
| --- | --- |
| X Std. Certificate | Mandatory |
| X Std. Mark sheets | Optional |
| XII Std./ 10+2 Mark sheets | Mandatory |
| XII Std./ 10+2 Certificate | Optional |
| Income Certificate | Mandatory for household income less than Rs 5 lakhs |
| Disability Certificate | Mandatory for PwD Candidates |
Note:
You need to have a confirmed admission offer in any one of the colleges. Admission slips will need to be submitted.
Applicable Institutions
Bangalore
** Christ University
** Mount Carmel College
** St Joseph's College
** The Oxford College of Science
Chennai
** Madras Christian College
** Stella Maris College
** Women's Christian College
Delhi
** Miranda House
** Hindu College
** St. Stephen's College
** Kirori Mal College
** Hansraj College
** ARSD
** Gargi College
Hyderabad
** St. Francis Degree College for Women
** St. Ann's College for Women
Kolkata
Vivekananda College, Madhyamgram
Mumbai
** Mithibai College
** St Xavier's College
** Sophia College for Women
Important Dates
** Scholarship Registrations will begin on 1st March 2020
** The last date for application submission will be 15th August 2020
Contact Us
Email : info [AT] sashaktscholarship.org