IDRAC India Center FACE French Academic Cooperation & Excellence Scholarship 2019
Organisation : IDRAC India Center
Scholarship Name : French Academic Cooperation and Excellence (FACE) Scholarship 2019
Applicable For : Graduate Students
Applicable Country : India
Application Deadline : 28-Feb-2019
Website : http://www.idracindia.org/
You can now ask your question on this scholarship.
Ask here
(OR) Go to the bottom of this page for comments.
IDRAC India Center FACE Scholarship
IDRAC India Center invites applications from students interested in pursuing post graduation in France for the French Academic Cooperation and Excellence (FACE) Scholarship 2019
Related : ISRF India Science & Research Fellowship Programme 2019 : www.scholarships.net.in/32396.html
The scholarships are available for students willing to pursue the following courses offered by IDRAC Business School
** Professional Masters in Wine Industry Management
** MBA In International Luxury Management
** MBA In Management and Entrepreneurship
** Professional Masters in IT
** Professional Masters in Business Engineering
Who Can Apply?
To be eligible for the scholarship, an applicant must
** Be a citizen of India
** Be a graduate from any recognized university
** Have scored 60% or more in Standard 10th
** Have scored 60% or more in Standard 12th
** Have scored 60% or more in their Bachelor's degree
How to Apply?
Just follow the below steps to apply for the FACE Scholarship 2019.
Apply Online : https://www.buddy4study.com/application/FAC1/instruction
Steps :
Step 1 : Visit the official website provided above.
Step 2 : Sign-in to your Buddy4Study account or Buddy4Study account to access the form.
If you already have an account, click on :
** Login with Facebook
** Login with Google Plus
** Login with Email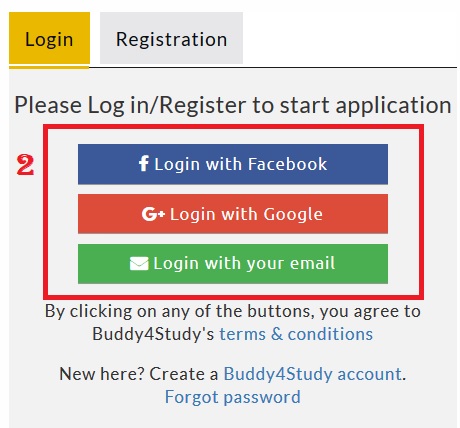 Step 3 : Then, Login with your User id and Password as per your selection.

Step 4 : Once signed in, click on 'START APPLICATION' to start filling the form.

Step 5 : Fill in all the details and upload the documents required.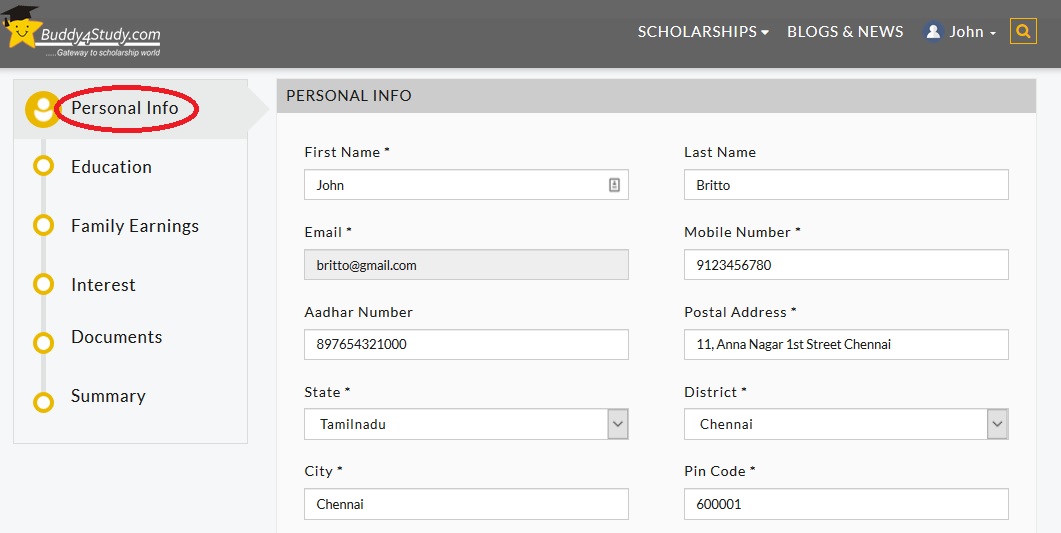 Step 6 : Click on 'Submit'.
New User
If you are a new user Click the Registration link in the Login page and enter the following details for Registration,
Step 1 : Select your Role [Student]
Step 2 : Select your Class [Class 11]
Step 3 : Enter your First Name [John]
Step 4 : Enter your Last Name [Britto]

Step 5 : Enter your Mobile Number [9123456780]
Step 6 : Enter your Email Id [abc@gmail.com]
Step 7 : Enter your Password
Step 8 : Confirm your Password
Step 9 : Click on the Register button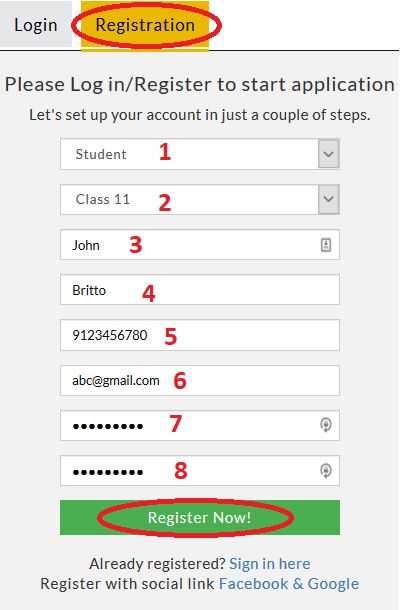 Note :
The disbursal of this scholarship award is at provider's sole discretion. It is an ongoing process and the provider holds the right to make changes to the scholarship.
Documents Required
The following documents are required along with every application
** 10th Certificate
** 12th Certificate
** Graduation Degree Certificate
** Graduation Marksheets
** Work Experience letters, if any
** Language Certificates, if any (English, French, or any European Language only)
** Statement of Purpose
** Aadhar Card
** Passport
Scholarship Amount
The scholarship is offered as a discount on the college tuition fees in all courses. Under the Scholarship, students will be awarded maximum up to EUR 5000 discount on their tuition fees.
Selection Criteria
Candidates shall be evaluated for the scholarships on following parameters
** Academic Performance and Relevance with the course applied
** Work experience
** French Language Proficiency Level
** English Language Proficiency Level
** Two levels of interviews
** SOP
** Financial ability
** Motivation, Adaptability
Note : Girl students shall be given preference during selection
Important Dates
** Scholarship application Commencement – 20 November, 2018
** Scholarship application submission deadline – 28 February, 2019
** Conditional admission offer letter – Within 7 days
** Classes begin – 1 April, 2019
FAQs
1. Why we need to appear for Scholarship application first?
It is difficult to manage huge number of applications as there are few merit based scholarship seats.
To keep the selection process simple and efficient, Buddy4Study team is handling first level of shortlisting for scholarship seats. Students will be updated with result of each stage over SMS, emails.
2. What is the scholarship amount and number of seats?
IDRAC India Center offers merit-based scholarship, where students will receive amount up to Euros 5000 discount in their total tuition fee.
Total college program fee is 17000 Euros for complete program. In 2019, we will offer Maximum 50 scholarships from total 150 admissions for all the five programs put together.
3. How can a student get help, at the time of scholarship application?
Students can send all of their queries to institute [AT] buddy4study.com