India Alliance Early Career Fellowships 2019 : indiaalliance.org
Organisation : India Alliance DBT Wellcome
Fellowship Name : Early Career Fellowships 2019
Applicable For : Science/Veterinary Researchers with -1 to 4 years of post-PhD research experience
Launch Date for Next Competition : 16.01.2019
Applicable State : All Over India
Website : https://www.indiaalliance.org/fellowships/early-career-fellowships
You can now ask your question on this scholarship.
Ask here
(OR) Go to the bottom of this page for comments.
India Alliance Early Career Fellowships
India Alliance invites applications for Early Career Fellowships 2019.
Related :
India Alliance Senior Fellowship 2019 : www.scholarships.net.in/33107.html

India Alliance Intermediate Fellowships 2019 : www.scholarships.net.in/33114.html
Purpose
This is a mentored Fellowship for promising newly qualified postdoctoral researchers to attain independence. The scheme provides a unique opportunity to help them make an early start in establishing their own research programme.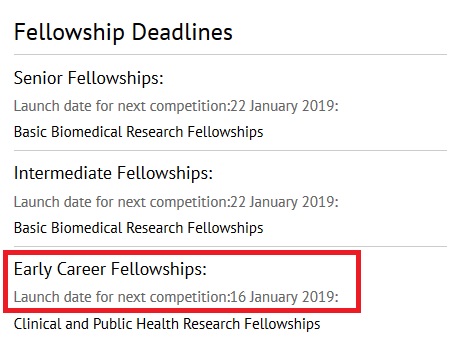 Eligibility
** The Early Career Fellowship (ECF) competition is open for basic science/veterinary researchers with -1 to 4 years of post-PhD research experience.
** This means that you must be in the final year of your PhD studies or have no more than four years of postdoctoral research experience from the date of your PhD viva to the full application submission deadline in order to be eligible for the competition.
Application Process
Step 1 : Preliminary applications must be filled in and submitted using IASys, India Alliance Online Application System.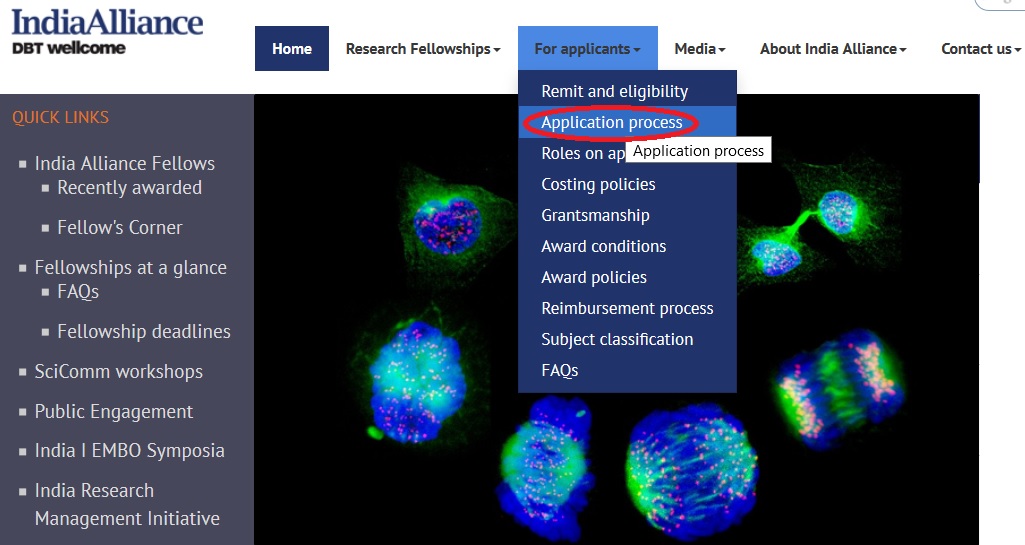 Preliminary applications are evaluated to :
1. Assess the eligibility of applicants and their research proposals
2. Check that applicants are applying for the most appropriate scheme
3. Advise on the competitiveness of the application in relation to others received in the cohort
Step 2 : Full applications are accepted by invitation only. Full applications must be submitted using IASys, our online application system.
Step 3 : The link to access the Full Application is provided in the email invitation. Applicants who have limited/unreliable access to the internet should email the Office in the first instance info [AT] indiaalliance.org.
Note :
Full applications require a synergistic interaction between all the individuals named on the application such as applicant, sponsor, research sponsor, fellowship supervisor, host institution administration etc., and it is the applicant's responsibility to ensure that it is submitted by the prescribed deadline
Provisions
ECF is a full-time Fellowship for five years and provides
** The Fellow's personal support
** Research expenses, including research assistance if required
** Additional allowances (travel and overseas subsistence) for Work outside Host Institution (scientifically justified long-term training or collaborative laboratory visits anywhere in the world for up to 24 months, except in the first year and majority of the final year of the Fellowship)
** Other India Alliance contributions
Points to note :
** The total award for an Early Career Fellowship typically includes the costs requested by the applicant as well as the set contributions by the India Alliance.
** Applicants have the option of requesting one technical support staff. The request has to be supported by strong scientific justification and a letter from the proposed Fellowship Supervisor to substantiate this request.
** Fund requests for expensive items of equipment are typically not allowed. It is expected that applicants will choose appropriate laboratories/ environments where majority of the necessary equipment and facilities are already available.
** Early Career Fellows not holding a faculty position are expected to spend all their research time on the India Alliance-funded project and are not allowed to commit time to other grants.
** Time permitted for non-research related activity during the Fellowship is normally restricted to a maximum of two hours per week.
Deadline
Applications under process, next launch in June/July 2019 30-6-2019