delhi.gov.in Pre-Matric Scholarship For SC Class IX & X Students 2018-19 : Welfare of SC/ST
Organisation : Delhi Department for the Welfare of SC/ST/OBC/Minority
Scholarship Name : 2018-19 Pre-Matric Scholarship Scheme For SC Students
Applicable For : Students belonging to SC studying in Classes IX & X
Applicable State/UT : Delhi
Application Deadline : 31/03/2019 (Date is Extended)
Website : http://www.delhi.gov.in/wps/wcm/connect/DoIT_Welfare/welfare/home/
You can now ask your question on this scholarship.
Ask here
(OR) Go to the bottom of this page for comments.
Delhi Pre-Matric Scholarship For SC
Delhi Department for the Welfare of SC/ST/OBC/Minority invites applications for Pre-Matric Scholarship Scheme for Students belonging to Scheduled Caste studying in Classes IX & X for the year 2018-19.
Delhi SC ST Welfare Scholarship 2018-19 :
1. Post Matric Scholarship For SC Students

2. Reimbursement of Tuition Fees

3. Financial Assistance For Purchase Of Stationery

4. Merit Scholarship For Class I To XII Students

5. Merit Scholarship For College/Technical/Professional Institutions

6. Pre-Matric Scholarship For OBC Students
Eligibility Conditions
1. Students should belong to Scheduled Caste.
2. His/Her Parents/Guardian's Income should not exceed Rs. 2.5 Lakh Per annum.
3. He/She should not be getting any other centrally/state funded Scholarship.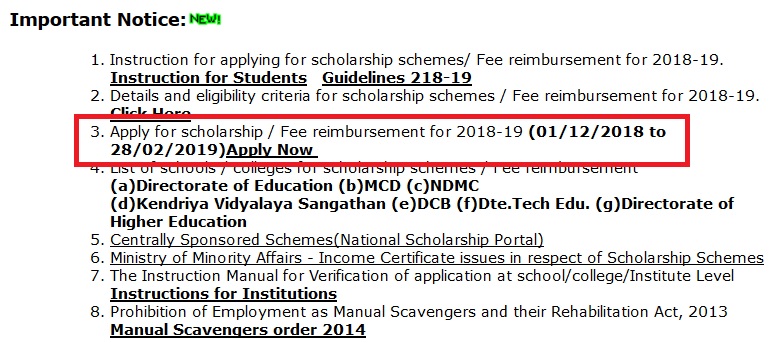 4. The Scholarship will be given to the students of Classes IX and X who are studying in a Government school or in a School recognized by Govt. of a Central/State Board of Secondary Education.
5. To be eligible no percentage of marks.
How to Apply?
Applicants can apply online through E-district Portal of NIC Delhi and If you are already registered user, Click Registered User Login link.
Apply Online : https://edistrict.delhigovt.nic.in/
Registered User Login
Enter the below details and fill the remaining details to apply for the scholarship.
Step 1 : Enter Your User Id [12356]
Step 2 : Enter Your Password
Step 3 : Enter Your Type the code shown
Step 4 : Click Login button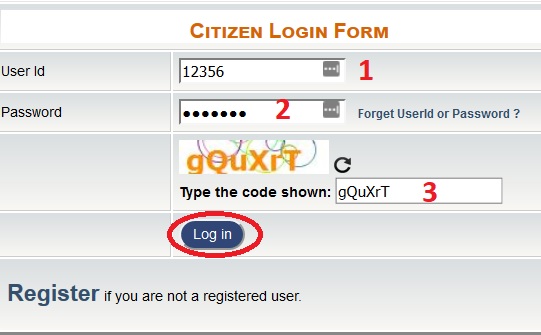 Citizen Registration Form
New User click the Registration link in the Login page and follow the below steps
Step 1 : Select Your Document Type [Aadhaar/ Voter Id]
Step 2 : Enter Document No. As per your Selection [1234560000]
Step 3 : Type the security code
Step 4 : Accept the terms & conditions and Click Continue button

Get User Id & Password
You can get your User Id & Password if you forget your mobile no. on e-district Portal.
Step 1 : Select Whether you had availed any service/Certificate form e-District Delhi [Yes/ No]
Step 2 : Select the Document Type [Aadhaar]
Step 3 : Enter your Document No. [123456780000]
Step 4 : Enter the Name on Document [Azar]
Step 5 : Enter your Date of Birth [15/03/1997]
Step 6 : Select your Gender [Male/ Female/ Transgender]
Step 7 : Enter your Mobile No.[9876543210] OR
Enter your Email ID
Step 8 : Type the code and Click Get User Id & Password button
Notification :
https://www.scholarships.net.in/uploads/pdf2018/32589-Advt.pdf
Terms & Conditions
** Upload a copy of Caste Certificate issued by competent Authority should be uploaded on the portal (Performa available on E-district portal), Domicile Certificate of Delhi if the caste certificate is not issued by the competent authority of Govt. of NCT of Delhi.
** The Bank account should be in the name of the students & seeded with Aadhaar of student.
** An income declaration by the Self-employed parents/ guardians, stating definite income from all sources by way of an affidavit on non-judicial stamp paper should be uploaded on E-district portal.
** Eligible students studying in schools (Govt. & Govt. Aided) Affiliated to Dte. Of Education, Delhi Govt. / N.D.M.C /Delhi cantonment Board / Kendriya Vidyalaya Sangathan / East DMC/South DMC/ north DMC need not to apply online as the a data will be processed by their administrative department and they will uploaded bulk data on PFMS portal using their dedicated login credentials and submit the proposal to the Department for the Welfare of SC/ST/OBC, B-Block, 2nd Floor, Vikas Bhawan, New Delhi- 110002 for E-payment.
Last Date
The last date of applying application Form on E-district portal was 31st March 2019.
Contact/Helpdesk
For any queries/problems in applying for scholarship on E-district portal send e-mail to dscstschscheme.delhi [AT] gov.in