delhi.gov.in Pre-Matric Scholarship For OBC Students 2018-19 : Welfare of SC/ST
Organisation : Delhi Department for the Welfare of SC/ST/OBC/Minority
Scholarship Name : 2018-19 Pre-Matric Scholarship Scheme For OBC Students
Applicable For : OBC Students
Applicable State/UT : Delhi
Application Deadline : 31/03/2019 (Date is Extended)
Website : http://www.delhi.gov.in/wps/wcm/connect/DoIT_Welfare/welfare/home/
You can now ask your question on this scholarship.
Ask here
(OR) Go to the bottom of this page for comments.
Delhi Pre-Matric Scholarship For OBC
Delhi Department for the Welfare of SC/ST/OBC/Minority invites applications for Pre-Matric Scholarship Scheme For OBC Students for the year 2018-19.
Delhi SC ST Welfare Scholarship 2018-19 :
1. Post Matric Scholarship For SC Students

2. Reimbursement of Tuition Fees

3. Financial Assistance For Purchase Of Stationery

4. Merit Scholarship For Class I To XII Students

5. Merit Scholarship For College/Technical/Professional Institutions

6. Pre-Matric Scholarship For SC Class IX & X Students
Eligibility
** Students should belong to other backward classes.
** He/She should not be getting any other centrally/state funded Scholarship.
** To be eligible no percentage of marks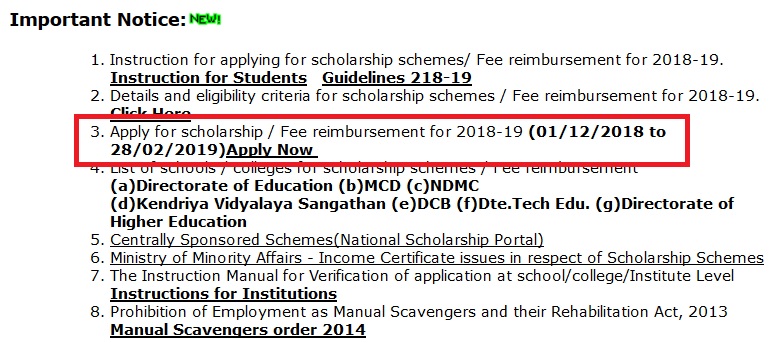 ** The scholarships may be given to the students enrolled in class I or any subsequent class of Pre-Matric stage in the case of day scholars, and class III or any subsequent class of Pre-Matric stage in the case of hostellers
** The scholarship will terminate at the end of class X. The duration of scholarship in an academic year will be 10 months.
** Scholarship award will be sanctioned in the case of students whose parents/guardians income from all sources does not exceed Rs. 2.5 Lakh per annum
How to Apply?
Applicants can apply online through E-district Portal of NIC Delhi and If you are already registered user, Click Registered User Login link.
Apply Online : https://edistrict.delhigovt.nic.in/
Registered User Login
Enter the below details and fill the remaining details to apply for the scholarship.
Step 1 : Enter Your User Id [12356]
Step 2 : Enter Your Password
Step 3 : Enter Your Type the code shown
Step 4 : Click Login button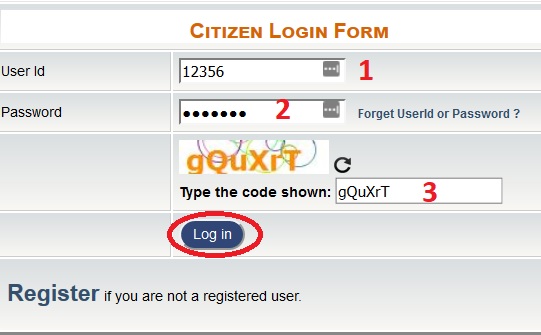 Citizen Registration Form
New User click the Registration link in the Login page and follow the below steps
Step 1 : Select Your Document Type [Aadhaar/ Voter Id]
Step 2 : Enter Document No. As per your Selection [1234560000]
Step 3 : Type the security code
Step 4 : Accept the terms & conditions and Click Continue button

Value of Scholarship
i. Hostellers :
The students as hostellers will be covered from class III to X. The rates of scholarship will be as under – Class III to X Rs.500/- per month for 10 months.
II. Day Scholars :
The students as day scholars will be covered from Class I to Class X. The rates of scholarships will be as under – Class I to X Rs.100/- per month for 10 months
III. Ad-Hoc Grant :
An ad-hoc grant of Rs.500/- per student per annum to all students i.e. hostler as well as day scholars will also be given.
Notification :
https://www.scholarships.net.in/uploads/pdf2018/32589-Advt.pdf
Other Conditions
** The students may not be allowed to take up employment or render help to parents in their work during the course of studies
** Regular attendance record not less than 60% in the previous year should be prerequisite for availing scholarship.
** The award will be discontinued if a student fails to secure annual promotion except in case of unavoidable reasons to be certified by the competent authority of the scheme.
** Applicants should upload Caste Certificate issued in the name of student or his father's name by SDM/Deputy Commissioner (Revenue) GNCTD.
** Upload domicile Certificate of Delhi if the Caste certificate is not issued by the competent authority of Govt. of NCT of Delhi.
** Eligible students studying in schools (Govt. & Govt. Aided) Affiliated to Dte. Of Education, Govt of NCT of Delhi / N.D.M.C /Delhi cantonment Board / Kendriya Vidyalaya Sangathan / East DMC/South DMC/ north DMC need not to apply online as the a data will be processed by their administrative department and they will upload bulk data on PFMS portal using their dedicated login credentials and submit the proposal to the Department for the Welfare of SC/ST/OBC, B-Block, 2nd Floor, Vikas Bhawan, New Delhi- 110002 for E-payment.
Last Date
The last date of applying application Form on E-district portal was 31st March 2019.
Contact/Helpdesk
For any queries/problems in applying for scholarship on E-district portal send e-mail to dscstschscheme.delhi [AT] gov.in