ICHR SAF 2020-21 Senior Academic Fellowship : Indian Council of Historical Research
You can now ask your doubts / questions.
Please go to the the bottom of this page for comments section.
Organisation : Indian Council of Historical Research ICHR
Scholarship Name : Senior Academic Fellowships SAF 2020-21
Application State/Uts : All Over India
Application Last Date : 06.01.2020 (Date is Extended)
Website : http://ichr.ac.in/
ICHR Senior Academic Fellowship
Applications are invited from the eligible candidates for the Senior Academic Fellowships SAF of ICHR for the academic year 2020-21.
Related :
ICHR Junior Research Fellowship JRF 2020-21 : www.scholarships.net.in/32431.html

ICHR PDF Post Doctoral Fellowship 2020-21 : www.scholarships.net.in/32443.html
Eligibility
Senior Fellowships are awarded to senior scholars who have done quality work and have publications in the form of books and papers in professional journals related to history to their credit.

How to Apply?
Just follow the below steps to apply for the SAF 2020-21
Steps :
Step 1 : Go to the official website of ICHR provided above and download the application form from the website or you can directly download it from below mentioned link.
Download Application Form :
https://www.scholarships.net.in/uploads/pdf2019/32437-Form.docx
Step 2 : Hard copy of the application generated after filling of application duly signed and along with the requisite documents should be submitted.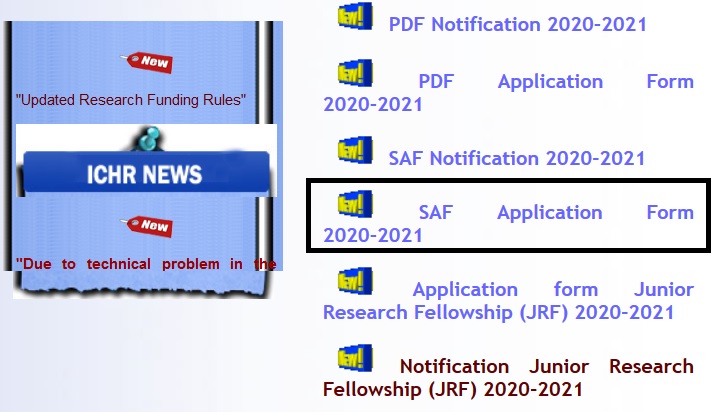 Step 3 : The applicant should attach self attested copies of the certificates of educational qualifications, date of birth, experience and signed copy of check list etc., and send by post to the following address
Member Secretary
Indian Council of Historical Research
No. 35 Ferozeshah Road
New Delhi – 110001.
Step 4 : An application fee of Rs. 500/- (Rupees five hundred only) shall be paid in the form of a Demand Draft drawn in favour of the DDO, ICHR, [payable at Delhi]. (candidates belonging to SC/ST/Persons with Disability (PWD) category are exempted from payment of the fee).
Note :
Hard copy and electronic copy should be submitted to the Member Secretary (ichr.saf [AT] gmail.com) by 06.01.2020
Notification :
https://www.scholarships.net.in/uploads/pdf2019/32437-Advt.pdf
Documents Required
Checklist of enclosures needed
1. Copies of certificates of educational qualifications
2. Copies of language qualification certificates, if applicable
3. Copy of SC/ST/disability certificate, if applicable
4. Copy of Ph.D. dissertation
5. Copy of Bio Data – 2 copies
6. Copies of published book(s) and articles in reputed journals
7. Detailed Proposal – 3 copies
Fellowship Amount
The value of fellowship is Rs. 44000/- per month with a contingency grant of Rs. 44000/- per annum for a period of two years.
General Conditions
1) Indian Council of Historical Research reserves the right
a. to fix criteria for screening the applications so as to shortlist candidates to be called for presentation;
b. to increase/decrease the number of fellowships on its own discretion.
c. not to award any of the advertised fellowships.
2) Application of Reservation rules in the award of Fellowships is subject to certain clarifications to be received from the Ministry of HRD, Govt. of India.
3) In the Application form the section for categories is for Administrative purposes (e.g. preparation of statistical data).
4) Incomplete applications as well as applications received after the prescribed date will not be considered.
Last Date
Last date for submitting printouts of applications for Senior Academic Fellowships 2020-21 is extended till 06.01.2020