Jindal Scholastic Aptitude Test JSAT 2019 : jslh.edu.in
Organization : O. P. Jindal Global University (JGU), Jindal School of Liberal Arts & Humanities
Scholarship Name : JSAT 2019 Jindal Scholastic Aptitude Test
Exam Date : 5 January 2019
Website : http://www.jslh.edu.in/jindal-scholastic-aptitude-test-jsat-4
You can now ask your question on this scholarship.
Ask here
(OR) Go to the bottom of this page for comments.
JGU JSAT
JGU accepts the SAT, ACT, and LSAT-India for all Undergraduate Programmes excepting 5-Year Law [Only LSAT-India] and B. Arch [NATA and JEE]. BBA and IMB also accept the UGAT Examination.
Related : YMCA University VPM Vishwa Prakash Mission Scholarship 2018-19 : www.scholarships.net.in/32369.html
Applicants who have not taken any of these tests will need to complete the JSAT. Weightage for each category will be based on the chosen JGU programme of study

The scores will be accepted for seeking Admission into following undergraduate programme at JGU for academic year 2018-19.
** B.Com (Hons.)
** BBA (Hons.) (3 Years)
** Integrated BBA (5 Years )
** B.A. (Hons.) Liberal Arts & Humanities (3 Years)
** B.A. (Hons.) Economics (3 Years)
** B.A. (Hons.) Global Affairs (3 Years)
** B.A. (Hons) Media & Communication (3 Years)
** B.A. (Hons) Built Environment Studies (3 Years)
How to Register?
Registering for JGU
Prior to scheduling the date, time slot and test centre location for JSAT, candidates are advised to complete and submit their online programme application form through the link of respective school that they wish to apply for, at www.jgu.edu.in.
Candidates will be required to enter their JGU application number while registering for JSAT exam. JSAT scores will be considered only if candidates have submitted the programme application form.
Register & Schedule For JSAT
Just follow the below steps to register for JSAT 2019.
Steps :
Step 1 : Go to the following link [https://home.pearsonvue.com/jsat.aspx]
Step 2 : Interested candidates may register and schedule for JSAT online by making an Online Payment of Rs. 950 through Credit Card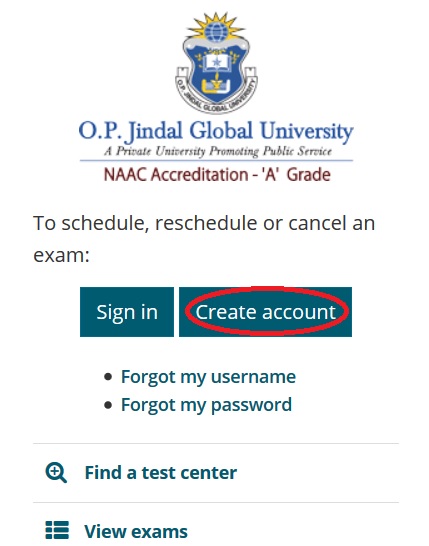 Step 3 : Candidates will be able to select the date, time slot and test centre of choice based on the availability of seats and take the Online Test.
Scheduling The Retake Exam
Candidates are allowed to make multiple attempts at JSAT during the year's testing period if they wish to. The best scores out of all the attempts will be considered.
Candidates are required to pay for each attempt and can schedule the retake test with a gap of four or more days from their previous attempt during the testing window (subject to real time availability).
Exam Pattern
The JSAT is a Multiple-Choice Questions (MCQ) test. It has 120 questions and needs to be completed in 120 minutes. There are no negative marks for wrong answers.
It is divided into three sections :
** English Verbal Ability (40 Questions)
** Logical Reasoning (40 Questions)
** Quantitative Skills (40 Questions)
Exam Details
The test will be ready after 5 January 2019. Each programme gives different weightages to different sections a final total. Applicants must receive a 55% weighted score to be considered for admission.
If an applicant is unable to take the JSAT before the last date or misses their Faculty Interview without rescheduling, they may be re-considered in the next round of applications by applying to reactivate their application for 500 Rs.
About JGU :
O. P. Jindal Global University (JGU) is a non-profit global university established by the Government of Haryana and recognized by the University Grants Commissions (UGC).
JGU was established as a philanthropic initiative of its Founding Chancellor, Mr. Naveen Jindal in memory of his father, Mr. O.P. Jindal. JGU has been awarded the highest grade 'A' by the National Accreditation & Assessment Council (NAAC).