dst.gov.in ISRF 2020 India Science & Research Fellowship Programme
Organization : Department of Science & Technology
Scholarship Name : ISRF India Science & Research Fellowship Programme 2020
Applicable For : Scientists & Researchers
Application Last Date : 28th February 2020
Website : https://dst.gov.in/news/call-india-science-and-research-fellowship
You can now ask your question on this scholarship.
Ask here
(OR) Go to the bottom of this page for comments.
DST ISRF
Department of Science & Technology invites applications for ISRF India Science and Research Fellowship Programme 2020
Related / Similar Post : DST SwarnaJayanti Fellowship 2019-20
Objective
The India Science and Research Fellowship (ISRF) aims at providing opportunities to researchers and scientists from Afghanistan, Bangladesh, Bhutan, Maldives, Myanmar, Nepal, Sri Lanka and Thailand to undertake R&D at premier research and academic institutions in India.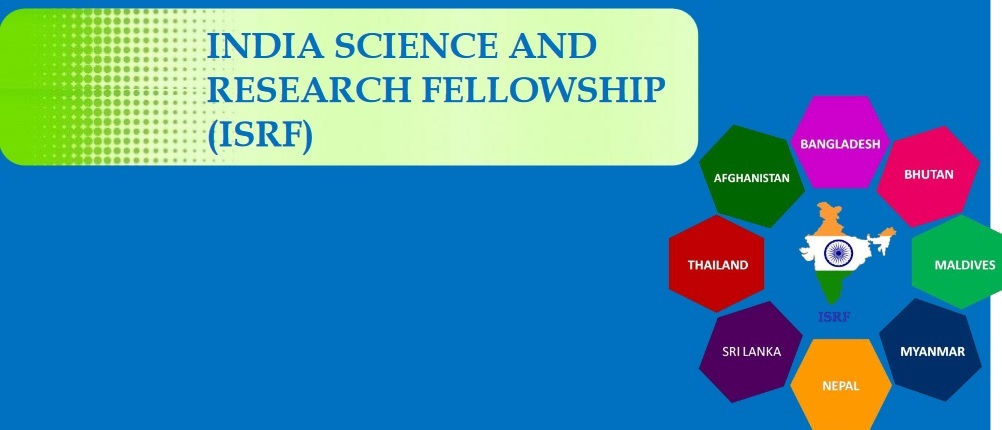 Up to 80 fellowships (10 per country) will be awarded annually under this scheme. The fellowship applications will be considered once a year by a Selection Committee.
Features
** Enable to undertake cutting edge research work in India
** Open to faculty, scientists and researchers in science, engineering and medicine
** Monthly sustenance allowance and one time contingency grant
** Return airfare
Eligibility
** Applicant should be a citizen/permanent resident of the Afghanistan, Bangladesh, Bhutan, Maldives, Myanmar, Nepal, Sri Lanka and Thailand.
** The applicant should be actively engaged in research at a University or research institution in their country in various areas of science and technology including engineering and medical sciences.
** Minimum Qualifications – Ph.D /M.Tech /M.Sc /MBBS with 3-5 years research or teaching experience. Applicants registered for a Ph.D degree in home country may also apply.
** Must be below 45 years of age (as on 31st December 2019)
** The applicant should posses a valid passport
** Must not hold any visa for temporary or permanent residency in India
How To Apply?
Just follow the below steps to apply for the ISRF 2020

Steps :
Step 1 : Researchers/scientists actively engaged in research at a university or research institution meeting the eligibility criteria should apply using prescribed format (can be downloaded from the websites www.ccstds.tn.nic.in; www.dst.gov.in) to respective implementing agency in partner country (if available) or CCSTDS, Chennai.
Download Application Form :
https://www.scholarships.net.in/uploads/pdf2019/32396-Form.pdf
Step 2 : If the respective implementing agency in partner country is not available, Applications may be submitted as hard copy or scan copy with supporting documents (please see application form) to CCSTDS.
Hard Copy to :
The Honorary Director
Centre for Co-operation
in Science & Technology among
Developing Societies (CCSTDS)
No:2, Gandhi Mandapam Road,
Chennai – 600025
Soft Copy to :
Email – adm.ccstds [AT] insa.nic.in, dirccstds [AT] gmail.com
Value Of Award
Fellowship Allowance :
** Rs. 50,000/- per month which includes accommodation and medical facilities as available to host institutes.
Contingency grant to Fellow Scientist :
** Rs. 10,000/- as one time contingency grant.
Contingency research grant for host scientist : (through institution)
** Rs. 20,000/- as one time grant
Airfare :
** Round trip air ticket by economy class from the place of employment in their own country to the Indian host institute, through shortest route. Local transport by Road / rail between the nearest airport and the host institute in India.
Visa fee :
** Will be reimbursed
Selection Process
Pre-screening of applications will be undertaken by the implementing Agency in partner country solely based on scientific merit and proposed contribution to advanced research in the subject field.
Final selection and award decision will be made by DST, Ministry of Science and Technology, Govt. of India through their implementing agency, CCSTDS, Chennai, India.
Last Date
The last date for receipt of the applications is 28th February 2020. No application submitted beyond the Last Date will be accepted.