Careerkarts CHAMPS Scholarship Test 2018-19 : Hunt For Aptitude & Mapping Potential Uttar Pradesh
Organization : Careerkarts
Scholarship Name : CHAMPS Scholarship Test 2018-19 Careerkarts Hunt for Aptitude & Mapping Potential through Scholarship)
Applicable For : Students Studying Classes-IX, X, XI, XII
Applicable State/UTs : Uttar Pradesh
Exam Date : 22nd December, 2018
Website : https://careerkarts.com/champs.aspx
You can now ask your question on this scholarship.
Ask here
(OR) Go to the bottom of this page for comments.
Careerkarts CHAMPS Scholarship Test
Registrations open for Scholarship Test CHAMPS with prize money worth Rs. 400000
Related : Hindustan Parth Ashram Scholarship Program HPSP 2018-19 : www.scholarships.net.in/31999.html
What is Champs?
Careerkarts is organizing CHAMPS(Careerkarts Hunt for Aptitude and Mapping Potential through Scholarship) Scholarship Test. The test is based on questions which analyse student's Numerical Ability, Logical Reasoning Skills and knowledge of current affairs.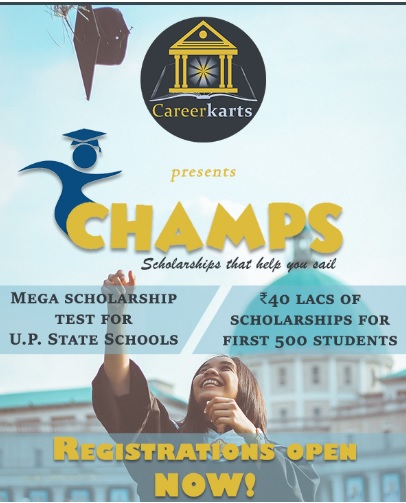 Participating in scholarship test will enable student to identify and showcase thei rtalent which in return will help to achieve one's educational and professional goals.
Who Can Apply?
Students studying in the schools in classes-IX, X, XI, XII across Uttar Pradesh can participate in CHAMPS
How to Participate?
Just follow the below steps to apply for the CHAMPS Scholarship Test 2019.
Steps :
Step 1 : Go to the official website of Careerkarts through the URL provided above.
Step 2 : Then read the instructions carefully before you are applying.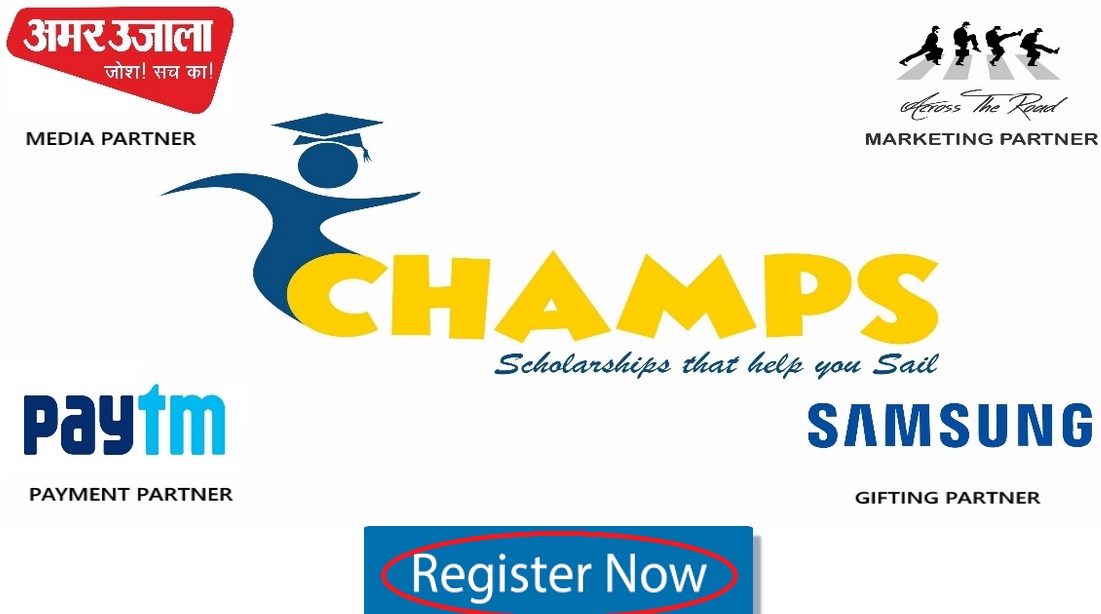 Step 3 : You can scan the QR code from the poster or flyers at your schools/coaching centre.
Step 4 : You can also call our helpline number (01204183329) to help you further in the process
Award Details
Cash Prize
Western UP :
IX & X
XI & XII
Ist Position
Rs. 51, 000
Ist Position
Rs. 51, 000
IInd Position
Rs. 31, 000
IInd Position
Rs. 31, 000
IIIrd Position
Rs. 21, 000
IIIrd Position
Rs. 21, 000
Eastern UP :
IX & X
XI & XII
Ist Position
Rs. 51,000
Ist Position
Rs. 51, 000
IInd Position
Rs. 31,000
IInd Position
Rs. 31,000
IIIrd Position
Rs. 21,000
IIIrd Position
Rs. 21,000
Tablets
** Apart from cash prizes, top 450+ students will get Samsung Tablets worth Rs.10,000 each.
** In addition to the above mentioned prizes, all registered students will also receive Certificate of Excellence.
Necessary Conditions About Cash Scholarship Awards :
1. A student will be eligible for Cash Scholarship Awards in only one category out of the various categories.
2. If any awardees unable to attend award ceremony due to any reason to collect award then He she can send his/her father/Mother along with admit card and valid id proof.
3. Cash Scholarship Awards shall be paid by Cheque in favor of student only. If student does not have his/her bank account. Amount can be transferred in parents account only.
Exam Pattern
| | |
| --- | --- |
| Mode of Exam | Pen & Paper |
| Examination Date | 22nd December, 2018 |
| Types of Questions | Objective (MCQ) |
| Total No of Questions | 90 |
| Total No of Marks | 100 |
| Declarations Result | 15th January, 2019 |
| Syllabus | General Knowledge: 30 Questions, Logical Reasoning :30 Questions, Quantitative Analysis :30 Questions |
| Language of Test | English & Hindi |
| Negative Marking | No |
| Award Ceremony | 22nd January, 2019 |
Terms & Conditions
** Please note that all scholarship will be confirmed only after receiving the attested mark-sheet / identity verification by principal on school letter Head.
** Any student caught employing unfair practice during the Champ Scholarship-Test is subject to immediate expulsion from the examination hall and no refund of the fee already paid shall be made at any cost.
** Any request for cancellations of Registration once duly paid the registration fee on the site, shall not be entertained.
** It is compulsory to provide a working e-mail I.D./Mobile No. of the student/ father/guardian. The result of Champs scholarship test or any other information of the Test will be sent to the student by SMS and on his/her e-mail I.D.
Terms & Conditions :
https://www.scholarships.net.in/uploads/pdf2018/32384-TC.pdf
** No student is allowed to carry mobile phone/I-pod in the classes during the Champs test.
** The Examination Centre of any place can be changed as per the requirement/ need of the Assert IT solutions.
** No request will be entertained regarding change in address or mobile No.
** The entry into the Test Centre is permitted only with the valid Identity Card admit card along with school ID card / Aadhar card