British Council A.S.Hornby Educational Trust Scholarship 2019
Organisation : British Council India
Scholarship Name : A.S.Hornby Educational Trust Scholarship 2019-20
Application Deadline : 10th December 2018
Website : https://www.britishcouncil.in/study-uk/scholarships/charles-wallace-trust/hornby
You can now ask your question on this scholarship.
Ask here
(OR) Go to the bottom of this page for comments.
British Council A.S.Hornby Educational Trust Scholarship
British Council India invites applications for Hornby Scholarships 2019. The A.S.Hornby Educational Trust scholarships are awarded every year to English language teachers from outside the UK to study for a Masters degree in English Language Teaching (ELT) at the University of Warwick.
Related :
British Council 70th Year Scholarship 2019-20 : www.scholarships.net.in/31971.html

British Council Charles Wallace India Trust Long Term Scholarship 2019-20 : www.scholarships.net.in/32342.html
The scholarships fund study on the one-year MA TESOL at the University of Warwick.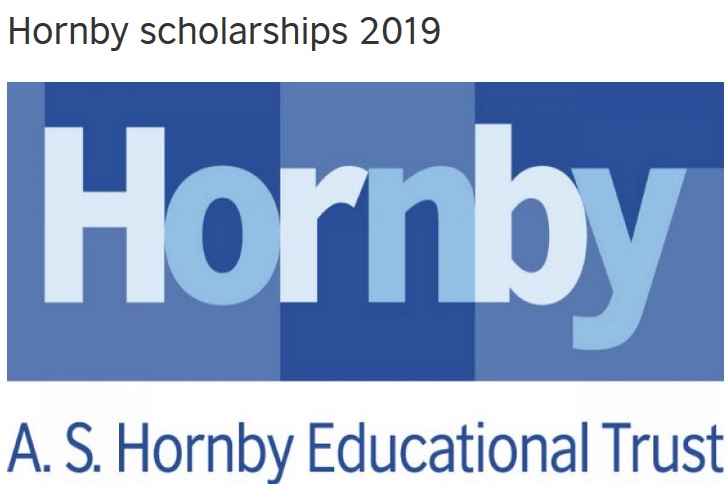 Eligibility
Eligible applicants for the scholarship award must have at least three years' full-time English language teaching experience and a full university degree. Applicants also require the level of English proficiency stipulated by the university.
Application Procedure
Just follow the below steps to apply for the A.S.Hornby Educational Trust Scholarship 2019-20.
Steps :
Step 1 : Go to the following link [https://tinyurl.com/hornbyscholarship2019]
Step 2 : Read the instructions carefully before you are applying and Fill the online application with the required fields.


Step 3 : Finally submit your application
Terms & Conditions :
https://www.scholarships.net.in/uploads/pdf2018/32351-TC.pdf
Selection Process
Applicants are selected by a four-stage process
1. Online application form : applicants submit the online application form for initial assessment
2. Interview : applicants who are successful at stage 1 are invited for interview at the British Council office in their country of origin
3. Application to university : applicants selected from the interview are invited to apply to the university for consideration
4. University acceptance : the scholarship award is confirmed with the applicant and arrangements are made to arrive in the UK to begin study by 1st October 2019
FAQs
1. Do I need to send my photo and/or documents, including IELTS certificates?
These are only required if you are shortlisted for interview.
2. Who should be a referee?
A referee is someone in a senior position who knows you well professionally and can provide an accurate reference about you as a professional.
3. I need to change my referee after submitting the application form?
We will only need to contact referees if you are shortlisted for interview. We will check with you then that the details of your referees are correct.
4. Can I use another certificate instead of IELTS?
Yes. Warwick accept both TOEFL and PTE. Scholars require an overall score of 6.5, in IELTS, with no less than 6.0 in any of the categories, and 6.5 for writing. For TOEFL overall 92 and 24 for writing. For PTE overall 62, writing 62.
5. Can I make changes to the application form once I have completed it?
Yes, you can save the form and edit up until the deadline.
6. Will I get a confirmation email?
You will not get one – we will contact you when we evaluate the application forms and inform you of the result of your application.
7. Must I have a minimum number of years of teaching experience?
Yes, we require applicants to have a minimum of three years' teaching experience