NTR Trust NTRT GEST 2019 : Girl Education Scholarship Test Andhra Pradesh & Telangana
Organisation : NTR Trust
Scholarship Name : NTRT GEST 2019 Girl Education Scholarship Test
Applicable For : Girls appeared for X standard Board exams in March 2019
Applicable States : Telangana & Andhra Pradesh
Application Deadline : 06-12-2018
Exam Date : 09-12-2018
Website : http://ntrtrust.org/
You can now ask your question on this scholarship.
Ask here
(OR) Go to the bottom of this page for comments.
NTR Trust Girl Education Scholarship Test
NTR Trust is committed to give quality education and financial assistance for meritorious girl students. To identify the beneficiaries NTR Trust is conducting GEST-2019.
Update : NTRT GEST Result 2019 : www.scholarships.net.in/32966.html
Who Can Apply?
Girls appearing for X standard Board exams in March – 2019 from AP & TS.
How to Apply?
Just follow the below steps to apply for the NTRT GEST 2019.
Steps :
Step 1 : Go to the official website of NTR Trust provided above.
Step 2 : Then click on the "Enroll for NTRT GEST-2019" link in the home page.


Step 3 : Read the instructions carefully and click on the "Next" button
Step 4 : Please watch the following video before filling the form and then click Next button

Step 5 : Please fill the application form with proper attention with the following details
Student Details :
Please enter Student Details
1. Enter the Name of the Student (First Name, Last Name,e.g. Raju Madhana)
2. Select Your Medium of Study – English / Telugu
3. Select Your Date of Birth (MM/DD/YYYY)
4. Enter the Name & Address of the School (Please Enter the School Details)
5. Select Your State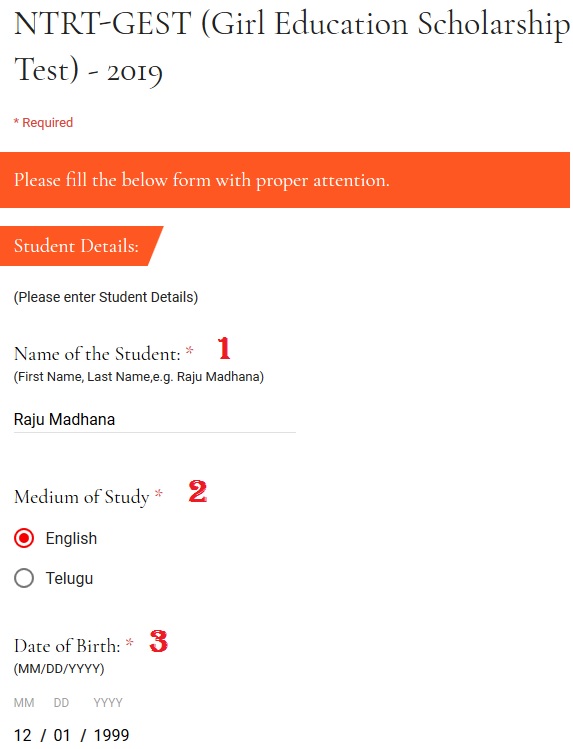 6. Enter Your Fathers' Name (First Name, Last Name,e.g. Ramu Madhana)
7. Enter Father's Occupation (Please enter the Job, Business any other)
8. Enter Your Mother's Name (First Name, Last Name,e.g. Lakshmi Madhana)
9. Enter Mother's Occupation (Please enter the Job, Business any other)
10. Enter Your Mobile No (Please enter valid 10 digit Mobile number)
11. Enter Your E-mail (Enter the E-mail ID for communications)
12. Enter Your Address for Correspondence (Please enter valid address for further communication)

Step 6 : Finally click on "Submit" button to complete your application
Test Details
Date & Time : 09-12-2018, 10:00 am to 12:00 noon.
Test Pattern :
Objective Type (Multiple Choice questions), Max. Marks: 100, Duration: 2 Hours, Question paper will be in English medium of 10th standard only.
Subjects :
Maths – 20 M, Science – 20 M, Social – 20 M, English – 20 M, Others (Current Affairs, GK, Reasoning) – 20 M, No Negative Marks
Venue :
NTR Junior College for Girls, Chilukur Balaji Temple Road, Himayath Nagar Village, Moinabad Mandal, R.R. Dist., Telangana 500075
Note :
** Students must carry Black ballpoint pen & Writing pad for the Exam to mark the answers on OMR Sheet.
** Candidates can download their Hall Tickets with their registered mobile number on 07-12-2018 from 10:00 am onwards.
Download NTRT GEST Hall Ticket
Kindly follow the below steps to download your hall ticket,
Steps :
Step 1 : Go to the following link [http://www.mytdp.com/NtrTrustHealthCamp/ntrTrust.action]
Step 2 : Next Enter your registered mobile number [9876543210]
Step 3 : Click on the "Generate Hall Ticket" button

Note :
Bring Your Hall Tickets duly affixed with recent photograph. Please bring your photo id proof like VOTER ID/AADHAR/PAN/RATION CARD/DRIVING LICENCE.
Scholarship Details
Total 25 students will receive the merit scholarship to pursue their intermediate in NTR Junior College for Girls, Hyderabad for two years in MPC, MEC & CEC in English Medium.
Out of 25 selected Girl students, First 10 Girl students will get a monthly scholarship of Rs. 5,000/- and other 15 Girl students will able to get a monthly scholarship of Rs. 3,000/-.
List of selected candidates will be placed in official website within one week from the date of examination.
About us :
Since 1997, NTR Trust has endeavored to improving the health and health outcomes of the needy groups, meeting the educational needs of underprivileged students, advancing the concept of entrepreneurship and self-employment, and offering support and relief during disasters. We are deeply committed to fulfill every expectation of hope, support, leadership, and coordination.
Contact us :
NTR Trust Bhavan,
Road No. 2, Banjara Hills,
Hyderabad -34
Phone: +91 40 30145800, 30799999