Margdarshan IIT/JEE Scholars Selection Test MSST & Print Admit Card 2018-19 : online.margdarshaniitjee.com
Organisation : Margdarshan Institute
Scholarship Name : MSST 2018-19 Margdarshan Scholars Selection Test & Print Admit Card
Applicable For : Class 6th, 7th, 8th, 9th & 10th Students
Website : http://online.margdarshaniitjee.com/index.php
You can now ask your question on this scholarship.
Ask here
(OR) Go to the bottom of this page for comments.
Margdarshan IIT/JEE Scholars Selection Test
Exact Date of Written Test of Margdarshan Scholar's Selection Test 2018-2019 or MSST 2018-2019 is not yet announced by the Board.
Related : Shivam Classes Talent Hunt Scholarship Exam 2019 : www.scholarships.net.in/32242.html
But, Application Forms are now available and Register Yourself to Get Benefit Worth Rs. 5 Crores
Who Can Apply?
Students studying in Class 6th, 7th, 8th, 9th & 10th are eligible to apply for the Margdarshan Scholars Selection Test 2018-19.
How to Apply?
Just follow the below steps to apply for the MSST 2018-19.
Steps :
Step 1 : Go to the official website of Margdarshan Institute provided above.
Step 2 : Then fill the application form with the required fields and click on "Submit" button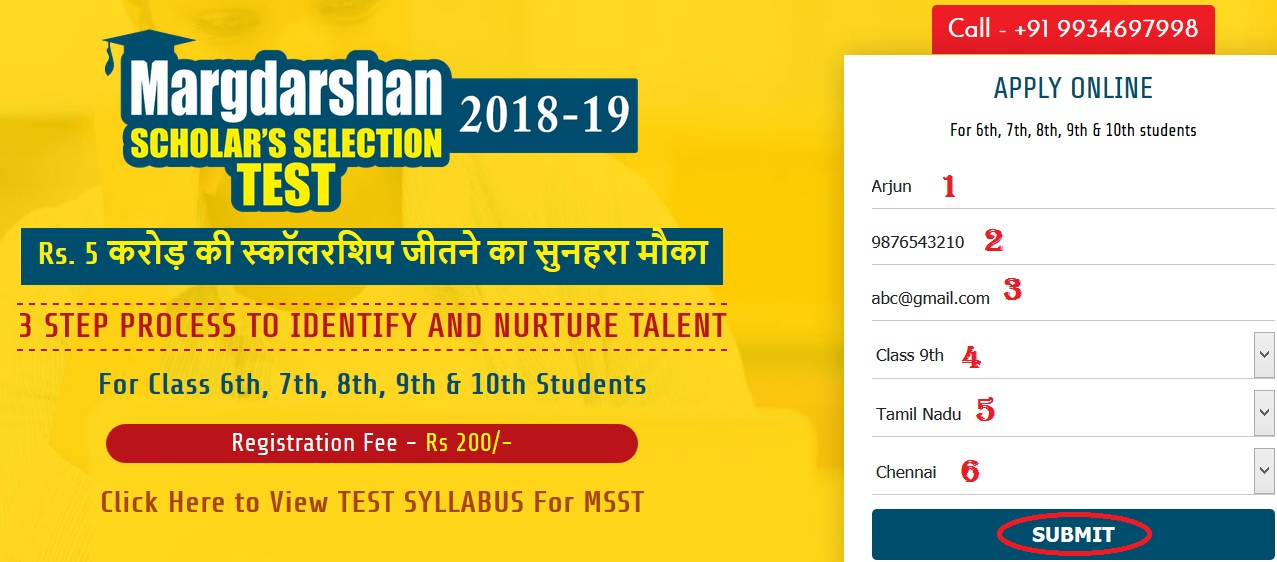 Step 3 : Next you have complete the application by entering the following details
** Details About the Student
** Communication Details
** Details about the School Presently Studuing in/Last Attended
** Details about your Sibling
Step 4 : After that upload your recent passport size photograph & Adhar card/Pan Card/Voter ID-Card/School Id etc.
Step 5 : Finally submit your application.
Print MSST Admit Card
Kindly follow the below steps to Print the Admit Card of Margdarshan Scholar's Selection Test (2018-19).
Steps :
Step 1 : Go to the following link [http://online.margdarshaniitjee.com/printadmitcard.php]
Step 2 : Enter Your Roll No [12345]
Step 3 : Enter Your Mobile No [9876543210]
Step 4 : Click on the "Print" button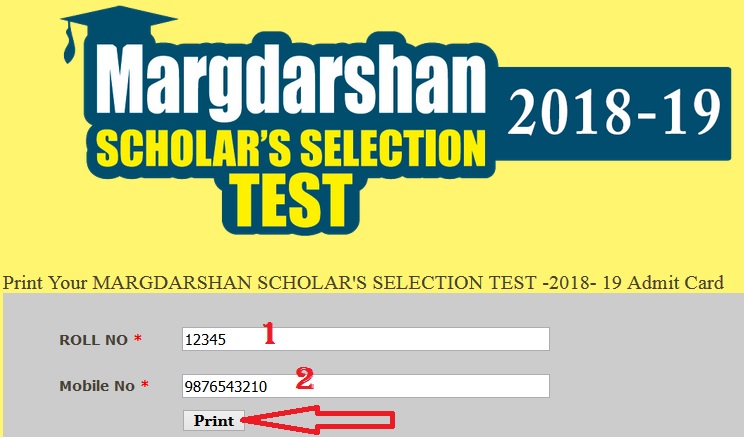 Reward & Prizes
At School Level
** Prize for top 5 Students of each class
** Selection of students scoring above 60% for stage – 2
** Admission benefit in fee Rs. 45,000 + GST for 2 years (Foundation Course for 10th appearing students) for prize winning students and Rs. 55,000 + GST for all students
At District Level
** Prizes along with cash reward for top 10 students from each district
| | | |
| --- | --- | --- |
| Rank | Top 3 | 4 – 10 |
| Tuition Fee | Rs. 25,000 + GST | Rs. 45,000 + GST |
** Selection of students scoring above 60% for stage – 3
** Admission benefits for 2 years (Foundation Course for 10th appearing students)

At State Level
** Prizes along with cash reward for top 10 students
| | | | |
| --- | --- | --- | --- |
| Rank | Tuition Fee | Rank | Tuition Fee |
| 1 – 30 | Zero Fee | 201 – 500 | Rs. 55,000 + GST |
| 31 – 50 | Rs. 25,000 + GST | 501 – 1000 | Rs. 60,000 + GST |
| 51 – 100 | Rs. 40,000 + GST | 1001 – 5000 | Rs. 65,000 + GST |
| 101 – 200 | Rs. 50,000 + GST | 5001 – 10000 | Rs. 70,000 + GST |
** Selection of students scoring above 60% for stage – 3
** Admission benefits for 2 years (Foundation Course for 10th appearing students)

Test Syllabus
CLASS -7
PHYSIC
CHEMISTRY
BIOLOGY
MATHS
Heat, Motion and time, Wind, Storms and Cyclones
Fibre to Fabric, Acids, Bases and Salts, Physical and Chemical Changes
Nutrition in Plants, Nutrition in Animals, Weather, Climate and Adaptations of Animals to Climate, Respiration in Organisms
Integers, Fraction & Decimal, Data Handling, Simple Equations, Lines & Angles, Triangles & Its Properties, Congruent Triangles
CLASS -8
PHYSIC
CHEMISTRY
BIOLOGY
MATHS
Force and Pressure, Friction
Synthetic Fibres and Plastics, Materials- Metals & Non-Metals
Cell Structure And Function, Reproduction in Animals
Rational Numbers, Linear Equations in One Variable, Understanding the Quadilaterals, Practical Geometry, Squares and Square Roots, Mensuration
CLASS -9
PHYSIC
CHEMISTRY
BIOLOGY
MATHS
Motion, Force and Laws of Motion, Work and Energy
Structure of Atom, Atoms and Molecules
Tissue, Diversity in Living Organism
Number System, Linear Equation in Two Variables, Co-ordinate Geometry, Surface Area and Volumes, Polynomials, Triangles & Circles
CLASS -10
PHYSIC
CHEMISTRY
BIOLOGY
MATHS
Electricity, Control and Coordinations, Magnetic Effects of Electric Current, Light – Reflection and Refraction
Chemical Reactions & Equations, Acids, Bases, and Salts, Metals and Non-Metals, Carbon and Its Compounds
Life Processes
Real Numbers, Polynomials, Pair of Linear Equations in two Variables, Introduction to Trigonometry, Trigonometric Identities, Height and Distances, Quadratic Equation, Circles, Arithmetic Progression, Probability