scholarships.gov.in Chandigarh Pre-Matric Scholarship To SC Students Of Class IX & X 2019-20 : National Portal NSP
You can ask questions or answer questions about this scholarship.
Please go to the bottom of this page.
Organisation : Government of Chandigarh
Portal Name : National Scholarship Portal NSP 2.0
Scholarship Name : Pre-Matric Scholarship To SC 2019-20
Applicable For : Students Of Class IX & X
Applicable State : Chandigarh
Last Date : 15.11.2019
Website : https://scholarships.gov.in/
NSP Chandigarh Pre-Matric Scholarship For SC
Pre-Matric Scholarship Scheme For SC Students Of Class IX & X Chandigarh for the year 2019-20.
Related / Similar Scholarship :
NSP Chandigarh Pre-Matric Scholarship To SC 2019-20
Objective
To support parents of SC children for education of their wards studying in class 9th and 10th so that the incidence of drop-out, especially in the transition from the elementary to the secondary stage is minimized, and to improve participation of SC children in Classes 9th and 10th of the pre-matric stage, so that they perform better and have a better change of progressing to the post-matric stage of education.
Eligibility
** Students should belong to scheduled Caste.
** His/her parent/Guardian's income not exceed Rs. 2.50 Lakh per annum.
** Scholarship for studying in any class will be available for only one year. If a student has repeat a class, she/he would not get scholarship for that class for second (or Subsequent) year.
Rate Of Scholarship
The Scholarship will be payable for 10 months in an academic year
| | | |
| --- | --- | --- |
| Item | Day scholar | Hostler |
| Scholarship (Rs.PM) (for 10 Months) | 225 | 525 |
| Books and Ad hoc Grant (Rs.PA) | 750 | 100 |
Mode Of Payment :
Direct Benefit Transfer through PFMS (Public Financial Management System) by the Ministry
How to Apply?
Just follow the below steps to apply for the Pre-Matric Scholarship To SC Students Of Class IX & X 2019-20.
Steps :
Step 1 : Go to the official website of National Scholarship Portal through the URL provided above.
Step 2 : Then Select State Schemes tab and Click on Chandigarh in the drop down list.

Step 3 : After that Click Apply link in the "Pre-Matric Scholarship To SC Students Of Class IX & X " under Chandigarh.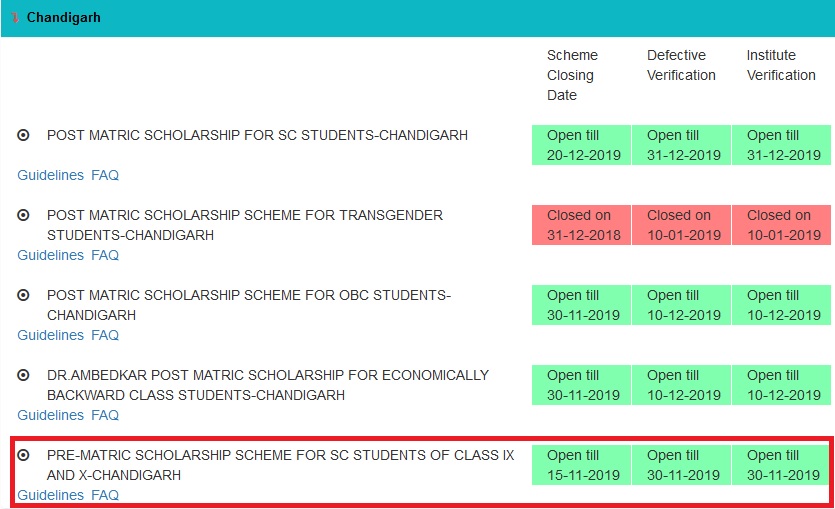 Step 4 : It will redirect to the Login Page. Enter your Application Id, Password and Captcha for Login.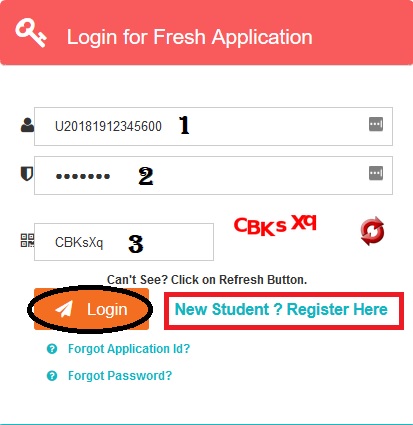 Step 5 : After Login to your account select the Scholarship scheme and fill the required details to apply for the scholarship.
Step 6 : If you are a New User then Click on the Register link in the Login Page.
Step 7 : Enter all required details for registration to get your user id and password. After register your account you can Login and apply the scholarship.
Step 8 : After complete your application you will get a confirmation message to your registered email id & mobile number
Terms & Conditions
** Income declaration of self employed parents/guardian should be in the form of a certificate issued by Revenue officer not below rank of Tehsildar.
** Employed parents/guardians are required to obtain income certificate from their employer Employed parents/ guardians should obtain consolidated certificate from Revenue officer for any other additional source of income He/she should be regular, full time students studying in a Government school or in school recognized by Govt. or a Central/State Board of Secondary Education.
Last Date
Last Date for submission of Chandigarh Pre-Matric Scholarship To SC Students Of Class IX & X application is 15.11.2019