elrs.kerala.gov.in Track Scholarship Application Status : Education Loan Repayment Support Scheme
Organisation : Finance Department, Government of Kerala
Facility : Track Scholarship Application Status
Scholarship Name : Education Loan Repayment Support Scheme
Applicable State : Kerala
Website : http://www.elrs.kerala.gov.in/
You can ask questions or answer questions about this scholarship.
Please go to the bottom of this page.
ELRS Kerala Track Scholarship Status
The Government has now proposed an Education Loan Repayment Support Scheme which is intended to help those who are struggling to repay the education loan debts after the completion of their course.
How to Check Status?
The application status can be tracked by login to the website. Just follow the below steps to check your Scholarship Application Status.
Steps :
Step 1 : Go to the official website of Finance Department Kerala provided above.
Step 2 : Next, Enter your User Id [12345]
Step 3 : Enter Your Password
Step 4 : Enter the captcha code shown in the image.
Step 5 : Click on Login button

Forgot User Id/Password?
Please enter the following details to Retrieve your user credentials,
Step 1 : Visit the official website provided above
Step 2 : Then click on "Retrieve User Credentials" button in the home page.
Step 3 : Select the Type of Student [Normal Student]
Step 4 : Enter Your Registered Mobile Number [9876543210]
Step 5 : Enter the Registered Email Address [abc@gmail.com]
Step 6 : Click on "Generate OTP" button.
Step 7 : OTP number will be sent to your registered mobile number & email address
Step 8 : Enter the OTP received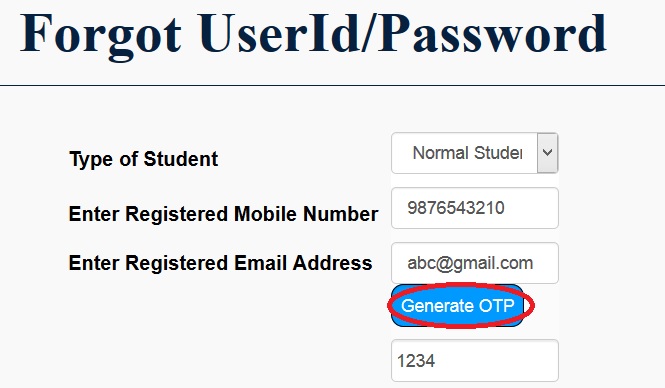 FAQs
1. What is to be done after submitting the online application ?
After submitting the application online, you should take a print out of the application, sign and submit it with requisite/supporting documents to the bank.
2. What is Registration ID number?
This will facilitate to authenticate your Identity and will help in avoiding duplication. Using this Id only you can login to the website.
3. Can I take print-out of my application at any stage?
Yes. Do 'Candidate Login' and take print out using the link 'View/ Print Application'
4. How can I reset my password ?
At the time of registration a random password is generated and it will be sent to your registered mail Id. Using that details you can login and reset your password.
5. What are the documents required ?
The borrower student is required to upload scanned copies of following certificates.
1. Eligibility Certificate (As per annexure 2)
2. Document Proving Income limit / disability/death certificate
3. Certificate issued by the Head of the Institution regarding the discontinuance of the studies on account of medical round.
4. Copy of PAN Card
6. How the bank verifies the correctness of the application?
The Nodal officer of the bank will assign a login id to the branch officials. Applications submitted online to the branch will be available for viewing and processing in the portal.
The bank branch has to cross verify the online application with the physical copy and the records available in the bank to ensure its correctness and eligibility as per the scheme.
Incomplete/ineligible applications are to be returned quoting reasons, through the online portal.
7. What are the procedures to be followed by the bank branch?
The procedure for processing the applications in the bank branch involves following 6 steps
a. Verification of correctness and eligibility of application.
b. Working out claim amount and applicant's contribution
c. Accepting and acknowledging the application.
d. Forwarding the application to the nodal officer
e. Maintaining of documents