barti.maharashtra.gov.in : BANRF Dr. Babasaheb Ambedkar National Research Fellowship 2018
Organization : BARTI Dr. Babasaheb Ambedkar Research and Training Institute
Fellowship Name : BANRF 2018 Dr. Babasaheb Ambedkar National Research Fellowship
Applicable For : SC Students
Applicable State : Maharashtra
Last Date : 10/12/2018
Website : http://barti.in/barti-portal/barti-online-form/
You can now ask your question on this scholarship.
Ask here
(OR) Go to the bottom of this page for comments.
BARTI BANRF Dr. Babasaheb Ambedkar NRF
Dr. Babasaheb Ambedkar Research and Training Institute invites applications for BANRF Dr. Babasaheb Ambedkar National Research Fellowship 2018.
Related : MahaDBT portal Registration 2018-19 : www.scholarships.net.in/31106.html
Who Can Apply?
1. Applicant must belong to Scheduled Caste Category & domicile of Maharashtra State, who has passed the Post- Graduation examination in any discipline/Subject/Branch.
2. Applicant applying for BANRF – 2018 must be registered for M. Phil./ Ph.D. in Indian Universities / Institutions / Colleges approved under UGC only. Not Registered applicants are not eligible to apply BANRF 2018.
3. Applicant applying for BANRF 2018 must have their M.Phil. /Ph.D. Admission/ Registration date on or after 20th July 2017 to 10th December 2018 or Last date of Online Application Submission date of BANRF 2018.
4. Age of applicant should not exceed more than 40 years as on the 10th December 2018 or last date of online application submission date.
5. All-inclusive family Annual Income of the applicants should not be more than INR 6 lakhs.
Reservations
1. 50% of fellowships reserved for SC Female candidates.
2. 3% of fellowships reserved for SC Candidates with disability. Disability % should be more than 40 %.
How to Apply?
Just follow the below steps to apply for the BANRF 2018.
Steps :
Step 1 : Please visit below web page for Online Application for BANRF- 2018 https://barti.maharashtra.gov.in> Notice Board > Online Application for BANRF- 2018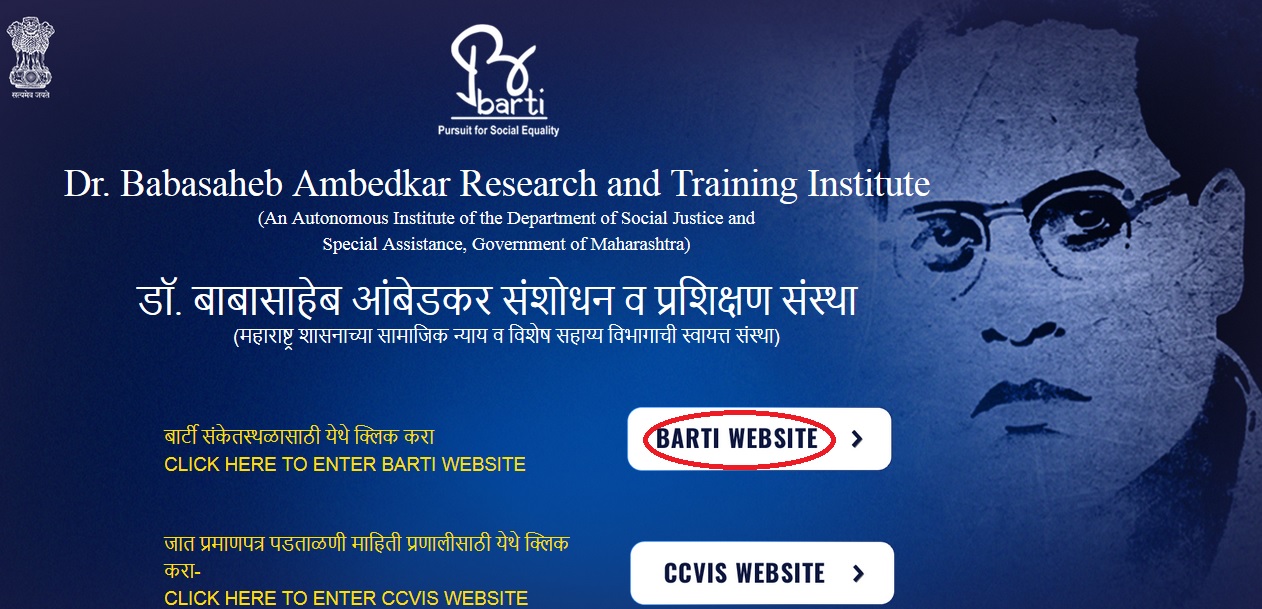 Step 2 : You can proceed by clicking BANRF-2018 Online Application link to apply online BANRF-2018 fellowship.
Step 3 : For new registration Candidates should have a valid personal email ID and Contact No.

Step 4 : After Successful submission of new registration, website will give confirmation notification screen.
Step 5 : User/Applicant can login by entering user name and password from the home page.
Step 6 : After successful login website will show "Terms and Condition".
Step 7 : After reading carefully user must click on "I agree & accept terms & conditions mentioned in BANRF – 2018 Guideline" check box and Click on Submit button to proceed.
Step 8 : Next enter your Personal Details, Educational Details, M.Phil/ Ph.D. Registration Details and Employment & Fellowship Details
Step 9 : Upload all documents and finally click on the "Submit" button.
Step 10 : After Submit button user will get confirmation email on registered email with subject line "BANRF – 2018 online application submitted successfully".
Notification :
https://www.scholarships.net.in/uploads/pdf2018/31713-Advt.pdf
Benefits
1. Selected candidates for M.Phil. fellowship, will be paid Rs. 25,000/- per month up to two years or as per academic period prescribed by concerned University/Institute.
2. Selected candidates for Ph.D. fellowship, will be paid Rs. 25,000/- per month (JRF) for the initial two years and Rs 28,000/- per month (SRF) for 3rd year, subject to submission of up-gradation certificate and other relevant documents.
3. Selected candidates are eligible to draw House Rent Allowance (HRA) & Contingency amount as per Government Rules & Regulations.
Helpline
Please contact our toll free help line number – 18002330444 (From 08:00 AM to 10:00 PM), in case of any technical problem while filling online application form. Email- Fellowship [AT] barti.in