jkdswdj.jk.gov.in Post Matric Scholarship For OBC/SC/PHC/EBC/DNT Students 2018-19 : Jammu Kashmir Social Welfare Department
You can ask questions or answer questions about this scholarship.
Please go to the bottom of this page.
Organisation : Directorate of Social Welfare Jammu Kashmir
Scholarship Name : Online Application for Post Matric Scholarship 2018-19 For OBC/SC/PHC/EBC/DNT
Applicable For : OBC/SC/PHC/EBC/DNT Students
Applicable State : Jammu Kashmir
Application Last Date : 30.11.2018
Website : http://jkdswdj.jk.gov.in/scholarship.html
JKDSWDJ Post Matric Scholarship
Online Applications are invited for Post Matric Scholarship Under OBC/SC/PHC/EBC/DNT Categories for the year 2018-19. Last date for Online Applications for Post Matric Scholarship is extended until 30.11.2018
Related / Similar Scholarship : Post Matric Scholarship 2019 Jammu and Kashmir
Who Can Apply?
Students belonging to Schedule caste (SC) Other Backward Classes (OBC), Economically Backward Classes (EBC), Physically Challenged (PCP) & Denotified Nomadic & Semi Nomadic (DNTS) Categories pursuing studies within & outside the State of Jammu & Kashmir in Government/Government Recognized Educational Institutions undergoing XI, XII, Diploma, Graduation/Post-Graduation Level Courses, B.Ed, M.Phil, Ph.D & Professional/Technical Degree Courses at Under Graduate and Post-Graduate Levels etc are eligible to apply.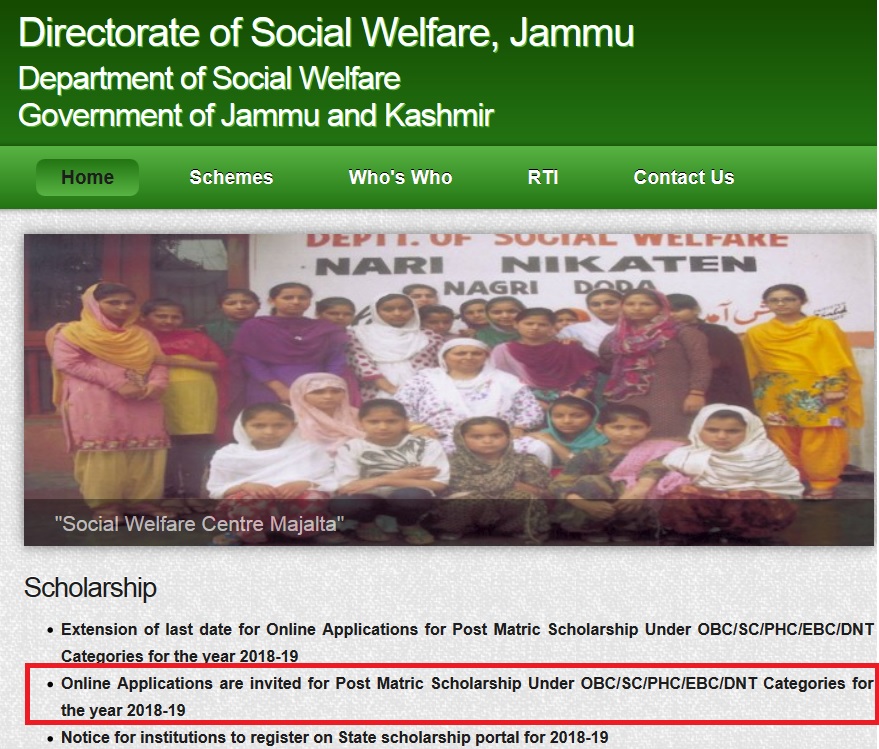 How to Apply?
On-line implementation will be done through State Portal. Just follow the below steps to apply for the Post Matric Scholarship 2018-19.
Steps :
Step 1 : Go to the following URL [https://www.jk.gov.in/jkeservices/home.action]
Step 2 : New User click on the "Register" button in the menu bar.
Step 3 : Fill the required details to complete the registration. Please, note application ID, password the Citizen ID after successful registration as it will be required at the time of availing the service
Step 4 : After registration you can login with your Login Id & Password. Please select the role type Citizen while entering login credentials by the Applicant.
Step 5 : After login, Applicant has to click on the e-services tab in the left menu and thereafter click on the social welfare and under social welfare click on Post-matric Scholarship
Note :
Applicant has to upload the scanned photo (jpg image) of size less than 20 kb before registration
Documents Required
The following documents in original shall be uploaded & Xerox of the same should be attached with the hard copy of downloaded Scholarship application form except "Income Certificate/Fee Receipt & Affidavit" which should be attached in original
a. One passport size photograph.
b. Permanent Residence Certificate (State Subject Certificate).
C. Fee Receipt.
d. Duly attested Promotion Certificate, in case student has passed previous examination.
e. Valid Hotelier Certificate issued by the Institution.
f. Attested Fee structure duly approved by Central/State Government in case of Private recognized Institutions).
g. Income Certificate. For the year of 2018-19 only) Parents /Guardians current income certificate, in original, from the concerned Tehsildar (in case of students whose parents/guardians are not Government employees).
In case of wards of Government employees, salary certificate issued by the concerned Drawing and Disbursing Officers. (Income certificate with cutting/mutation will lead to rejection of Application forms.).
h. (Valid) Category Certificate (OBC, SC, DNT's) from the competent authorities.
i. For Economically Backward Classes (EBC's) only those students who do not belong to any Category can apply (Other Than Categories).
j. Disability Certificate- (indicating 40% & above disability) in case of Physically Challenged students (PCP).
k. Aadhaar Number alongwith Xerox of Aadhaar Card and seeding of Aadhaar with bank account will lead to smooth transaction of sanctioned amount of scholarship in favour of eligible students.
l. Mobile Number and email is Mandatory.
m. Affidavit duly attested by notary to be submitted/enclosed with hard copy by the student.
Notification :
https://www.scholarships.net.in/uploads/pdf2018/31655-Advt.pdf
Last Date
** Submission of hard copies of online applications along with all required documents to concerned Institute should be self-attested – 30.11.2018
** Verification/forwarding of Online Applications by Institutes & submission of hard copies to 10th September concerned District Social 2018 Welfare Office after proper Scrutinizing by Nodal Officer – 30.11.2018
** Scrutiny/Verification of Online application forms with Hard copies by concerned DSWO – 31.12.2018
Helpline
For further queries, the candidates can contact Assistant Director (Schemes)/ scholarship section, Directorate of Social Welfare Jammu on telephone No. 0191-2472600.