Anna University ThinkSwiss Research Scholarship 2019 : swissnexindia.org
Organization : Centre For International Affairs, Anna University
Scholarship Name : ThinkSwiss Research Scholarship 2019
Applicable For : Masters Students/Undergraduate Students Who Completed 2nd Year,
Application Deadline : 15.12.2018
Website : https://www.swissnexindia.org/thinkswiss/
You can now ask your question on this scholarship.
Ask here
(OR) Go to the bottom of this page for comments.
Anna University ThinkSwiss Research Scholarship
ThinkSwiss Asia-Pacific is a scholarship program managed by swissnex India and the Embassies of Switzerland in Australia & in Singapore.
Related : NESO India Holland Scholarship 2019-20 : www.scholarships.net.in/31468.html
It supports students enrolled at Indian, Australian and Singapore universities who want to go to Switzerland to conduct research.
Who Can Apply?
** Masters students or undergraduate students who completed 2nd year, currently enrolled in an Indian university or institute.
** Open to students from all fields, with an acceptance letter from a professor at a Swiss university for a research stay in his/ her group.
How To Apply?
Just follow the below steps to apply for the ThinkSwiss Research Scholarship 2018-19.
Steps :
Step 1 : Go to the official website provided above.
Step 2 : Read the instructions carefully before applying and then click on the "Apply for the Scholarship" link.

Step 3 : Please upload the list of documents (only PDF format) mentioned below
Step 4 : Please tick in the boxes for the documents uploaded and click on Next button
Step 5 : Fill the remaining details to complete the application form.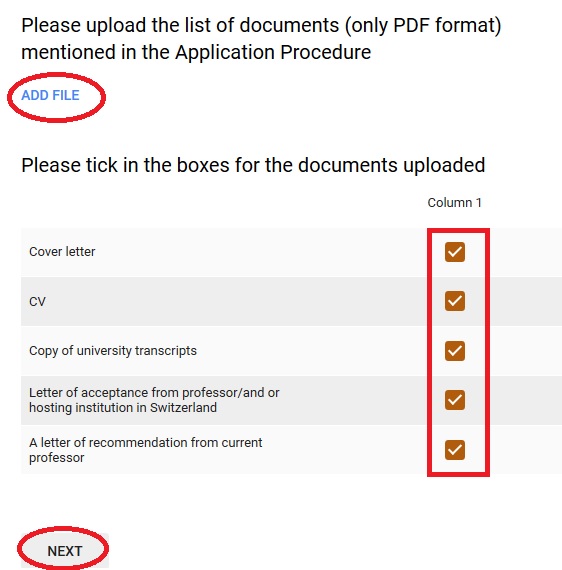 Documents Required
** A cover letter outlining your research project (e.g. an overview of the tasks and milestones of your project that you agreed on with your host professor) and explaining why you should be awarded the ThinkSwiss Research Scholarship and why you would make an excellent "student ambassador" in the future.
** A CV (no more than two pages).
** A copy of your current university transcripts (we accept photocopies of official transcripts issued to the student).
** A letter of acceptance from the professor and/or hosting institution in Switzerland.
** A letter of recommendation from a current professor who can attest to the applicant's abilities.
Notification :
https://www.scholarships.net.in/uploads/pdf2018/31577-Advt.pdf
Scholarship Amount
** The ThinkSwiss Research Scholarship provides a prorated amount according to the length of your stay – a monthly scholarship of CHF 1,600 (approx. USD 1,600) for a period of two to three months (CHF 4,800 maximum).
** Please note that this amount covers only a portion of the average student's living expenses and that you will be asked to prove sufficient financial means to the Swiss Cantonal authorities before a visa can be issued.
** The whole amount of the scholarship money will be transferred to the bank account of the recipient shortly after the departure date.
Timeline & Application Deadline
** The call for application will be open from September 18, 2018.
** The application and all supporting documents must be uploaded in PDF format below by December 15, 2018.
** All ThinkSwiss scholarship winners will be notified by January 30, 2019 and must accept this scholarship by February 15, 2019.
FAQs
1. Are non-Indian, non-Australian or non-Singapore citizens eligible to apply for the program?
All enrolled students at accredited Indian, Australian and Singapore universities are eligible, but ability to participate will depend on obtaining a visa, if necessary.
2. Can the scholarship also be applied to projects at public research institutions or private higher education institutions?
The scholarship supports research at public universities and public research institutions. However, we do not support research stays at private higher education or research institutions.
3. How do I find a hosting institution and/or a professor in Switzerland?
Finding a professor in Switzerland is part of the due diligence process that the applicant must conduct on his/her own.
4. Are there any language requirements?
In Switzerland, undergraduate courses are usually taught in the respective region's national language (German, French or Italian) and graduate programs are often offered in English.
However, for a research stay in Switzerland foreign language skills are not required, as the working language will generally be English. Knowledge of any Swiss national language would of course be helpful for daily life.