Hit Bullseye MBA CAT Scholarship 2018 : hitbullseye.com
Organisation : Hit Bullseye
Scholarship Name : MBA CAT Scholarship 2018
Applicable For : Students who want to study MBA
Website : https://mba.hitbullseye.com/scholarship/
You can now ask your question on this scholarship.
Ask here
(OR) Go to the bottom of this page for comments.
Hit Bullseye MBA CAT Scholarship
You get complete access to 'Bull Essential' – a one stop solution for all online needs for major MBA tests like CAT, MAT, SNAP, XAT, CMAT, MAT, etc.
Related : Hit Bullseye CLAT Scholarship Test 2019 : www.scholarships.net.in/36146.html
Why Choose Us?
** Experience Faculty
** Comprehensive Study Material
** In-Built Personality Development
** Online Resources
Eligibility Criteria
** High Academic Performance in Graduation / PG – Apply if your cumulative score in college is more than 75% or 7.5 CGPA.
** High %iler in Any National Level Test Series – Apply if your percentile in national level test series of any coaching institute is more than 90.
** Working in Top MNC with sufficient Work Experience – Apply if you are working in top MNC or IT Consulting Firm for more than 2 years.
** High %ile in Previous CAT / XAT / SNAP / Other Tests – Apply if you have scored more than 90 percentile in any of the above mentioned tests in previous years.
** Old Bulls Eye Student – Regular Apply if you have been a student of Bulls Eye for previous MBA preparation in classroom.
How to Apply?
Just follow the below steps to apply for the MBA CAT Scholarship.
Steps :
Step 1 : Go to the official website provided above.
Step 2 : Then click on the "Apply Now" button in the home page.


Step 3 : Select if you are "Existing User/New User"

Step 4 : Enter Your Name, Email and Mobile No for Registration
Step 5 : Finally click on the "Sign Up" button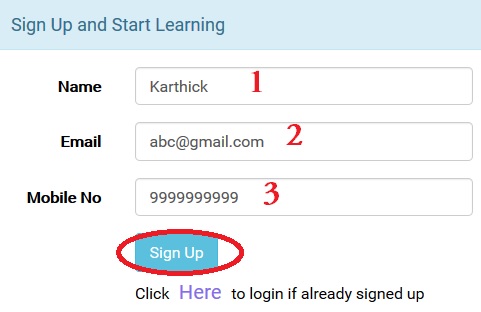 Scholarship Detail
You get complete access to 'Online Comprehensive Prep for MBA-CAT' worth Rs.3999 – a one stop solution for all online needs for major MBA tests like CAT, MAT, SNAP, XAT, CMAT, MAT, etc.
It offers complete online prep consisting of necessary tests, videos and articles. To receive scholarship, simply fill out an application where you select the criteria applicable to you.
What You Get?
** 88 Mock CATs and Non CATs
** 400+ Video Lectures
** 400+ Section and Area Tests
** 500+ articles written in easy language
MBA Still a dream career :
There are many courses after graduation which sound glamorous and creative but often fail to offer diverse job opportunities. MBA, however, is one course that offers an amazingly wide variety of jobs for all.
One may argue that MBA is not as beneficial today as plenty of MBA pass outs are jobless. However, this is half truth. Contrary to all claims, with each passing year the salary packages being offered by the top B-schools are showing a linearly upward growth.
About Hit Bullseye :
Our journey began in 1996 in Pune with a team of IIM and XLRI alumni laying foundation of classroom coaching that went on to become the market leader in the North India.
With a strong foothold in physical classroom coaching, we took that expertise to the online test-preparation arena when the market witnessed a shift from offline tests to online tests.