Commerce Ka Arjun Scholarship Program Rajasthan 2019-20 : commercekaarjun.com
Organisation : Vidya Sagar Institute
Scholarship Name : Commerce Ka Arjun Scholarship Program 2019-20
Applicable State : Rajasthan
Application Last Date : 31.12.2018
Exam Date : 27th January 2019
Website : http://www.commercekaarjun.com/
You can now ask your question on this scholarship.
Ask here
(OR) Go to the bottom of this page for comments.
Commerce Ka Arjun Scholarship Program
Commerce Ka Arjun scholarship program 2018-19 is a competitive state-level examinations organized by Vidya Sagar Institute.
Related : MEDHAVI National Swawlamban-II Scholarship Exam 2018 : www.scholarships.net.in/31376.html
Objective
The objective of this program is to award financial and educational aid to the young talented commerce minds in Rajasthan.

Scholarship Program
Scholarship Program Is Executed Under 2 Schemes.
Scheme I : (Account with Maths)
Class XII students having accounts with mathematics
Scheme II : (Only Account)
Class XII students having accounts with other subjects
100 Students (50 students from each scheme) will get the Trophy of Commerce Ka Arjun along with Certificate and Scholarship upto 80%. Cash Prizes of Rs.31,000, Rs.21,000, Rs.11,000 to top 3 rankers from both schemes.
How to Apply?
You can register online or can submit the registration form offline on any of the below-given centres.
Online Registration
Just follow the below steps to apply for the Commerce Ka Arjun Scholarship Program 2019-20 online.
Steps :
Step 1 : Go to the official website of Vidya Sagar Institute provided above.
Step 2 : Read the instructions carefully and fill the registration form with the required fields.
Step 3 : Finally click on the "Submit" button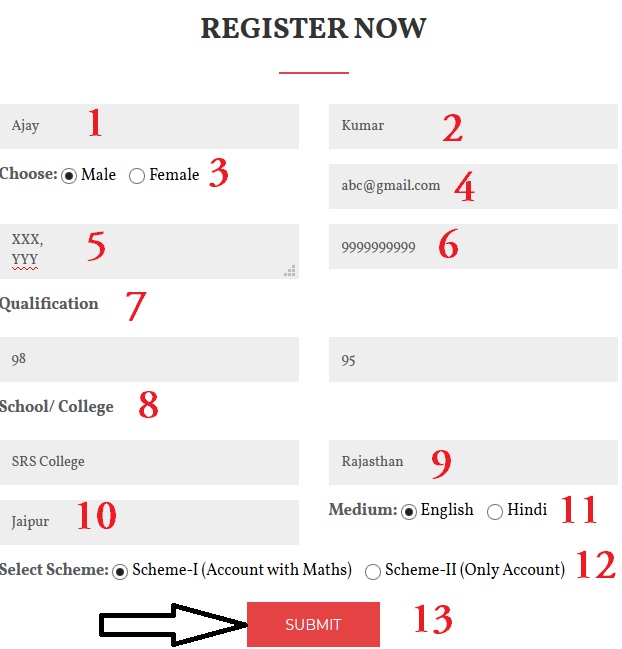 Offline Registration
Step 1 : Students are advised to fill up the form completely.
Step 2 : Every information mentioned on the form are mandatory.
Step 3 : Download the Registration Form from the official website and submit it to your convenient submission centre.
Step 4 : You can also collect and deposit the registration form from our submission centres.
Download Application Form :
https://www.scholarships.net.in/uploads/pdf2018/31475-Form.pdf
Form Collection & Submission Centres :
1. Vidya Sagar Institute
Durgapura
K-50,Bhawana Tower,
Income Tax Colony,Tonk Road,
Near Durgapura Bus Stand,Jaipur.
Ph. 7821821250,7821821251
2. Vidya Sagar Institute
Vaishali Nagar
B-138, Nemi Nagar, Opp. D.A.V
School, Near Amrapali Circle,
Vaishali Nagar, Jaipur.
Ph. 7821821255
3. Vidya Sagar Institute
Vidyadhar Nagar
F-115, Bajrang Bali Tower,
Central Spine, Vidyadhar
Nagar, Jaipur.
Ph. 782182126
4. Vsi International School
Pratap Nagar
Sector – 5, Near Pratap
Plaza, Pratap Nagar,
Sanganer, Jaipur.
Ph. 9309305656
Exam Details
| | |
| --- | --- |
| Mode of Exam | Objective type offline exam |
| Registration Till | 31st December 2018 |
| Exam Centre | Will be allotted after registration |
| Exam Date | 27th January 2019 |
| Test Duration | 2 Hours |
| Total Marks | 100 |
| Marks reward on right answer | 1 Marks |
| Negative Marking | 1/4 Marks per wrong answer |
| Unattempted Question | 0 Marks |
| Medium | English/ Hindi |
Rewards
Rank 1 :
Cash Prize of Rs. 31000 + Trophy of Commerce ka Arjun + Certificate + 80% Scholarship for CA Foundation Coaching Fee
Rank 2 :
Cash Prize of Rs. 21000 + Trophy of Commerce ka Arjun + Certificate + 80% Scholarship for CA Foundation Coaching Fee

Rank 3 :
Cash Prize of Rs. 11000 + Trophy of Commerce ka Arjun + Certificate + 80% Scholarship for CA Foundation Coaching Fee
Rank 4-10 :
Trophy of Commerce ka Arjun + Certificate + 70% Scholarship for CA Foundation Coaching Fee
Rank 11-20 :
Certificate + 50% Scholarship for CA Foundation Coaching Fee
Rank 21-50 :
Certificate + 20% Scholarship for CA Foundation Coaching Fee