National Scholarship Portal NSP : Top Class Education Scheme For SC Students 2019-20
You can ask questions or answer questions about this scholarship.
Please go to the bottom of this page.
Organisation : Ministry of Social Justice & Empowerment (socialjustice.nic.in)
Portal Name : National Scholarship Portal 2.0
Scholarship Name : Top Class Education Scheme For SC Students 2019-20
Applicable For : SC Students
Applicable States/UTs : All Over India
Application Last Date : 15-11-2019 (Date is Extended)
Website : https://scholarships.gov.in/
NSP Top Class Education Scheme For SC
Ministry of Social Justice & Empowerment invites applications for Top Class Education Scheme for SC Studenst for the year 2019-20.
Related / Similar Scholarship : Social Justice Top Class Education Scheme 2020-21
Who Can Apply?
** Students belonging to the Scheduled caste, who have secured admission in a notified institution are eligible to apply for this scholarship.
** Total family income from all the sources must be less than INR 6 lac.
** The scholarship is to be allotted to 1st year students.
** If the number of scholarships exceed the number of students in 1st year, then the scholarship can be awarded to 2nd, 3rd & 4th year students. However, 1st year gets priority over 2nd year and so on.
** The students who have taken admission in the prescribed courses like BTech, MBBS, MBA, MD, MS, LLB, LLM can apply for this scholarship
How to Apply?

The scheme is implemented through National Scholarship Portal (NSP). Just follow the below steps to apply for the Scholarship For Top Class Education 2019-20.
Steps :
Step 1 : Go to the official website of National Scholarship Portal through the URL provided above.
Step 2 : Then Select Central Schemes tab and Click on Ministry of Social Justice & Empowerment link in the drop down list.
Step 3 : After that Click Apply link in the Scholarship For Top Class Education For SC Students.

Step 4 : It will redirect to the Login Page. Enter your Application Id, Password and Captcha for Login.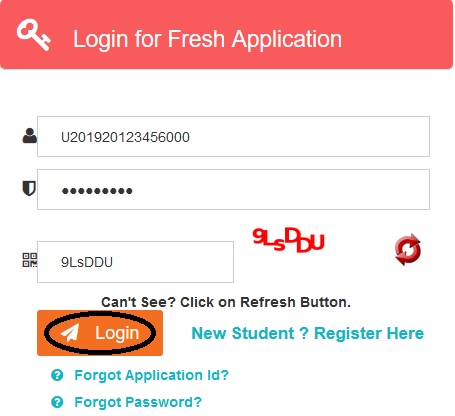 Step 5 : After Login to your account select the Scholarship scheme and fill the required details to apply for the scholarship.
Step 6 : If you are a New User then Click on the Register link in the Login Page.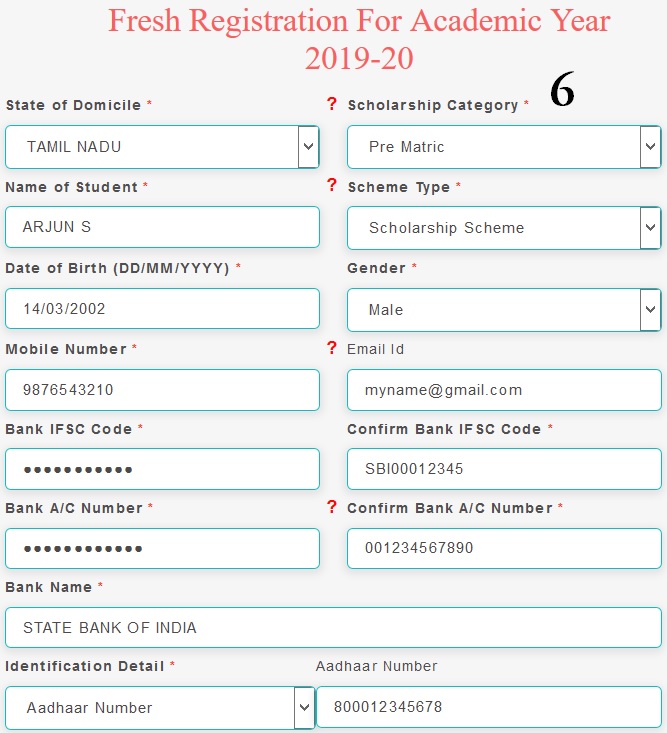 Step 7 : Enter all required details for registration to get your user id and password.
Step 8 : After complete your application you will get a confirmation message to your registered email id & mobile number.
Guidelines :
https://www.scholarships.net.in/uploads/pdf2018/31329-GL.pdf
Scholarship Amount
The SC students, who secure admission in the notified institutions, will be awarded scholarship to meet the requirements for
(i) full tuition fee and non-refundable charges (there will be a ceiling of Rs. 2.00 lakhs per annum per student for private sector institutions and Rs.3.72 lakhs per annum per student for the private sector flying clubs for Commercial Pilot Training and Type Rating Courses),
(ii) living expenses to the beneficiary @ Rs. 2220/- per month per student. However, the advance payment of living expenses, to be paid directly by the Central Government, through Direct Benefits Transfer mode would be restricted to 1 quarter only.
(iii) books and stationery @ Rs. 3000/- per annum per student and
(iv) a latest computer with accessories like UPS, Printer, Multi-media limited to Rs. 45000/- per student as one time assistance during the course. The Institute will procure computers and supply to the awardees.
Alternatively, the Institute may also consider re-imbursement of expenses made by a student on Purchase of the computer. Limited Rs. 45,000/- provided, the computer and accessories are procured from a reputed manufacturer/supplier.
Important Dates
** Top Class Education Scheme for SC Students is Open till 15-11-2019
** Defective Verification – Open till 15-11-2019
** Institute Verification – Open till 15-11-2019
HelpDesk
Candidates can contact the Help Desk for resolution of the technical problems
Call : 0120 – 6619540
Mail : helpdesk-nsp [AT] gov.in