ANTHE Result 2019 : Aakash National Talent Hunt Exam
Organisation : Aakash Medical IIT-JEE Foundations
Announcement : ANTHE Scholarship Exam Result 2019
Scholarship Exam : ANTHE 2019 Aakash National Talent Hunt Exam Senior & Junior
Exam Held On : 20th October 2019
Check Result : https://anthe.aakash.ac.in/anthe/login
You can ask questions or answer questions about this scholarship.
Please go to the bottom of this page.
Aakash ANTHE Result
ANTHE-2019 Result Declared for All Classes
How to View Result?
Just follow the below steps to view your ANTHE Result 2019.
Steps :
Step 1 : Go to the official website of Aakash Medical IIT-JEE Foundations through the URL https://www.aakash.ac.in/anthe/
Step 2 : Then click on "Download Here" link in the home page.
Step 3 : Enter Your Roll No. [123456]
Step 4 : Enter Your Date of Birth [09/02/2000]
Step 5 : Click on "Submit" button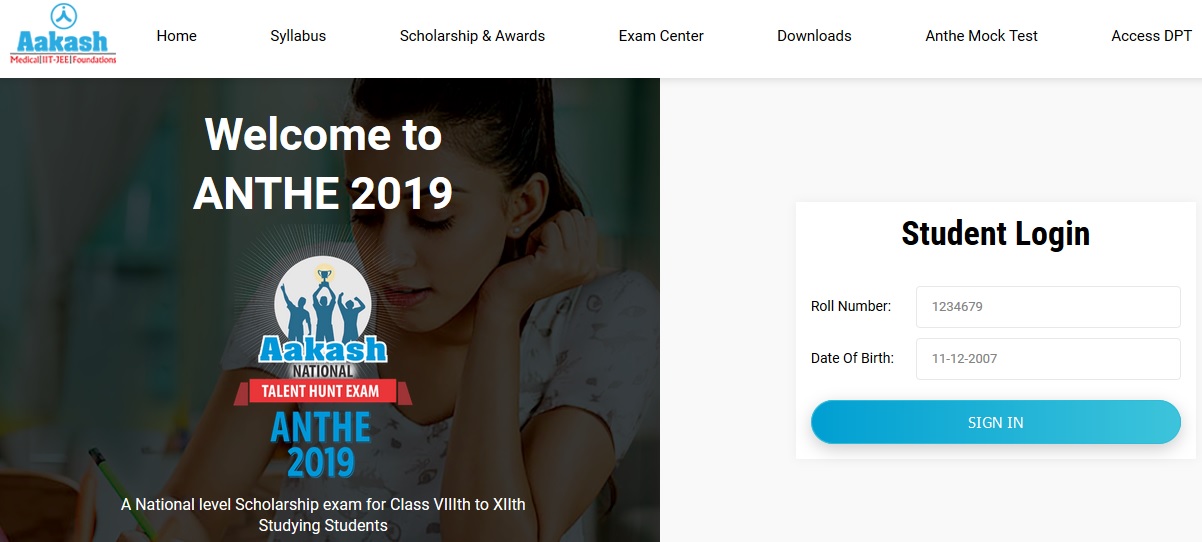 Prizes
Class VIII & IX Studying Students
Scholarship Criteria for Top 800 Students of Class VIII & IX Studying Students
Table I :
Category

Rank

Tuition Fee

Registration Fee

Admission Fee

Technology &




Examination Fee

A
01 – 50
100% waiver
100% waiver
100% waiver
100% waiver
B
51 – 150
100% waiver
Chargeable
100% waiver
100% waiver
C
151 – 300
90% waiver
Chargeable
Chargeable
100% waiver
D
301 – 800
85% waiver
Chargeable
Chargeable
Chargeable
Table II :
Category

Rank

Tuition Fee

Registration Fee

Admission Fee

Technology &




Examination Fee

E
801 – 2000
75% waiver
Chargeable
Chargeable
Chargeable
F
2001 – 4000
70% waiver
Chargeable
Chargeable
Chargeable
G
4001 – 8000
65% waiver
Chargeable
Chargeable
Chargeable
H
8001 – 15000
60% waiver
Chargeable
Chargeable
Chargeable
I
15001 – 25000
55% waiver
Chargeable
Chargeable
Chargeable
J
25001 – 35000
50% waiver
Chargeable
Chargeable
Chargeable
K
35001 – 45000
45% waiver
Chargeable
Chargeable
Chargeable
L
45001 – 60000
40% waiver
Chargeable
Chargeable
Chargeable
M
60001 – 75000
30% waiver
Chargeable
Chargeable
Chargeable
N
75001 – 90000
20% waiver
Chargeable
Chargeable
Chargeable
Cash Scholarship Awards :
Table III :
Rank

No. of Students

Classroom Course


(Type-A)

Classroom / Digital




Course

(Type-B)
1
1
₹ 1,00,000
₹ 50,000
2
1
₹ 75,000
₹ 40,000
3
1
₹ 50,000
₹ 30,000
4 to 10
7
₹ 40,000
₹ 25,000
11 to 50
40
₹ 30,000
₹ 15,000
51 to 100
50
₹ 20,000
₹ 10,000
101 to 150
50
₹ 10,000
₹ 5,000
Medical Aspirants
Scholarship Criteria for Top 1000 Medical aspirants
Table IV :
| | | | | | |
| --- | --- | --- | --- | --- | --- |
| Category | Rank | Tuition Fee | Registration Fee | Admission Fee | Technology & Examination Fee |
| A | 01 – 50 | 100% waiver | 100% waiver | 100% waiver | 100% waiver |
| B | 51 – 250 | 100% waiver | Chargeable | 100% waiver | 100% waiver |
| C | 251 – 500 | 100% waiver | Chargeable | Chargeable | 100% waiver |
| D | 501 – 1000 | 90% waiver | Chargeable | Chargeable | Chargeable |
Table V :
| | | | | | |
| --- | --- | --- | --- | --- | --- |
| Category | Rank | Tuition Fee | Registration Fee | Admission Fee | Technology & Examination Fee |
| E | 1001 – 1500 | 80% waiver | Chargeable | Chargeable | Chargeable |
| F | 1501 – 4000 | 75% waiver | Chargeable | Chargeable | Chargeable |
| G | 4001 – 8000 | 70% waiver | Chargeable | Chargeable | Chargeable |
| H | 8001 – 14000 | 65% waiver | Chargeable | Chargeable | Chargeable |
| I | 14001 – 24000 | 60% waiver | Chargeable | Chargeable | Chargeable |
| J | 24001 – 36500 | 55% waiver | Chargeable | Chargeable | Chargeable |
| K | 36501 – 50000 | 50% waiver | Chargeable | Chargeable | Chargeable |
| L | 50001 – 64500 | 40% waiver | Chargeable | Chargeable | Chargeable |
| M | 64501 – 80000 | 35% waiver | Chargeable | Chargeable | Chargeable |
| N | 80001 – 95500 | 25% waiver | Chargeable | Chargeable | Chargeable |
| O | 95501 – 111000 | 15% waiver | Chargeable | Chargeable | Chargeable |
Cash Scholarship Awards :
Table VI :
Rank

No. of Students

Classroom Course


(Type-C)

Digital Course


(Type-D)
1
1
₹ 3,00,000
₹ 1,00,000
2
1
₹ 2,00,000
₹ 75,000
3
1
₹ 1,00,000
₹ 50,000
4 to 10
7
₹ 75,000
₹ 40,000
11 to 50
40
₹ 50,000
₹ 30,000
51 to 100
50
₹ 40,000
₹ 20,000
101 to 150
50
₹ 30,000
₹ 10,000
Engineering Aspirants
Scholarship Criteria for Top 1000 Engineering aspirants
Table VII :
| | | | | | |
| --- | --- | --- | --- | --- | --- |
| Category | Rank | Tuition Fee | Registration Fee | Admission Fee | Technology & Examination Fee |
| A | 01 – 50 | 100% waiver | 100% waiver | 100% waiver | 100% waiver |
| B | 51 – 250 | 100% waiver | Chargeable | 100% waiver | 100% waiver |
| C | 251 – 500 | 100% waiver | Chargeable | Chargeable | 100% waiver |
| D | 501 – 1000 | 100% waiver | Chargeable | Chargeable | Chargeable |
Table VIII :
| | | | | | |
| --- | --- | --- | --- | --- | --- |
| Category | Rank | Tuition Fee | Registration Fee | Admission Fee | Technology & Examination Fee |
| E | 1001 – 4000 | 90% waiver | Chargeable | Chargeable | Chargeable |
| F | 4001 – 10000 | 85% waiver | Chargeable | Chargeable | Chargeable |
| G | 10001 – 20000 | 75% waiver | Chargeable | Chargeable | Chargeable |
| H | 20001 – 30000 | 65% waiver | Chargeable | Chargeable | Chargeable |
| I | 30001 – 45000 | 55% waiver | Chargeable | Chargeable | Chargeable |
| J | 45001 – 60000 | 50% waiver | Chargeable | Chargeable | Chargeable |
| K | 60001 – 80000 | 45% waiver | Chargeable | Chargeable | Chargeable |
| L | 80001 – 100000 | 40% waiver | Chargeable | Chargeable | Chargeable |
| M | 100001 – 120000 | 35% waiver | Chargeable | Chargeable | Chargeable |
| N | 120001 – 140000 | 20% waiver | Chargeable | Chargeable | Chargeable |
Cash Scholarship Awards :
Table IX :
Rank

No. of Students

Classroom Course


(Type-E)

Digital Course


(Type-F)
1
1
₹ 3,00,000
₹ 1,00,000
2
1
₹ 2,00,000
₹ 75,000
3
1
₹ 1,00,000
₹ 50,000
4 to 10
7
₹ 75,000
₹ 40,000
11 to 50
40
₹ 50,000
₹ 30,000
51 to 100
50
₹ 40,000
₹ 20,000
101 to 150
50
₹ 30,000
₹ 10,000